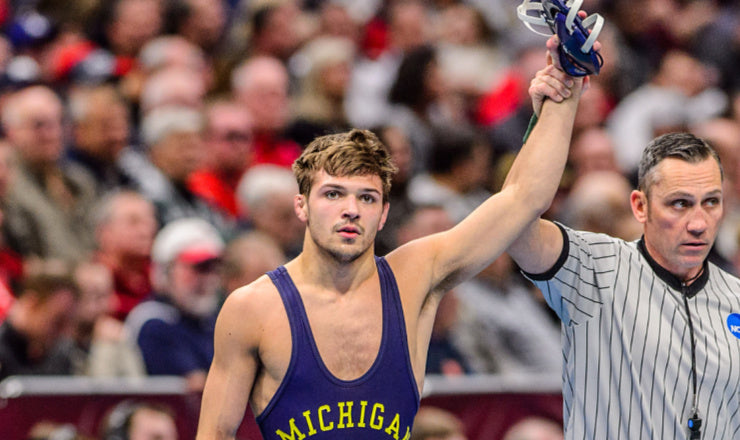 Stevan Micic Scores Late to Overcome Nick Suriano in B10 Dual at 133lbs
Top ranked grapplers battle it out.
In a battle of highly regarded and highly ranked NCAA wrestlers, #1 in the nation Stevan Micic (13-0) was able to convert on a 3rd period takedown to win against Nick Suriano (19-3). It was a tightly contested match throughout, marked by hard handfighting and stingy defense, but it never lacked for pace and drama. The Michigan junior scored with a reattack sweep single leg after Suriano's failed shot, and the Rutgers All-American wasn't able to find his own offense after that. 133 has been a tumultous weight this season, but Micic has stayed consistent and owns an undefeated record with big wins over Suriano, Luke Pletcher, and a bumping Sebastian Rivera. The Serbian Sickle took over the #1 spot from Seth Gross, who ended his season due to injury. This is Suriano's 3rd loss of the year, after dropping contests to Daton Fix of Oklahoma State and Austin DeSanto of Iowa. Still, a strong showing at the Big 10 tournament can grab him a good seed heading into NCAAs.
Improve your upper body takedowns!  Click Learn More!
In-match analysis: Suriano worked from the wrist to a snatch single early in the first period, but couldn't break through the whizzer and limp-knee defense of Micic. Late in the first, he gets to the same shot from an inside tie, but never got to lock his hands well enough to really work for a finish. Finally, midway through the third, Micic had it timed well enough and after a half-shot by Suriano, Micic went off the elbow control to a single leg of his own that he could convert by collecting the far ankle quick. Suriano got back out to make it 3-2, but was never able to get back in on any meaningful offense.