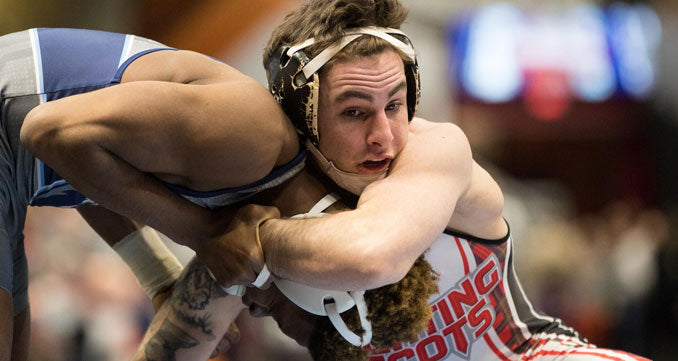 Sean Russell
Sean Russell is an American amateur wrestler and a 3 time NCAA Division I All-American athlete for Edinboro University. Russell first gained notoriety while competing in the high school circuit, where he won 4 Georgia State Championships before joining the Fighting Scots. Sean would end his collegiate career representing the University of Minnesota on the mats before joining The Regional Training Center South (RTCS) as the institution's head coach in 2021.
Sean Russell Wrestling
MAIN ACHIEVEMENTS:

High-School:
- 1st Place Georgia State Championships (2011, 2012, 2013, 2014)
- 1st Place NHSCA Junior Nationals (2013)
- #3 InterMat National Rankings (2014)
- #4 Open Mat National Rankings (2014)

College:
- NCAA D1 All American (2017, 2018, 2019)
- NCAA Qualifier (2015, 2016, 2017)
- PSAC Wrestler of the Year Award (2017)
- Most Dedicated Wrestler Award (2019)
- 1st Place PSAC championships (2016, 2017)
- 1st Place EWL Championships (2017)
- 1st Place Mercyhurst Open (2015)
- 2nd Place ESU Open (2015)
- 3rd Place Las Vegas Invitational (2017)
- 3rd place Big Ten Championships (2019)
- 4th Place Southern Scuffle (2017)

Freestyle:
- 1st Place USA Team Last Chance Qualifier (2021)
- 4th Place Senior Nationals (2020)
Weight:
- 125 lb

Teams:
- Collins Hill High School (Suwanee, Georgia)
- Edinboro University
- University of Minnesota
Sean Russell Biography
Sean Russell was born on December 12, 1995, in Lawrenceville, Georgia, United States. Being the son of a former Gardner-Webb University wrestler, it didn't take long for Sean to pick a singlet up, a tradition also adhered to by Russell's brother, Codi.

It was while studying at Collins Hill High School that Russell's wrestling career truly took off with 4 state titles to his credit and a 240-11 record. During this period, Sean became just the 27th wrestler in Georgia state history to win four state titles.

With a lengthy list of achievements during high school, Russell naturally became a highly sought-after recruit. Sean would sign with the Fighting Scots, competing for his first 4 seasons (Including red shirt) with Edinboro University in Northwestern Pennsylvania, before transferring to the University of Minnesota for his final year. For Edinboro, Russell qualified for the NCAA Championships on 3 occasions and finished 7th in the country (2017) to earn Division 1 All-American honors and a career record of 97-24.

Sadly, Sean started in Minnesota at a time when the Covid19 pandemic hit the world, which limited Russell's experience with the Golden Gopher's. In 2021, RTC South (Regional Training Center) announced the hiring of Sean as its new head coach. The Regional Training Center South (RTCS) is a well-known non-profit organization that provides world-class training opportunities for athletes in the field of wrestling.
Inside Tie To Double Leg Tutorial