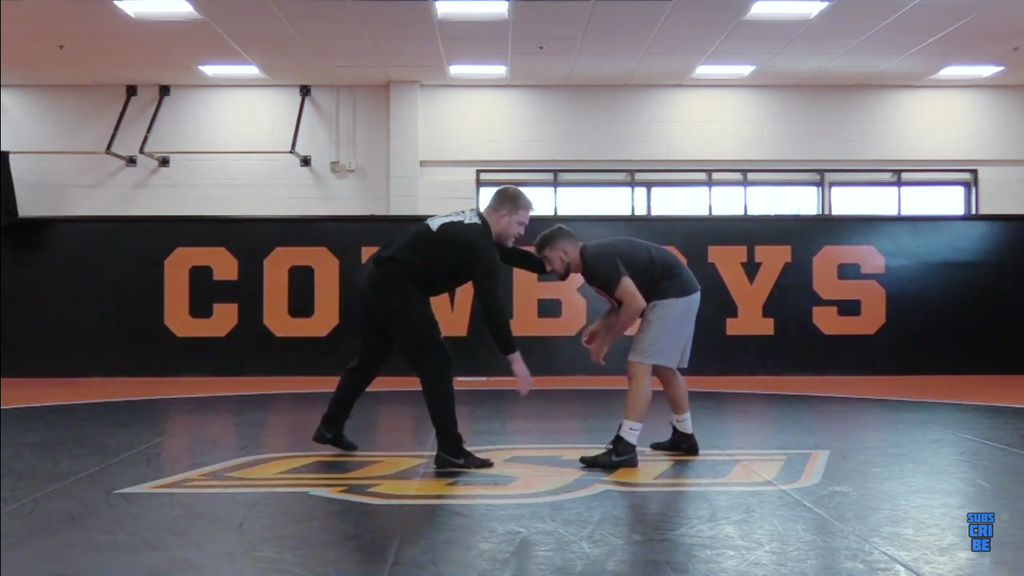 Wrist Control Attacks With Chris Perry
Chris Perry is a back to back NCAA National Champion at 174lbs out of OSU. He is also a four time Big 12 Champion. When all was said and done he stood a three time All American  with an impressive 122-11 record. 
After a small stint at the senior levels Chris stepped in as an assistant coach at OSU. Some of his wrestlers are multiple time National Champions. Athletes like Daton Fix, Alex Dieringer and Dean Heil just to name a few. Chris has an effective approach to tie ups into takedowns. Using several wrist control variations Chris was known for creating scoring opportunities and transitions out of these positions. 
Getting a single leg off the inside wrist control is a simple and high percentage technique if used with right timing. Let Chris Perry break down the steps in a excerpt from his instructional series " Scoring Takedowns From Control Ties" 
What is great about Chris's instructional is he does not just cover a few different moves from a couple positions and call it a day. Chris goes into the most basic of fundamentals.


What Chris is doing is making sure everyone watching understands the pitfalls of running in for a tie up off  the whistle. Making sure to either thumb block or lead in with his head all the while his lead arm is downblocking to prevent a quick single leg being scored. 
Once Chris has addressed the fundamental defensive positioning he goes into how to obtain an inside wrist control tie. Once contact is made and Chris's partner gets head control he grips their wrist with that same side hand. 
Using that arm to push the arm off the top of the head and he begins to bring the wrist down, Chris makes sure to change his level. This both helps pull that arm down and gives him sufficient attack vector to shoot the single. 
Once the level has been changed Chris performs his penetration step to the outside of the lead leg of his partner. Discarding the arm to the side and wrapping the same arm around that near side leg. Continuing his shot Chris drives to his knee and begins angling off to the side.
Take notice of Chris's posture! His head's up and back is straight. Leaning over is probably the most common mistake made when entering a single leg in this manner. 
Another Key point is to not grab too high on the single, you lose control and power, instead snake the arm around and down like a spiral from their hip to their ankle. This creates a much stronger connection and prevents the leg from being kicked away by an attempted sprawl. 
Now it is time to finish!
It is much easier that you might think, in real time when your opponent sprawls continue to spin and put your shoulder down. Your movement and shoulder pressure will make them fly right by and fall flat. At this point it is your prerogative to cinch up to the waist and score your points. 
Running the corner and grabbing the ankle is the quickest option, and gives you a great advantage in regards to position, but some of us might feel more comfortable with a more head on approach. 
Chris shows a more direct attack, same set up in regards to getting the inside wrist control but instead of circling out, keep your far side arm posted, take the shot head on and use your head to push them back while snagging that single. 
This will have wrestlers in a more conventional high single position. On the up side: you have many options to finish, On the down side there are many options to defend. So the choice is yours what to do with these options. 
Chris has so much more to share in his instructional series. If you like to wrestle off the tie up, or need to start creating more options off the tie, this instructional is for you! Check it out only at Fanatic Wrestling!