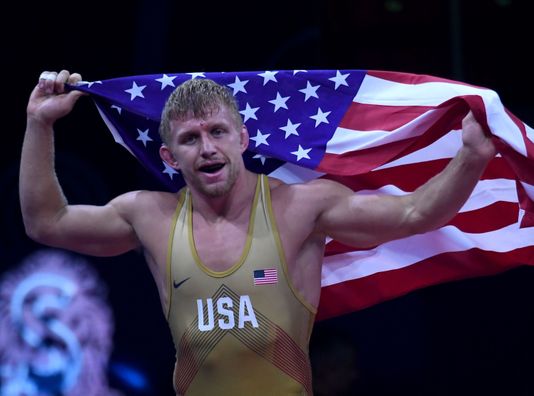 World Champion Kyle Dake Gets Final X Wrestle off Delayed
Defending World Champion Kyle Dake has requested and recieved a wrestle-off delay for the world team spot at 79 kilos, he announced today in an Instagram post. After a dominant run at last year's worlds, where he didn't give up a point the entire tournament, Kyle hasn't competed since, and now reveals an undisclosed injury for his reason for needing to push back the wrestleoff against Titan Mercury representative Alex Dieringer. Now the two will need to find a date through USA Wrestling that still gives them time to get the spot certified with enough time for the winner to prepare for Worlds (most likely at Fargo or at the US Olympic Training Center camps). Whatever it ends up being, the best of 3 series must occur before the final camp for USA Wrestling before worlds.
Learn Henry Cejudo's Olympic Secrets Today
Final X is the qualifying event for the official Team USA wrestling roster for the World Championships, to be held in Nur Sultan, Kazakhstan later this year. Kyle is the heavy favorite for gold in the non-Olympic weight of 79kg, and can build on his incredible career. He has really legendary defense, and in addition to his World Championship gold, he is the only man to win 4 NCAA titles at 4 weights, and owns wins over other world champions like Jordan Burroughs, David Taylor, and J'Den Cox.
Alex Dieringer is a 3-time NCAA Champion from Oklahoma State who has been an international terror in his post-collegiate career. With a power-based game that includes one of the best short dumps in the world, Alex has turned into one of the best 79kg athletes on the planet, and his match with Kyle is anticipated as one of the best wrestleoffs in American history. Alex won the US Open in the most dominant run of the tournament (statistically speaking) and then beat World Team Trials tournament champion Zahid Valencia by two-straight tech falls to qualify himself for Final X.
From Kyle Dake's Instagram (@kyledake444)
"Many have speculated, and today I am announcing that I have requested a delay for the best two out of three series for the 2019 World Team. I had a freak accident happen that required surgery and kept me off the mat for some time. We are waiting to get the details for the wrestle off date and I will keep you posted. I will continue to train as intelligently and diligently as I can towards becoming the 2019 79kg World Champion. Thank you to all my sponsors, family, and fans for their unparalleled support!" 
Across 8-volumes, learn all the wrestling techniques and strategies that Henry Cejudo used to live the Olympic dream!