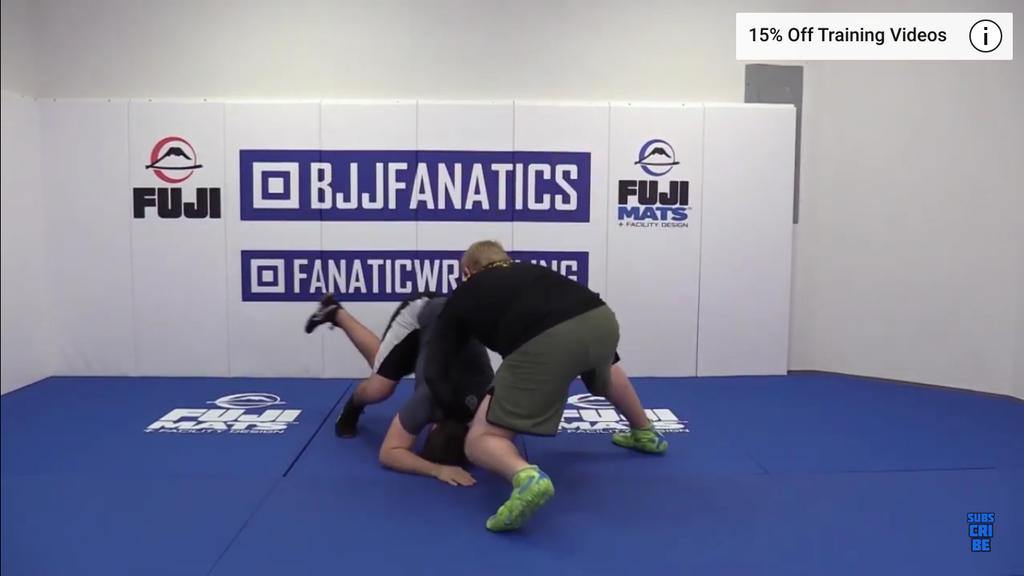 Aggression And Misdirection With Steve Mocco
 Sweep Them Off Their Feet!
Aggression and Misdirection you add these two qualities together, Then add a splash of technique and your partner will be flat on their back in no time. 
The foot sweep is what you get when you mix this takedown cocktail together. The king of the foot sweep in wrestling is none other than the infamous Steve Mocco. 
Steve was not just any other aggressive wrestler, as there are tons of wrestlers who have aggression. Steve was "The" aggressive wrestler. It is said that while in high school in New Jersey, Parents would go to coaches and tell them "Their kid can't wrestle him" referring to Steve.
Steve had trials and tribulations growing up like many of us. Yet he turned that focus into a "Seek and Destroy" Style of wrestling. As mentioned above it was not just any aggression that Steve had that made him good.
It was solid technique fueled by aggression that made him great. It is no big secret that in wrestling the Heavyweights are not the most technical. Even at the international level it is not uncommon to see men Grossly overweight and just leaning on each other hoping for a push out or a slip. 
This was not Steve Mocco. Steve Dominated high school wrestling, being one of the top seeds in the country going into college. Steve Started at Iowa, with coach Jim Zalesky. Zalesky had the same idea as his predecessor the Legendary Dan Gable, Aggressive whistle to whistle wrestling. This suited Steve just fine!
Steve went out on a mission his freshman year (2002) He took 2nd at the Big 10's and the NCAA National Championship. Believing 2nd is the first loser, Steve pushed even harder, to become the Champion at both the Big 10's and The National Championship the following year. If that is not impressive enough, that same year he went undefeated.
Feeling good about where he was on the wrestling mat, Steve took an Olympic Redshirt. For those of you who are unaware, Athletes that are good enough to make the Olympic team can take a redshirt season and suspend their college eligibility. 
Steve went and represented the USA in the Olympics but took a tough loss early on. Came back through the wrestle backs with a great showing. Yet took another tough fall. He ended up finishing 7th overall.
After the Olympics Steve did something no one ever expected or saw coming. He wanted change, that would drive him to be better. He might be a Big 10 Champion and former National Champion, but he was not a Olympic Champion. That was not good enough.
Steve transferred schools, to another wrestling program that he thought would be a better fit for him. This was not just any school, this was Iowa's arch rival. Oklahoma State University with two time Olympic Gold Medalist, John Smith. 
It as at this point Steve Mocco continued right where he left off. Destroying The heavyweight division on his way to another National championship and the Big 12 championship as well as being the winner of the Dan Hodge trophy. 
The Dan Hodge Trophy goes to the best collegiate wrestler of the year. Essentially the MVP of NCAA Div.1 Wrestling.
The Following season was more of the same. Steve Won the Big 12's. Yet in the Finals of the 2006 of the National Championship, He made a mistake and lost. Taking 2nd place. 
Don't Pay no mind to that, even the great Dan Gable lost his last college match before he went on to win an Olympic Gold Medal in 1972.
So how did a Heavyweight become so dominant? It was that special blend of aggression and misdirection. Steve would move guys around and get a collar tie so hard they didn't even what his feet were doing. He is a very technical wrestler. 
Check out Steve's infamous foot sweep in the video below! 
Notice how Steve emphasizes to invest in collar ties, and it will pay off on the foot sweep. Steve also talks about creating opportunities with breaking his partners posture, which would lead into short offense. 
(Short Offense is wrestling off the front headlock, often using cradles and tilts to score)
Steve's knowledge in wrestling is that in which you would come to expect from a three time Pan American Champion and the 2009 US Champion. 
There is no doubt that Steve is great wrestler and he has lots to teach. Having lots of success at the highest level of wrestling with foot sweeps he is the authority on the matter. 
The foot sweep is a low risk, high percentage takedown and setting it up can be easy if you know how to do it. 
Being that Steve has an instructional on the move it would be best to let him show you, over reading how to try and pull it off. No matter how good an instructional paper can be, it can not substitute a Champion showing you how! Check it out today!