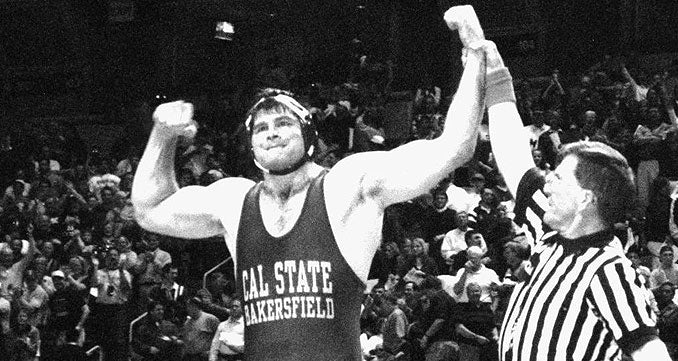 Stephen Neal
Stephen Neal is a retired American wrestler who dominated the heavyweight scene at a collegiate and international level before turning his focus towards the National Football League (NFL) where he played as an American football guard for the New England Patriots and earned three Super Bowl rings (2002, 2004, 2005). In the sport of wrestling, Stephen Neal was a 4x All American athlete and a 2x NCAA Division I champion as well as a World Champion and Pan American Games gold medalist, making him one of the most versatile top-tier competitors ever produced in the USA.
Stephen Neal Wrestling
MAIN ACHIEVEMENTS:

High School:
- 4th Place CIF State Championships (1994)

College:
Hodge Trophy Winner (1999)
- 1st Place NCAA D1 Championships (1998, 1999)
- 2nd Place NCAA D1 Championships (1997)
- 4th Place NCAA D1 Championships (1996)

Freestyle:
FILA Outstanding Wrestler Award (1999)
- 1st Place World Wrestling Championships (1999)
- 1st Place Pan American Games (1999)
- 1st Place Olympic Trials (2000)
- 1st Place US Open (1999)

Weight:
- 130 kg (freestyle)
- 285 lb (Collegiate)

Teams:
- San Diego High School
- California State University (Roadrunners)

Stephen Neal Biography
Born Stephen Matthew Neal on October 9, 1976, in San Diego, California, it was during high school that Neal's natural ability for sports truly started to shine, a time when he became a letterman in football, wrestling, swimming, tennis, and track and field for the San Diego High School.

Although with many achievements conquered across all disciplines, Stephen's early wrestling career culminated with a fourth place finish at the California State Wrestling Tournament in the 189 lbs weight class and a 45-2 record. A formidable result that earned the young athlete a scholarship with Cal State University.

Competing for the California State Bakersfield Roadrunners wrestling team, Stephen Neal established himself as one of the foremost collegiate grapplers in the country, amassing a 156–10 record and four All-American seasons.

Stephen's development in the sport at a collegiate level was exponential, starting with a fourth place in the NCAA Division I as a freshman, a second place as a sophomore in a close final match against Kerry McCoy before going on to win titles during his junior and senior years.

Once Neal ended his collegiate career, the California native continued his stride into an international career with gold medal performances at the subsequent U.S. Open, Pan American Games, and World Championships.

One of the most natural athletes to ever grace this sport, Stephen Neal went on to sign with the New England Patriots (2001) despite not having played football during college. The deal was short lived as he joined the Philadelphia Eagles later that year.

Neal was re-signed by the Patriots, making the team's 53-man roster out of training camp in 2002. Although he did make his NFL debut that year, Stephen's early career with the team ended up being plagued by injuries which severely delayed his progress and his productivity in the league.

After playing in two games as a reserve to start the 2004 season, Neal went on to start the final 14 games of the season, including the playoffs and the super bowl. Although with a memorable career with three Super Bowl rings (2002, 2004, 2005), Stephen did spend large portions of his football career down due to shoulder complications that persisted on-and-off until the time of his retirement (March 2011).
Stephen Neal Single Leg Entry