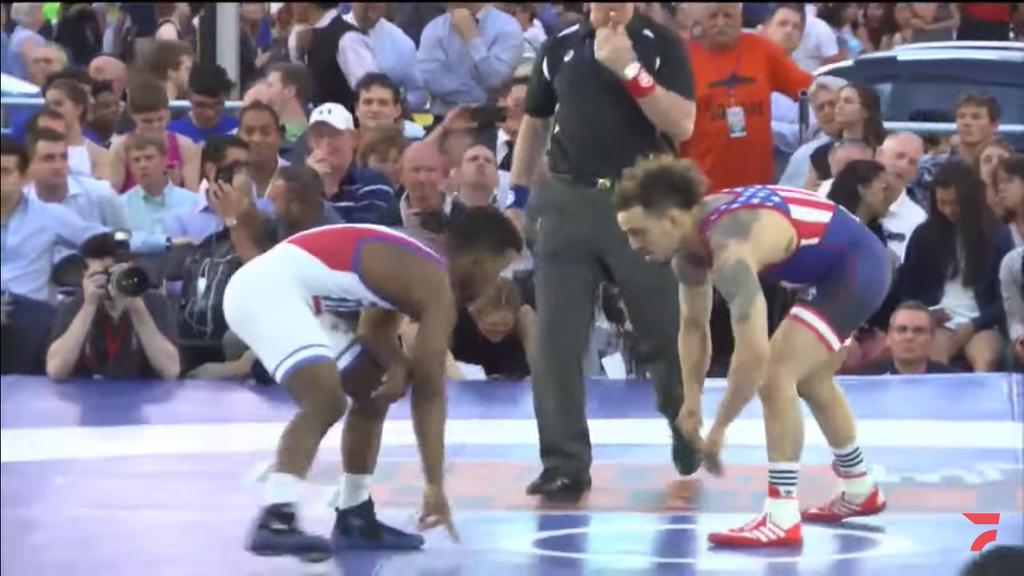 Match Breakdown: Jordan Oliver vs Frank Chamizo
The two most exciting 65kg wrestlers in recent memory clashed in 2017 at Beat The Streets, and it was a scrap from whistle to whistle. Jordan Oliver, the 4 time All-America, three time national finalist and two time national champion, in addition to a junior world medalist, clashed with Frank Chamizo, a multiple time world champion, olympic medalist, and world medalist. JO as always brings some of the fastest leg attacks we see in wrestling, in addition to an impressive amount of horsepower, while Chamizo got to show off his incredible defensive ability and some pretty good leg attacks of his own. The win or loss doesn't matter, you can get tons of notes out of this match from either competitior.
Check out their match courtesy of FloWrestling's YouTube channel!
Be sure to check out Jordan's instructional with Fanatic Wrestling, Movement Made Easy, where he breaks down his own iconic motion and wrestling from space, in addition to the concepts he himself applies in his wrestling. Chamizo has a couple, with Creative Cuban Offense And Scrambling and Matrix Defense giving you an inside look to his unique approach to matches. As with the last freestyle breakdown, I'll be listing important exchanges and any scoring rather than round by round. 
First Score-Jordan Oliver
Every time I watch JO wrestle I'm reminded again just how huge he is at 65kg. But Frank Chamizo shares this distinction, having moved up a TON in just a few years, breaking out on the world level as a 55kg star for Cuba, before moving up to 65kg, eventually 70kg, spending the last two years or so at 74 kg and recently having an exhibition at 79kg. Stylistically, this sin't a match that lends itself to comparing size and strength anyway, as from the very start Jordan is finding his range with short posts, changing levels, faking, looking to time Chamizo's feet, as Chamizo is on his usual start, slowly stalking JO, putting him in a box as he controls the center of the mat. Chamizo works best when you come to him, and he knows how to force it out of you. But against Jordan Oliver, this usually isn't your best approach, but a slide by attempt by Chamizo from the inside tie leads to a halt in the match, as the ref warns JO for passivity.
Check out movement made easy by Jordan Oliver! Click Learn More!
JO is at elbow control, an OSU staple, and momentarily gets in on his low single shot but Chamizo steps out and they begin to circle once more. The hand fight starts to pick up, as another attempt to score by Chamizo leads to the ref cautioning JO again. The second the whistle blows, Oliver fakes again, Chamizo kicking his leg back in anticipation. Shortly after, JO level changes and commits to a double, wrapping Chamizo's legs up and scoring two. Frank stands up out of it and looks for a shot of his own, to no avail. This is when Frank really opens up, picking the pace up and now forcing Oliver to the edge again, but JO circles out of the danger. 
Second Score-Chamizo
Chamizo's scrambling overshadows his ability to attack legs. The reason being his opponents spend so much time thinking about what to do once they get to a leg and lock their hands, they don't expect Frank to be particularly aggressive. Off the whistle, Frank steps outside, reaches inside the knee, and secures the lead leg of Oliver. He gets his hips in, converts to a single leg and comes up to the feet, trying to sweep JO's free leg, ultimately opting to run the pipe and get two, tying it technically but leading on criteria. 
Third Score-Chamizo
Chamizo again begins to control the center of the mat, but JO is just so comfortable wrestling from the outside he focuses on engaging in the hand fight. Snapping and faking repeatedly from both wrestlers, as JO again attempts to circle back to the center. Frank fakes, and Oliver immediately attempts a go behind, but Chamizo somehow keeps up and is still facing JO, as there's now 20 seconds left in the first. Another shot attempt from Chamizo, but Oliver evades as the first period closes with Jordan posting again on Frank. Those posts are a great way to find range for the low single, a method touted by Oliver and his college coach the legend himself, John Smith. Coming out of the break, they hand fight, Chamizo again controlling the center. After circling out again, Oliver fakes low, but Frank takes advantage of it by circling, making contact with the leg, and re attacking as he knee pounds and circles. Oliver gets into a quad pod, hoping to stalemate the position, but Frank brings him down to a knee to score two. 
Fourth Score-Chamizo
The exchange of fakes has become rhythmic by now. Chamizo fakes a low level shot, but Oliver gets hands on him and circles, still searching for his angle. Find it he does, as he again level changes hard, shooting for his double again. This time, however, Chamizo is ready and somehow stifles it completely, with the commentators comparing it to hitting a brick wall. Oliver circles up, nothing lost in the exchange other than time. Chamizo is back to controlling the center, reaching with the lead land, trying to initiate a flurry, but Oliver knows his path to victory: keep contact exchanges short, convert quickly on your shots. (Converting to mean getting a lock on the leg to scoring). Chamizo finds a tie, and begins pushing Oliver to the edge. A slight snap, a misdirect and despite a downblock, Chamizo makes contact and tries to finish as a high crotch crackdown. Oliver shows off his flexibility, as Chamizo attempts to score exposure but Oliver has a chest wrap and a foot down, keeping his position solid. Ultimately Oliver has to try and kick out, as a tricky call ends in 2 for Chamizo
Check out Chamizo's collection of instructionals availabe now! Click Learn More!
Fifth Score-The Scramble
You know the drill. Fakes, Chamizo at the center. Jordan Oliver is changing levels every other second, trying to get a pattern for his misdirects. As he fakes right goes left on a sweep single, as Chamizo gets up from the downblock Jordan Oliver shoots from his knees in another double. This is the end of the exchange for 90% of 65kg wrestlers, but not Chamizo. Circling aggressively he finds an ankle and the scramble begins. Oliver is now in bottom backdoor, catches the other leg, but Chamizo keeps the far ankle. Chamizo tries to elevate, but Oliver circles out, scoring a takedown and immediately converting to a leg lace for an additional two points. From down 6-2 to leading on criteria, after entering a scramble with one of if not the funkiest guy in the world circuit. But Chamizo, the wizard that he is, somehow gets to a switch for a one point reversal, and begins working for a gut wrench, which he comes within inches of scoring but ultimately can't. 7-6 now, as the clock runs down and Chamizo wins by a hair. 
Final Thoughts
This match had two opposing styles clash and it was spectacular, and I sincerely look forward to the 65kg division at any tournament right now, even with Chamizo moving up. It's one of the most underrated divisions, and is one of the toughest in the world.
All the instructionals mentioned earlier are 35% off if you use the code LABORDAY2020 at checkout, but only for a limited time!