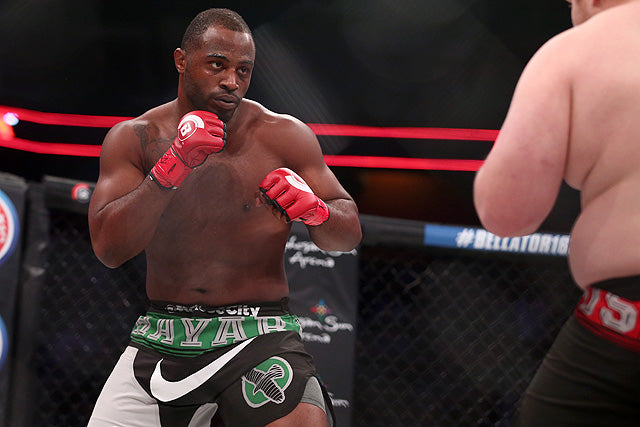 Logan Storley and Tyrell Fortune Win Bellator Bouts Over Weekend
Folkstyle and freestyle wrestling talents Logan Storley and Tyrell Fortune both continued their undefeated MMA success over the weekend with big victories in Bellator. Fortune picked up a first round TKO over Ryan Pokryfky, and Storley outworked Ion Pascu over three rounds for a decision win. Bellator continues to invest heavily in wrestling prospects to expand their divisions, and our wrestlers keep seeing great success using their pressure, takedowns, and pacing.
Learn The Takedown Secrets Of UFC Champion Henry Cejudo!
On Friday, Logan Storley (10-0-0) fought a welterweight co-main event again Ion Pascu (18-10-0), a striker with a lot of experience in the cage. Storley implemented his top game-heavy strategy early and often, able to get to doubles and singles against the cage for some pretty impressive finishes. He had struggles against the guard at times, and he will continue to evolve, but Logan is getting close to a title shot of his own after 5 straight Bellator victories (two by TKO). Perhaps one more win could establish him as the next contender to the winner of the current welterweight Grand Prix, or he could see a fight come against one of the other wrestlers in the division (including Ed Ruth and Joey Davis).
Tyrell Fortune, the freestyle juggernaut and national team member, is now 6-0 in a heavyweight division hungry for a new star. He picked up a first round TKO this weekend over Ryan Pokryfky, his fourth finish of his career. He used his media time after the fight to call out Jack Hager (a former AA wrestler at Oklahoma and WWE star under the name Jack Swagger). A prospect vs. star matchup would be a great move from Bellator, if they want to invest in Fortune long-term.
Henry Cejudo, UFC and wrestling legend, has filmed a full instructional on how he takes down the best in the world!