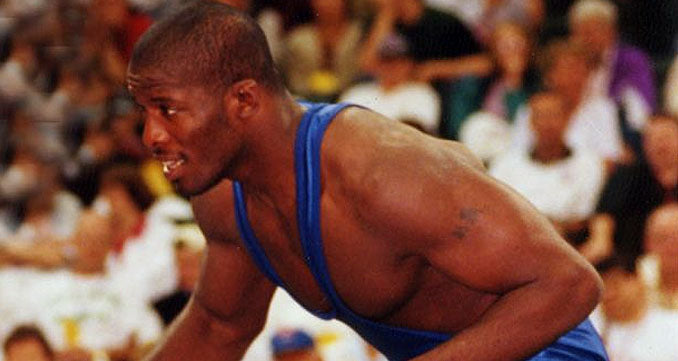 Kerry McCoy
Kerry McCoy is an American Wrestling Hall of Fame Inductee and one of the most prolific amateur wrestlers of his generation. During his collegiate career playing for Penn State, Kerry McCoy earned the Nittany Lions' Wrestler of the Year award (2x) as well as three NCAA Division 1 titles. As a freestyle wrestling athlete, McCoy won the US Nationals five times in a row, placed second at the World Championships and won the Pan American Games turning to a successful coaching career, particularly fruitful as the University of Maryland head coach.

Kerry McCoy Wrestling

MAIN ACHIEVEMENTS

High School:
- 1st Place New York State Championship (1992)
- 2nd Place New York State Championship (1991)

College:
Nittany Lions' Wrestler of the Year (1994, 1997)
NCAA Division 1 All American (1994, 1995, 1997)
- 1st Place NCAA D1 Championships (1994, 1997)
- Dan Hodge Award Winner (1997)

Freestyle:
National Wrestling Hall of Fame Inductee
- 1st Place Pan American Games (2003)
- 1st Place US Nationals (2000, 2001, 2002, 2003, 2004)
- 2nd Place World Championships (2003)
- 4th Place World Championships (1998, 2001)
- 5th Place Olympic Games (2000)
- 7th Place Olympic Games (2004)

Weight:
- 286 lbs (130 kg)

Teams:
- Longwood High School
- Penn State Nittany Lions
- University of Maryland (coach)


Kerry McCoy Biography

Kerry R. McCoy was born on August 2, 1974, in Riverhead, New York, USA.

Although proclaimed today as one of his generation's foremost wrestlers, Kerry's first interest lied with music, a subject he started studying during third grade. McCoy eventually became a prolific cello player, an instrument he played all the way through to his senior high school year.

It was in seventh grade that Kerry was finally allowed to be involved in competitive sports. McCoy was a big teenager (who grew up to be 6'2 and 250 lbs), but as there was no basketball team at Longwood High School in Middle Island, N.Y., he opted for wrestling.

Kerry's talent shined through quickly, and after conquering the New York State title, McCoy was recruited by the Nittany Lions of Penn State to play in the collegiate circuit, where he became well recognized as one of the NCAA's most formidable athletes.

Although he is among Penn State's top heavyweights of all time, McCoy's early days in collegiate wrestling were far less memorable, as he went 19-17 in his first 36 matches for the Lions. Even though his early results were sub-par, McCoy's iron will allowed him to overcome his initial slump and he went on to lose only once in his final 132 matches for the navy blue team, putting together an impressive 88-match winning streak.

While conquering All-American status three times, being named the Nittany Lions' Wrestler of the Year, and earning the 1997 Hodge Award, Kerry finished a bachelor's degree in marketing.

After his tremendous success at a collegiate level, McCoy moved on to freestyle wrestling, where he became a nine-time member of the National Team. In 1998 and 2001, Kerry placed fourth at the World Championships, and he won a silver medal in 2003, the same year he won gold at the Pan-American Games - which earned him the Outstanding Wrestler of the tournament award.

Among McCoy's most impressive athletic achievements are his two attempts at gold in the Summer Olympics of 2000 and 2004. By competing in the sport's most prestigious tournament twice, Kerry became one in a very selected group of American wrestlers to do so. McCoy took fifth place at the 2000 Olympic Games and seventh in 2004.

While following an illustrious athletic career. Kerry also added coaching to his routine, starting as an assistant instructor at Penn State for a few years before joining the Lehigh wrestling program in Bethlehem, Pennsylvania, also as an assistant coach. During his time with Lehigh, he coached 14 NCAA All-Americans and the program was praised for its four wins at the EIWA Conference championship four times.

In addition to his work for Lehigh, McCoy served on Athlete Advisory committees for USA Wrestling, the United States Olympic Committee and spent a few seasons on the U.S. Freestyle World Team coaching staff.

After an excellent period with the Stanford Cardinals, in 2008 Kerry was hired by the University of Maryland as head coach of the Wrestling Terrapins, where his work was once again praised by many in collegiate wrestling. McCoy served the Terps as a head coach up until 2019.