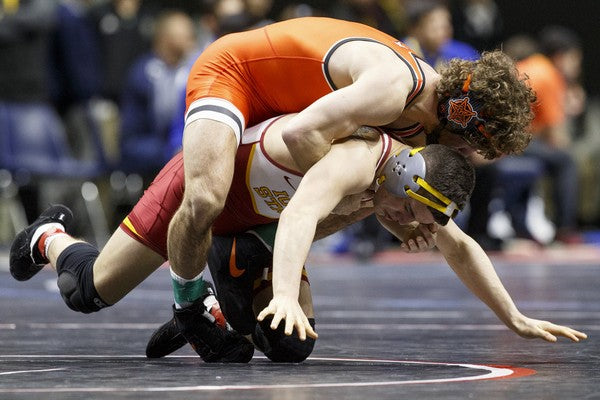 How Daton Fix Won The 2019 Southern Scuffle
Daton Fix has put together a great freshman campaign, but the highlight so far has been his Southern Scuffle championship. He won his 133lb bracket in style, beating a lot of very tough ranked opponents on his way to the gold. In the finals, he took on the explosive and dangerous Austin Gomez of Iowa State, someone he has seen before in freestyle competition. Let's take a look at what exactly happened in this match from earlier this year.
The Cowboy and the Cyclone battled early for their dominant collar ties, but a minute in Daton passed by a Russian tie to a big blast double leg that nearly exposed Austin to his back. Fix went to work on top, throwing in his double boots before Austin cleared and escaped. Austin worked from the outside more, taking half shots but the period ended with no further scoring.
Daton started the second period on bottom, escaping fast and working again to clear ties and post away. He got into the hips on a double leg, but Austin fed his hips well to break away fast. After a relatively uneventful second, Austin started under in the third and Daton immediately went back to work with his boots in, getting him flat and securing an armbar that Austin rolled through to clear. Still, it took over a minute for him to escape, and by the time he got away, Fix had his riding time locked and was looking at a two-point advantage. Austin walked into a lazy collar tie and Daton passed it by for a slick takedown and a rideout for the 5-2 victory.