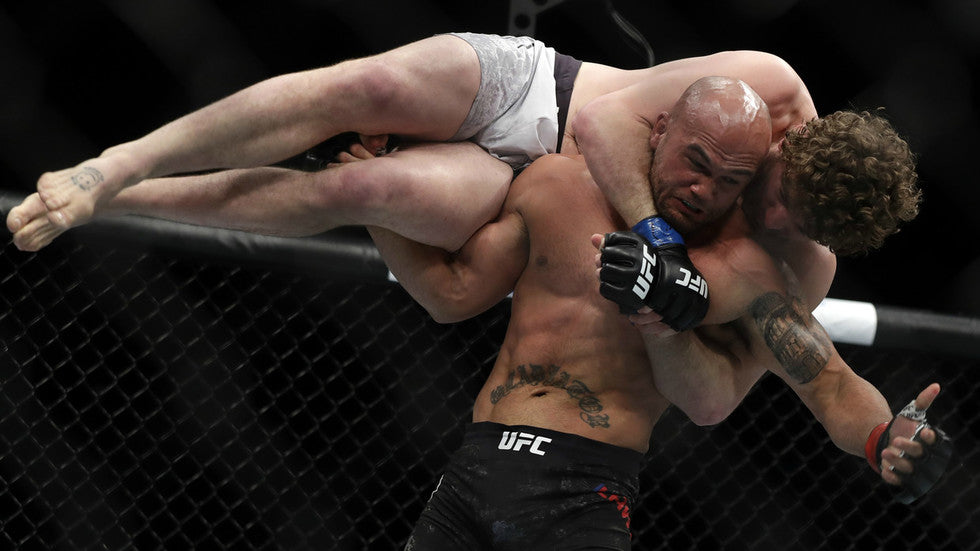 Hodge Winner Ben Askren Wins Wild UFC Debut in Controversial Fashion
On Saturday, at UFC 235, Ben Askren scored a big victory in his UFC debut against "Ruthless" Robbie Lawler, winning by stoppage from a bulldog choke in the first round. The win wasn't without some controversy, as many feel that the fight was stopped early in the choke and Lawler wasn't given every opportunity to escape the hold. Still, the win will stand and Ben moves to 19-0, and another step closer to the top of the mountain.
Askren was loose and relaxed as he moved to the cage, but UFC jitters aren't as intense when you've competed on the stages and levels that Ben has his whole life. Lawler marched to the ring looking like he had a mission to obliterate, and when the fight started he nearly did just that. Ben grabbed a bodylock that he shrugged by to rear standing but Robbie (an Iowa state champion wrestler himself) managed to get out to the side and in an incredible feat of strength, fireman carried  Ben up and over, slamming him on his head and shoulder before raining some of his legendary power punches down. The fight easily could have ended but the referee let it continue, and Ben survived (though now with damage to his face and head). Again, Ben marched forward, got to a bodylock, and found the back. This team, he searched for the choke (without any control of the body), and when Robbie tried to sit through and behind again, Ben grabbed a simple schoolyard headlock and rotated and dug his hips in. Robbie's hand fell limply, and the referee stepped in.
Unfortunately, Robbie jumped up and appeared fine, but the win will stand. If the referee sees a hand going limp and not defend an attack, he will always step in and stop the fight, and this was no exception. Askren's win was as funky as his moniker, and he will continue to climb the ranks against top contenders. As far as next fights, he may be looking at Darren Till, Jorge Masvidal, Rafael dos Anjos, or someone else in the top 5 that can bring an interesting style matchup. After that, should he win, the Funky one may be looking at a UFC title shot.