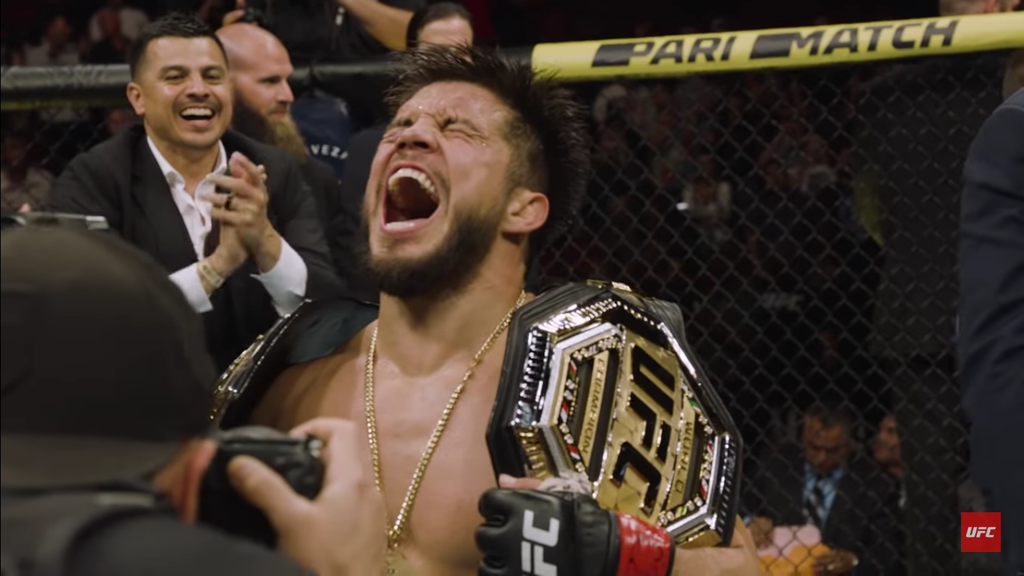 Henry Cejudo Puts His Title On The Line At UFC 249
Cejudo Takes On Former Champ Dominick Cruz
The 2008 Gold Medalist Cejudo has his work cut out for him when he faces off with former division champion Dominick Cruz. The bout will take place at UFC 249 in Jacksonville, Florida. While the UFC has seen some tumultuous times as of late, it looks as though we will finally get to see some action with the stellar lineup at UFC 249. 
After defeating Flyweight GOAT Demetrius Johnson, Cejudo turned around and quickly dispatched Bantamweight champ TJ Dillashaw to defend his Flyweight belt. After Dillashaw had to relinquish his Bantamweight title due to USADA issues, Cejudo squared off with Marlon Moraes for the vacant title. What ensued was an epic fight that was a fight of the year contender. Cejudo weathered an early storm from the explosive Moraes, but turned the tide of battle late in the third round to secure his second belt. 
Want to Learn some top-tier tips from Henry Cejudo?  
Both athletes have had some time off, but Cruz has seen considerable time away from the Octagon. That said, Cruz has been on record numerous times talking about the concept of "ring rust" and how he feels that if it is real it doesn't apply to him. Cruz has come back from several injuries and performed at the top of his game so there is some validity to his statement.
Cejudo on the other hand is coming off of a shoulder injury that required surgery. In that time Henry has vacated his Flyweight title and turned his focus to defending his Bantamweight title.
As fans get to tune into the first UFC card in some time, they will be treated to an all-star lineup. When Cejudo vs Cruz is the Co-Main you can bet that the main event is something special. Tony Ferguson and Justin Gaethje are contending for the Lightweight Interim Championship, where the winner SHOULD get a crack at reigning Lightweight Champ Khabib Nurmagomedov. 
Check out the complete card below!
Main card 
Tony Ferguson vs. Justin Gaethje 

Henry Cejudo vs Dominick Cruz

Francis Ngannou vs. Jairzinho Rozenstruik 

Jeremy Stephens vs. Calvin Kattar

Greg Hardy vs. Yorgan De Castro
Prelims
Anthony Pettis vs. Donald Cerrone

Aleksei Oleinik vs. Fabricio Werdum

Carla Esparza vs. Michelle Waterson

Uriah Hall vs. Ronaldo Souza
Early prelims
Vicente Luque vs. Niko Price 

Bryce Mitchell vs. Charles Rosa

Ryan Spann vs. Sam Alvey
Are you looking to up your wrestling skills during the off season?
Look no further than Gold Medalist Henry Cejudo! Gold Medal Wrestling is an 8 volume series where "Triple-C" Henry Cejudo takes you through his best drills, techniques, and insider tips that helped him become an Olympic Gold Medalist. Take a look at some of his top-tier techniques below!
Never leave home without a good double leg. If it's not a saying it should be now. The double leg has been around FOREVER. So people have developed numerous effective ways to defend it. One of those ways is by stuffing the head and sprawling. Thankfully there are always continuations to techniques and Henry is a master of chain wrestling. As soon as he is in on the double he manages to get an advantageous angle on his partner by using a windshield wiper step with his trailing leg. 
Check out more from Henry Cejudo and his instructional Gold Medal Wrestling!