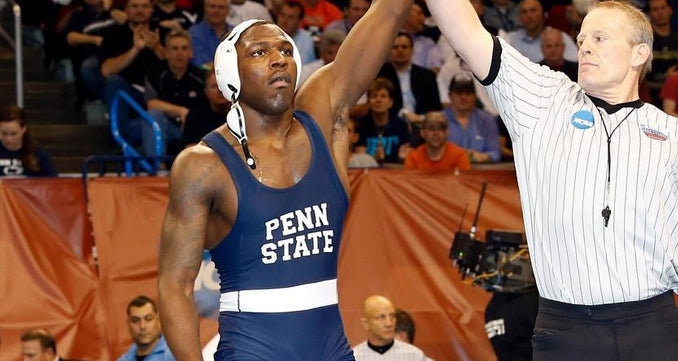 Ed Ruth
Ed Ruth is a former amateur wrestler, who later turned into a successful professional mixed martial arts (MMA) fighter. During his collegiate wrestling career for Pennsylvania State University, Ed Ruth was regarded by many as the most dynamic and entertaining wrestler in the folkstyle ranks, a style which earned him three NCAA Division 1 titles (2012, 2013, 2014) and solely three losses in his entire collegiate career. After finding success in the freestyle circuit for a brief period, Ruth jumped on a new career as a cage-fighter, finding great success in MMA as well.
Ed Ruth Wrestling
MAIN ACHIEVEMENTS

High School:
- 1st Place South Central Reg. Championship (2006, 2007)
- 1st Place National Prep Championship (2009)
- 1st Place Walsh Ironman (2008)
- 3rd Place Beast of the East (2008)
- 4th Place PIAA State Championship (2006)
- 5th Place PIAA State Championship (2007)

College:
NCAA D1 All-American (2011, 2012, 2013, 2014)
- 1st Place NCAA D1 Championship (2012, 2013, 2014)
- 1st Place Big Ten Championship (2011, 2012, 2013, 2014)
- 3rd Place NCAA D1 Championship (2011)

Senior:
- 1st Place University National Championships (2013)
- 1st Place Bill Farrell Open (2015)
- 2nd Place Team USA World Trials (2015)
- 2nd Place Henri Deglane Challenge (2015)
- 3rd Place US Open (2014)
- 3rd Place Heydar Aliyev Memorial GP (2014)

Weight:
- 174 lbs (Collegiate)
- 184 lbs (Collegiate)
- 86 kg (Senior)

Teams:
- Susquehanna Township (high school)
- Blair Academy (high school)
- Penn State Nittany Lions (College)
Ed Ruth Biography
Edward Lee Ruth was born on October 21, 1990, in Harrisburg, Pennsylvania, United States.

Wrestling entered Ed's life during his first year of elementary school, by the influence of the pro-wrestling he watched on the television. Ruth's initial years at Central Dauphin's elementary wrestling program were not easy ones to overcome as he did not enjoy the classes and struggled to stay motivated. Yet, thanks to head coach Kenny Courts and (mom) Thanayi's persistence, Edward stuck to it.

Three years into his training, Ruth finally started enjoying the sport, and with this new enthusiasm, his skills shined through. By the time the young athlete hit high-school he joined the Susquehanna Township HS wrestling program, becoming very successful at a regional and state level.

After 3 years of competing for his hometown school, Ruth understood that he had a future in the sport if he had the right tools to work. With that in mind, Ed opted to transfer to Blair Academy in New Jersey for his senior season, a decision that proved to be very fruitful as Ruth ended his high school career as the Nation's top-ranked wrestler in his division (171 lbs).

Ruth's impressive high-school career earned him a place on Pennsylvania State University's wrestling program, the well known Penn State Nittany Lions. While there, Ed became a three-time NCAA Division I national champion. During the process Ruth set a new record for Penn State, becoming the first athlete in the program's history to conquer 3 individual NCAA titles, losing just three matches his entire college career.

After ending his collegiate career, Ruth briefly tested out the freestyle wrestling circuit. Although successful Ruth would eventually gravitate towards mixed martial arts, making his cage-fighting debut in 2016. During his preparation for MMA, Ruth also competed in jiu-jitsu, earning medals at the Pan American Championships, in the blue belt division (2017 silver, 2018 bronze).
Ed Ruth Wrestling Techniques - Finishing Shots