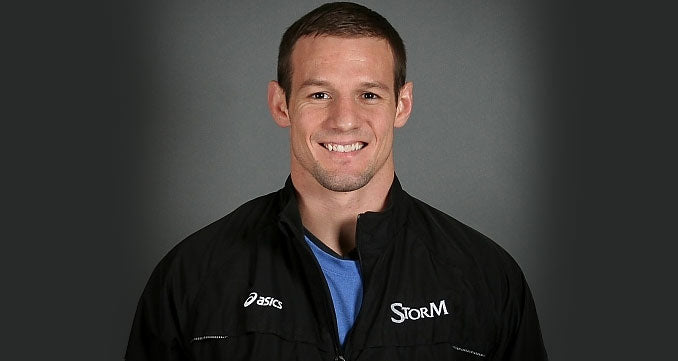 Dustin Schlatter
Often celebrated as one of his generation's foremost wrestlers, Dustin Schlatter was the 2006 NCAA Division I Wrestling National Champion, who also achieved NCAA All-American status on three occasions for the University of Minnesota. Adding to this impressive resume, Schaltter was an NHSCA Senior National Champion, USA Wrestling Junior and Cadet National Champion in the Freestyle and Greco-Roman rulesets, as well as a four-time Ohio high school state champion, whose duels with Brent Metcalf are among the sport's finest rivalries.
Dustin Schlatter Wrestling

MAIN ACHIEVEMENTS

High School:
NHSCA Wrestler of the Year
NHSCA Academic All-American
Asics HS Wrestler of the Year
OHSWCA Academic All-Ohio
NHSCA Senior National Champion
- 1st Place OHSAA D1 State Championship (2004, 2005)
- 1st Place OHSAA D2 State Championship (2002, 2003)

College:
NCAA All American (2006, 2007, 2008)
- 1st Place NCAA D1 Championship (2006)
- 1st Place Big 10 Championship (2006, 2007)
- 2nd Place Big 10 Championship (2008)
- 3rd Place NCAA D1 Championship (2007)
- 7th Place NCAA D1 Championship (2008)

Freestyle:
- Fargo Junior Nationals Greco Roman (2003)
- Fargo Junior Nationals Freestyle (2003)

Weight:
- 149 lbs
- 157 lbs

Teams:
- Graham High School
- Perry High School
- University of Minnesota


Dustin Schlatter Biography
Dustin Schlatter was born on May 15, 1986, in Westerville, Ohio, USA.
Although we do not know too much about Schaltter's start in wrestling, his talent was quickly noticed once he hit the high school circuit, first with Perry High School in Perry Township and later at Graham High School in St. Paris (2001–2003).
Not only a 4x OHSAA champion, Dustin's high school career was also celebrated for his duels with another huge wrestling talent, Mr. Brent Metcalf. A rivalry that would become one of the most interesting to follow in folkstyle for the duration of both athletes' careers.
After his impressive high school campaign, Dustin Schlatter hit the ground running at the University of Minnesota where his stock continued to rise. This quick development of the Ohioan's potential saw him earn the No. 1 seed at 149 pounds during his freshman year, a very rare event for any freshman, let alone a true freshman such as Dustin.
After 1 NCAA title and 3 All American placements, Dustin took a redshirt year from 2008 to 2009, to focus on freestyle. Although this was the official version of events, Schaltter stated in a few interviews at the time that he was also needing a break from the collegiate scene to recover from long lasting injuries. During this period, Schlatter qualified for the first time for the US world team (at 74 kg / 163 lbs.) by defeating top seeded Travis Paulson.
Upon his return to collegiate wrestling, Minnesota head coach Jay Robinson requested Dustin Schlatter to move to the 157 lb weight class after team mate, and Olympian Jake Deitchler was ruled ineligible for the season. Unfortunately this was not a lucky season for the exciting wrestler who spent a large portion of it away from the mats due to a leg injury.
Although hindered by his injuries, Schlatter closed his senior season with wins over over five NCAA All-Americans (Frishkorn, Keefe, Churella, Drew Headlee, and Coleman Scott), as well as four wrestlers who had reached the All-American round of the NCAA (Ryan Lang, Frank Edgar, Rob Preston, and Mark McKnight). An impressive run.
Dustin Schlatter Cutback Finish