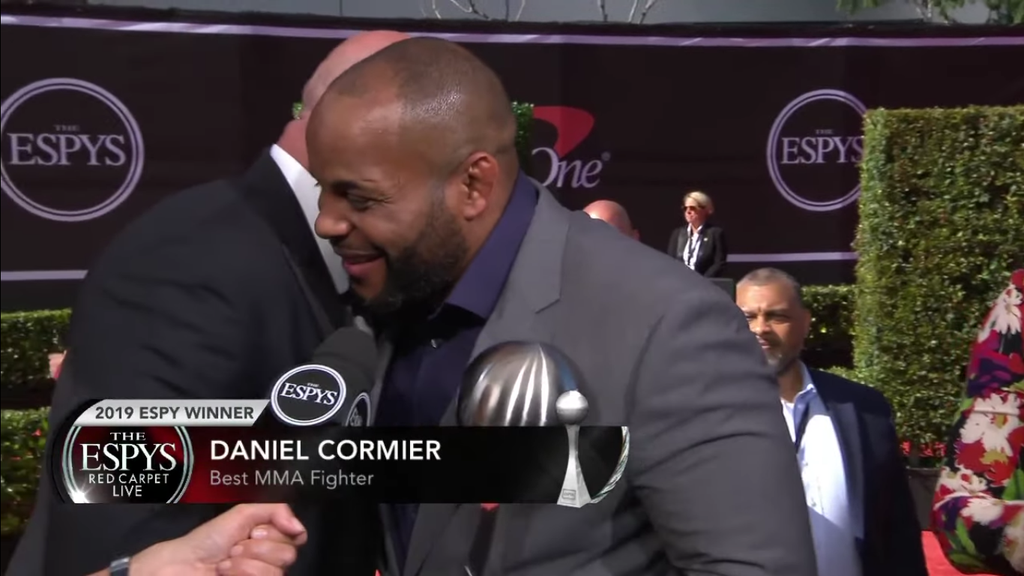 Daniel Cormier Wins ESPY for Best MMA Fighter
Wednesday night, July 9th, two-time Olympic wrestler and current UFC heavyweight champion Daniel Cormier was awarded an ESPY for Best MMA Fighter. The awards show took place live on ABC.
Cormier was in a pool of finalists which included  Israel Adensanya, Amanda Nunes, and Henry Cejudo who was a 2008 Olympic Gold Medalist in wrestling and a teammate of Cormier. 
Want to update your FUNDAMENTALS? You might as well learn from an ALL-TIME GREAT! Click Learn More!
After winning the award, Cormier took to twitter and tweeted out "I won the ESPY for MMA fighter of the year tonight. I am humbled, I have the greatest support system ever. From my family, to my coaches, managers and partners, we've all made this happen. And to the fans that voted I love each and every one of you. Thank you DC."
As a fighter, Cormier holds a professional record of 22-1-1. He is one of only four fighters to ever hold two UFC championship belts at the same time in different weight classes: light heavyweight and heavyweight. He has since relinquished his title at light heavyweight. He has notable wins over Anthony Johnson, Derrick Lewis, and Stipe Miocic. 
As a wrestler, Cormier was a three time Louisiana state champion with a high school record of 101-9. After high school he attended Colby Community College where he was a two time junior college national champion. After that he transferred to Oklahoma State and was an NCAA finalist losing to Cael Sanderson.
After Cormier finished college, he started his international freestyle career. He made the senior freestyle team from 2003-2008 with his best finish being a bronze at the world championship in 2007. 
In addition to fighting and commentating on MMA, Cormier is currently the wrestling coach at Gilroy High School in northern California. Cormier's next fight will be a rematch with former heavyweight champion Stipe Miocic in August on UFC 241. 
Fundamentals are crucial to success regardless of what level you are at. Chael Sonnen was one of the best wrestler's to enter into MMA, and he used his foundational wrestling to get there! WRESTLING FUNDAMENTALS FROM THE BAD GUY BY CHAEL SONNEN  HAS WHAT YOU NEED!