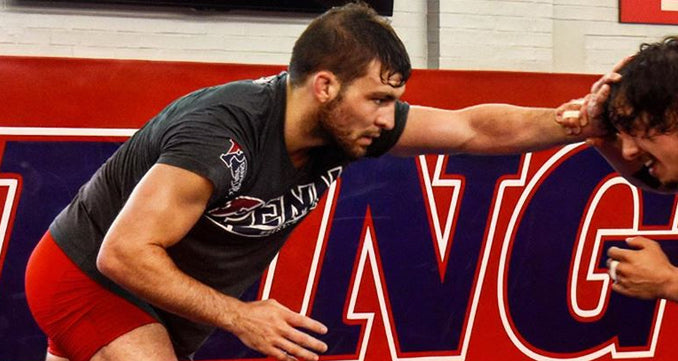 Dan Vallimont
Dan Vallimont is an accomplished amateur wrestler with extensive accolades in both folkstyle and freestyle wrestling. Vallimont became widely recognized as one of USA's top prospects as a high-schooler, after conquering two state titles (NJ), growing on that excellence while competing for the Pennsylvania State University, a team he captained for two years. It was also while representing the Penn State Nittany Lions that Dan earned All-American honors (2x). After his collegiate career ended, 
Dan Vallimont secured his spot on Team USA's squad in freestyle wrestling.
Dan Vallimont Wrestling
MAIN ACHIEVEMENTS

High School:
- 1st Place NJSIAA Championship (2004, 2005)

College:
- NCAA D1 All-American (2008, 2010)
- 2nd Place NCAA D1 Championship (2010)
- 3rd Place NCAA D1 Championship (2008)
- 2nd Place Big Ten Championship (2008)
- 3rd Place Big Ten Championship (2009)

Senior:
- Team USA World Cup Freestyle Squad Member (2014)
- 1st Place Guelph Open (2018)
- 2nd Place US Open (2018)
- 2nd Place Dave Schultz Memorial (2014)
- 2nd Place Bill Farrell International (2015, 2018)
- 3rd Place Bill Farrell International (2014)
- 5th Place Paris Grand Prix (2017)
- 4th Place Dave Schultz Memorial (2017)
- 6th Place World Team Trials Challenge (2018)

Weight:
- 165 lbs (Collegiate)
- 74 kg (Senior)

Teams:
- Jefferson Township (high school)
- Penn State Nittany Lions (College)


Dan Vallimont Bioraphy
Dan Vallimont is a native of Lake Hopatcong, New Jersey, USA.

Growing up Vallimont was a big fan of Penn State related sports by the influence of his family. Dan's father studied at the famous Pennsylvania institution, having later moved to Jersey for work-related reasons, yet, always kept a strong bond with the community, particularly with Centre County, where Penn State is located and Dan's grandparents lived.

With a long term dream of one day representing PSU, Vallimont started wrestling locally, earning a spot at the Jefferson Township High School program in Oak Ridge, NJ, where he became a two-time New Jersey state champion and a three-year team captain as well as a four-year member of the National Honor Society.

Vallimont's outstanding record in high-school (134-9 [from 2001-05]) earned him a spot with Penn State's Nittany Lions, a dream come true.

Not only successful on the mats, but Vallimont's character also led the young Jersey native to a leadership role in the team as captain, a position he held for his last two seasons with the PSU singlet (2008-09 and 2009-10).

While representing the Nittany Lions, Dan earned All-American honors on two occasions before graduating with a degree in architectural engineering.

After his time as a Lion, Vallimont spent some time away from the sport, assessing which direction to take. During that process, Vallimont helped train a few MMA (Mixed Martial Arts) fighters such as Yves Edwards, Dustin Poirier, and Dennis Bermudez in their preparation for fights in the UFC.

Once Hofstra University head coach, Rob Anspach, called Vallimont by the end of 2011 and asked if he wanted to join the team as an assistant coach, Dan jumped on the opportunity.

In 2013, with the intention of wrestling in the Olympics, and while maintaining his position at Hofstra, Dan decided to start competing at a high level in freestyle wrestling. Although under a limited schedule Vallimont was very successful, earning a place in Team USA's World Cup Squad (freestyle, 2014).

Vallimont's work with Hofstra ended in August 2016, a time when he joined Penn State once again, as an Assistant Wrestling Coach, where he was allowed to allocate more time to his Olympic dream.
2-on1 To Ankle Pick by Dan Vallimont