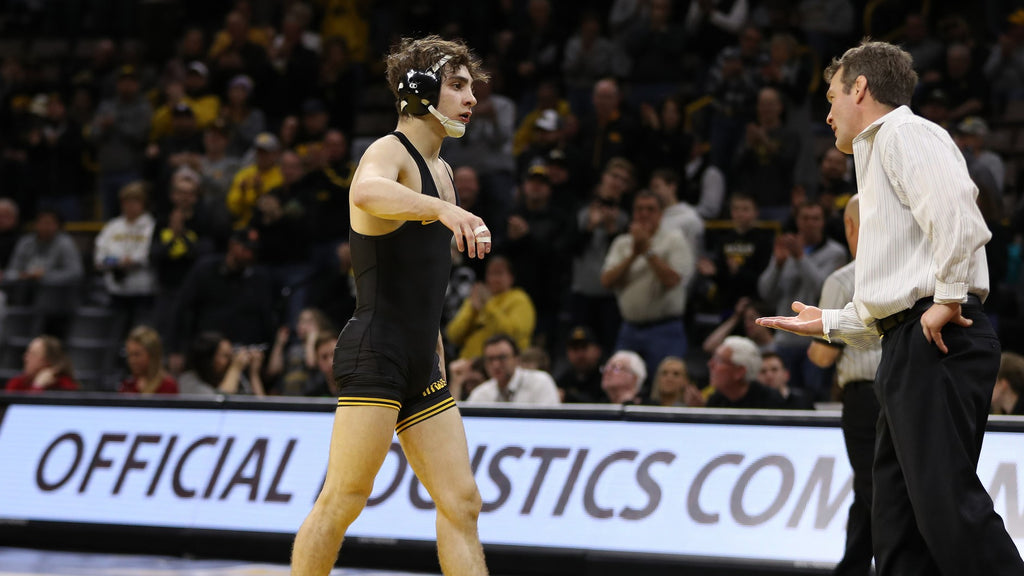 Biggest Matches in Iowa Hawkeyes and Oklahoma State Cowboys Wrestling Showdown
133lbs - #3 Austin DeSanto vs. #2 Daton Fix
The dramatic antics of Austin DeSanto meets the high pace and explosion of Daton Fix in a huge matchup at 133.  DeSanto has had a great season, 16-1, but his wins have at times been marred by an inability to control his emotions. Still, victories over Ethan Lizak, Nick Suriano, and Ben Thornton have anchored his season. Daton has had predictable success so far, with a 25-1 record. Wins over Suriano, John Erneste, Austin Gomez, Lizak, and Montorey Bridges have been his highlights. Fix continues to ride and turn, and his handfighting and inside trip are elite. Whoever wins here will do a lot to improve his seed at Nationals. Fix is favored for his overall consistency at this level, and for a win over Austin Gomez who has beaten DeSanto.
Learn How A Greco Champion Goes Feet To Back, No Matter The Style
125lbs - #2 Spencer Lee vs. #4 Nick Piccininni
The defending NCAA champion takes the mat against one of his toughest opponents of the season yet in Nick Piccininni. The Cowboy has been undefeated in his junior campaign, 22-0, with strong sweep and low singles and a great tilt series from a claw ride. Spencer Lee is still a point scoring powerhouse who tends to run up big leads early. If Piccininni can hold an even match early, he really improves his chances late. Easier said than done though, against someone like Lee, who has only lost 3 times in college.
197lbs - #4 Jacob Warner vs. #6 Preston Weigel
The 14-2 Hawkeye freshman Warner has been a strong contender at this weight all season, notching an early win over Willie Miklus, but he has struggled from bottom, which could end up being disastrous against top game specialist Preston Weigel, who is only 3-0 because of persistant injury. Still, he's got lifetime wins over guys like Mike Macchiavello, Pat Downey, and Kyle Conel. This is going to be a really interesting style matchup.
285lbs - #7 Sam Stoll vs. #2 Derek White
Sam Stoll started the season at #1, but thanks to an off-season shooting-related injury, he has had a noticable decline in his mobility. Still, he's a threat to win every match and could still be the NCAA champion come March. Derek White has been a consistent scoring threat from the feet, with wins over Anthony Cassar, Nick Nevills, Demetrious Thomas, and Jordan Wood. If the dual is on the line, this one could get chippy.
165lbs - #2 Alex Marinelli vs. #11 Chandler Rogers
Alex Marinelli has had an undefeated season, with wins over Evan Wick, Isaiah White, and Josh Shields on his way to a 19-0 record. He's deep in the hunt for an NCAA title, and has a win over the #1 guy, Joseph of PSU. Rogers could mess all that up though, especially since he is one of the best pinners in the NCAA. His feet-to-back ability puts him in a lot of matches and makes this a really intriguing bout.
Give Yourself A Bulletproof Upper Body Takedown System With The Last American To Medal In Greco At The Olympics, Adam Wheeler