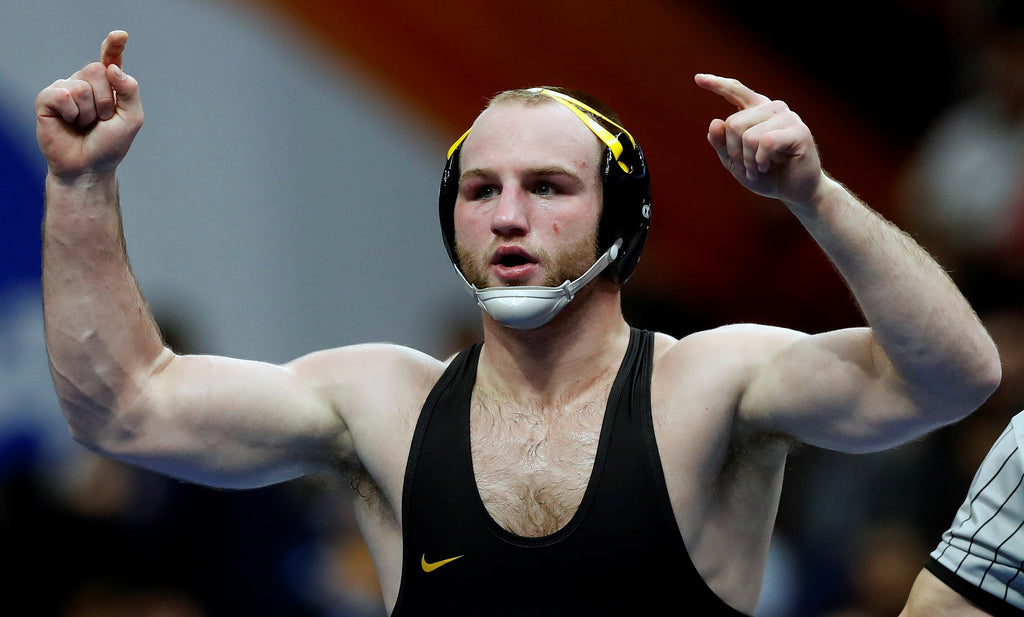 Big Ten Finals Results
125:
1st: Sebastian Rivera (Northwestern) dec. Spencer Lee (Iowa), 6-4 SV
3rd: Sean Russell (Minnesota) dec. Elijah Oliver (Indiana), 6-0
5th: Travis Piotrowski (Illinois) by medical forfeit over RayVon Foley (Michigan State)
7th: Drew Mattin (Michigan) pinned Devin Schroder (Purdue), 2:11
9th: Malik Heinselman (Ohio State) dec. Ethan Rotondo (Wisconsin), 8-5
Sebastian Rivera took the title with a late takedown in regulation and an incredible reattack in sudden victory. Russell of host-school Minnesota took third in a solid shutout win over Elijah Oliver.

133:
1st: Nick Suriano (Rutgers) dec. Luke Pletcher (Ohio State), 4-1
3rd: Ethan Lizak (Minnesota) dec. Austin DeSanto (Iowa), 6-2
5th: Roman Bravo-Young (Penn State) by medical forfeit over Stevan Micic (Michigan)
7th: Ben Thornton (Purdue) dec. Dylan Duncan (Illinois), 3-1 SV
9th: Jevon Parrish (Nebraska) dec. Colin Valdiviez (Northwestern), 7-4
Rutgers' Nick Suriano came a disappointing dual season to pick up the championship, beating Austin DeSanto in the semifinals before downing Luke Pletcher in the finals for his first Big 10 title. Ethan Lizak lit up the local audience with a controlled decision win over Iowa's Austin DeSanto.

141:
1st: Joey McKenna (Ohio State) dec. Chad Red (Nebraska), 9-2
3rd: Nick Lee (Penn State) maj. dec. Mitch McKee (Minnesota), 12-4
5th: Kanen Storr (Michigan) dec. Tristan Moran (Wisconsin), 7-4
7th: Max Murin (Iowa) dec. Michael Carr (Illinois), 3-1
9th: Pete Lipari (Rutgers) dec. Nate Limmex (Purdue), 8-6
Joey McKenna of the Buckeyes won his second Big Ten championship by putting up big points on the streaking 8-seed Chad Red. Nick Lee of the team champion Nittany Lions took bronze with a major decision over Mitch McKee.

149:
1st: Anthony Ashnault (Rutgers) dec. Micah Jordan (Ohio State), 8-6
3rd: Pat Lugo (Iowa) dec. Cole Martin (Wisconsin), 11-6
5th: Tommy Thorn (Minnesota) by medical forfeit over Brady Berge (Penn State)
7th: Shayne Oster (Northwestern) dec. Malik Amine (Michigan), 8-6
Anthony Ashnault kept his undefeated streak alive with a 8-6 win over national #2 Micah Jordan, but needed some late match theatrics and a 3rd period cradle to lift himself through the tough bout. Pat Lugo posted one of the best days of his season in taking third, winning 11-6 over Cole Martin.

157:
1st: Jason Nolf (Penn State) maj. dec. Tyler Berger (Nebraska), 12-4
3rd: Alec Pantaleo (Michigan) dec. Kaleb Young (Iowa), 5-3
5th: Ryan Deakin (Northwestern) maj. dec. Steve Bleise (Minnesota), 10-1
7th: Ke-Shawn Hayes (Ohio State) dec. John Van Brill (Rutgers), 5-3
9th: Griffin Parriott (Purdue) dec. Eric Barrone (Illinois), 5-2
Jason Nolf of Penn State continued his brilliant season with a major decision over Tyler Berger of Nebraska. After flirting with 149 midway through the season, Alec Pantaleo powered his way through Ryan Deakin and Kaleb Young for the third place on the podium.
Learn How YOU can build real, functional grappling strength
165:
1st: Alex Marinelli (Iowa) dec. Vincenzo Joseph (Penn State), 9-3
3rd: Logan Massa (Michigan) dec. Evan Wick (Wisconsin), 2-1
5th: Isaiah White (Nebraska) dec. Te`Shan Campbell (Ohio State), 3-2
7th: Bryce Martin (Indiana) dec. Tyler Morland (Northwestern), 8-3
9th: Carson Brolsma (Minnesota) dec. Joseph Gunther (Illinois), 3-1
Alex Marinelli cemented his tournament OW status with a huge 6 point win over defending national champion Vincenzo Joseph in the finals. Logan Massa used a late stall point to win his third place match against Evan Wick.

174:
1st: Mark Hall (Penn State) dec. Myles Amine (Michigan), 3-2
3rd: Devin Skatzka (Minnesota) dec. Mikey Labriola (Nebraska), 4-2
5th: Dylan Lydy (Purdue) dec. Ethan Smith (Ohio State), 5-3
7th: Drew Hughes (Michigan State) by medical forfeit over Ryan Christensen (Wisconsin)
9th: Joe Grello (Rutgers) pinned Mitch Bowman (Iowa), 2:18
Mark Hall continued his trend of 1-point wins over Myles Amine, this time picking up a 3-2 decision. Devin Skatzka showed another level to his game winning third over Mikey Labriola.

184:
1st: Myles Martin (Ohio State) by medical forfeit over Shakur Rasheed (Penn State)
3rd: Emery Parker (Illinois) dec. Tayler Venz (Nebraska), 5-1
5th: Cash Wilcke (Iowa) by medical forfeit over Nick Gravina (Rutgers)
7th: Max Lyon (Purdue) dec. Mason Reinhardt (Wisconsin), 8-1
9th: Cameron Caffey (Michigan State) dec. Brandon Krone (Minnesota), 7-2
Myles Martin picked up an unfortunate medical forfeit over Shakur Rasheed for first place, but Emery Parker took a key third place match over Taylor Venz of Nebraska in a reversal of the dual result.

197:
1st: Bo Nickal (Penn State) dec. Kollin Moore (Ohio State), 10-3
3rd: Jacob Warner (Iowa) dec. Eric Schultz (Nebraska), 7-5 SV
5th: Christian Brunner (Purdue) dec. Beau Breske (Wisconsin), 6-0
7th: Brad Wilton (Michigan State) dec. Jake Kleimola (Indiana), 9-5
Bo Nickal kept up his season of dominance, winning by 7 over national #2 Kollin Moore, using nasty reattacks and single legs to get the win. Freshman Iowa wrestler Jacob Warner won in sudden victory to propel himself into third.

285:
1st: Anthony Cassar (Penn State) dec. Gable Steveson (Minnesota), 4-3
3rd: Youssif Hemida (Maryland) dec. Trent Hilger (Wisconsin), 3-2
5th: Conan Jennings (Northwestern) by injury default over David Jensen (Nebraska)
7th: Mason Parris (Michigan) dec. Jacob Aven (Purdue), 7-3
Anthony Cassar overcame the undefeated Gable Steveson for his first Big 10 Championship, one of the biggest upsets of the season. Youssif Hemida wrestled all the way back from a first round loss for third.
Learn The 1% Per Day Improvement System That Took This BJJ Black Belt & Famous UFC Trainer From Someone Who Never Lifted Seriously To One Of The Strongest Men In Nevada In Under 2 Years: Working Out Less Than 30 Minutes A Day