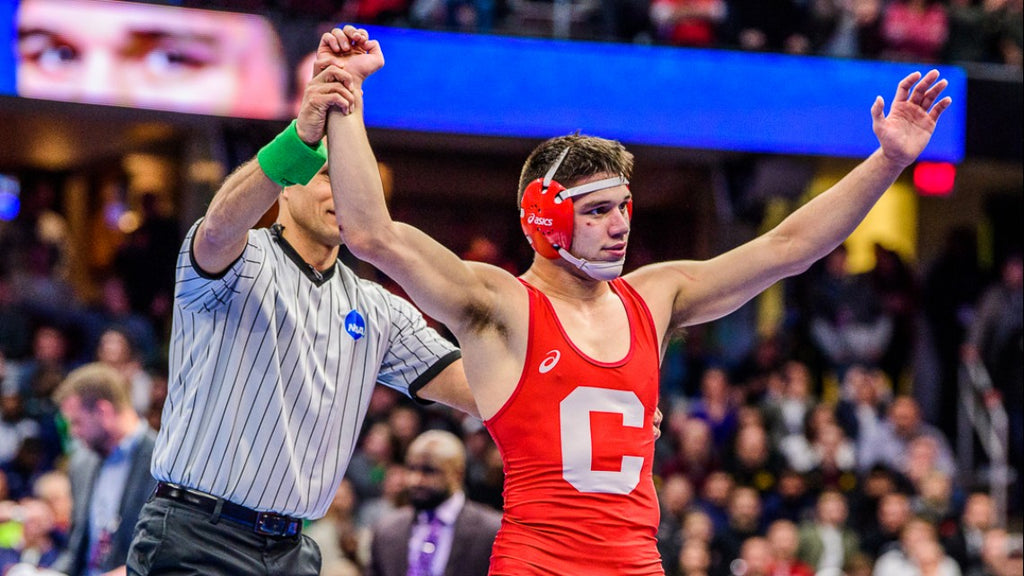 #7 Cornell vs. #6 Ohio State: Matchups to Watch & Predictions
As the matchup of two top teams approaches, let's take a look at some of the biggest matches that will help define the Ohio State Buckeyes (11-2-0) versus the hometeam Cornell Big Red (13-2-0). Both teams have had incredible success over the years, with plenty of history between them. Still, it's all about the matchups, so lets take a look at some of the most compelling of the dual.
125lbs: #17 Malik Heinselman vs. #8 Vitali Arujau
Two strong contenders for 125 freshman of the year collide. After tons of experience in freestyle scenes coming up through high school, Heinselman and Arujau face off for the first time in college. These guys are young, hungry, and exciting to watch. Expect some serious action here, with a slight edge to Arujau.
Prediction: Arujau by decision, 3-0 Cornell
133lbs: #6 Luke Pletcher vs. #13 Chaz Tucker
Luke Pletcher continues to live or die by the one point match, having beaten Tucker 4-3 last year. It's hard to consistently pick a guy who doesn't score points but his defensive fundamentals should serve him well here.
Prediction: Tucker by decision, 6-0 Cornell 
See The Takedown Technique Of Olympic Champ Henry Cejudo
141lbs: #3 Joey McKenna vs. #1 Yianni Diakomihalis
This is the marquee match of the weekend, as two exciting grapplers duke it out. McKenna lost recently to Lee of PSU, especially once his gas tank faded in the third period. Yianni had offseason ACL surgery, but considering he won NCAAs with a tor-up knee, and he's undefeated on the year, no reason to think he is hampered. McKenna will stay more positionally sound, but Yianni's scrambling and ability to score from anywhere can't be discounted.
Prediction: McKenna by decision, 6-3 Cornell
149lbs: #3 Micah Jordan vs. Jonathan Furnas
Micah is wrestling his best his senior season, having crept up to a top-3 ranking. He will need to pick up bonus, but he's pinned Furnas before. Expect 5 or 6 bonus points here.
Prediction: Jordan by tech fall, 8-6 OSU
157lbs: #6 Ke-Shawn Hayes vs. Adam Santoro
Even though he is undersized, Hayes has been battling tough in a deeper-than-expected 157 class with grit and technique. He's had plenty of nice top-20 wins, so while bonus may be tough, Hayes should hold serve here.
Prediction: Hayes by decision, 11-6 OSU
165lbs: #12 Te'Shan Campbell vs. Andrew Berreyesa
Campbell looks to stack up points against a tough greco guy in Berreyesa, a cadet world silver medalist. Still, Campbell's leg attacks and rides should be enough to piece together a decision victory.
Prediction: Campbell by decision, 14-6 OSU
174lbs: #19 Ethan Smith vs. #14 Brandon Womack
This one is definitely a swing bout. While both guys haven't beaten the elite of the division, they've turned away the gatekeepers and established themselves in a lower tier. One guy can help his seed at nationals and his team a lot by picking up a win here.
Prediction: Womack by decision, 14-9 OSU
184lbs: #1 Myles Martin vs. #7 Max Dean
Last time these two met, it was the CKLV finals and Myles was taking home a ten point major in the finals, in a match where he really piled on late to boost his points. Martin has been on another level so far this year, and may be the most underrated takedown artist in the NCAA. Dean keeps strong position and handfights very well, but Martin is making this his year so far.
Prediction: Martin by major, 18-9 OSU
197lbs: #2 Kollin Moore vs. #7 Ben Honis
Moore is an elite takedown guy, but Honis has the mat skills that could really make this tricky. They've wrestled three times, and while Moore won all 3, the score has been within 2 points twice.
Prediction: Moore by decision, 21-9 OSU
285lbs: #11 Chase Singletary vs. Jeramy Sweany
Heavyweights can be hard to write about, since not much happens in the matches. I expect Singletary to win.
Prediction: Singletary by decision, 24-9 OSU
Learn From The Only UFC Champion To Win Olympic Gold, Henry Cejudo!