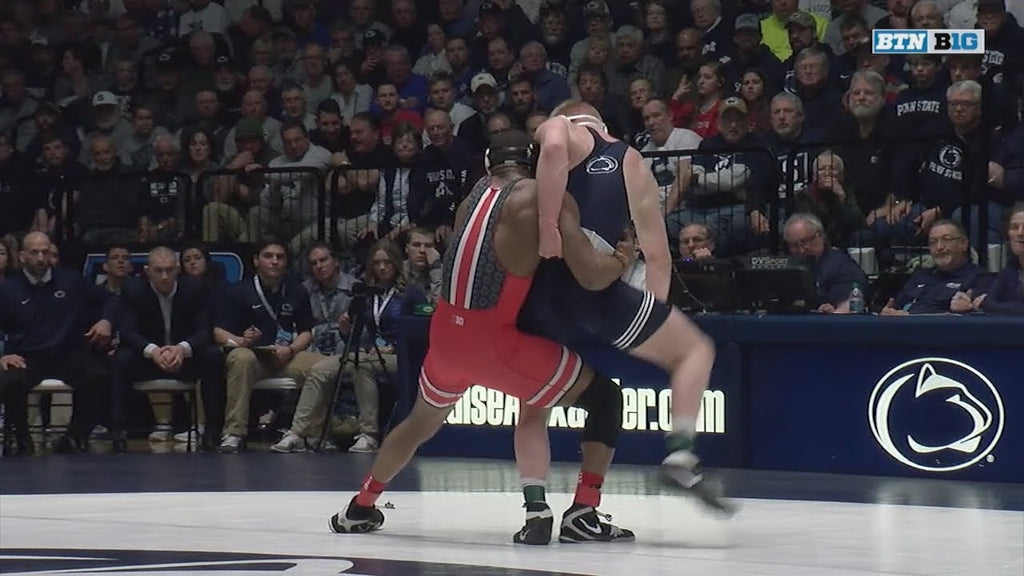 #1 Myles Martin Wins In Style Against #4 Taylor Venz
Former NCAA Champion and current #1 in the nation Ohio State wrestler Myles Martin beat Wisconsin All-American Taylor Venz 12-5 in a match with big postseason implications. Martin was never really threatened as he continues to put up his best NCAA season yet. Martin is undefeated, 16-0, so far this year, and factors in as a fringe Hodge contender for his continued NCAA excellence. Venz, one of the most profilic point scorers in the weight, wasn't able to get to his offense effectively, but has time to adjust for the podium.
See The Full Takedown And Turn System That Henry Cejudo Used To Win The Olympics
Martin started by keeping distance and clearing ties, until he brought Venz in enough to change levels for a double leg that he converted to a seatbelt knee pick, giving him an early 2-0 lead. He added another high crotch from distance later in the first, which Venz cracked it down to a protracted scramble but Martin scored late to lead 4-1 after 1.
Martin started the second with a downblock reattack that looked a little more like teleportation than technique, and added a blast double to extend his lead 8-3 after 5 minutes.  With a final single leg, and a RT point, Martin won 12-5.
Myles Martin's variety of attacks makes him particularly hard to gameplan for, he's been able to always find a new entry when you close off one of his strengths. Can anyone change this come March?
Give Yourself Leg Attacks And Finishes From Everywhere With UFC Champ Henry Cejudo's Full Instructional Series!