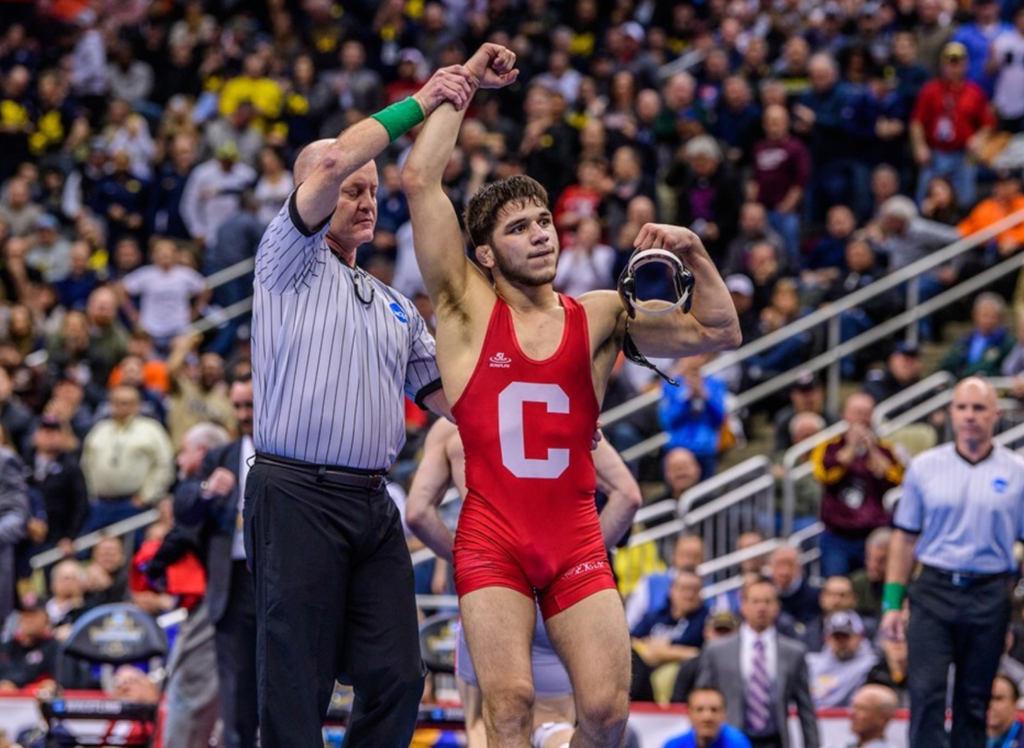 Zain Retherford, Yianni Diakomihalis, and Bajrang Punia All Competing At 65kg
This weekend in Istanbul, Turkey, ten U.S. wrestlers will be competing at the Yasar Dogu tournament. This is a ranking tournament put on by United World Wrestling and will help to determine seeding at the World Championships which will be held in September in Kazakhstan.
One of the more exciting weight classes to watch this weekend will be the 65kg class. Zain Retherford, Yianni Diakomihalis, and Bajrang Punia have all entered the tournament at 65kg and it will be very interesting to see the outcome as there is currently an odd win/loss triangle going on between these three wrestlers. 
Retherford is a three time NCAA champion from Penn State and is a two time world team member. He was a 2012 Cadet world champion and he recently beat Yianni Diakomihalis at Final X in what some have considered a controversial match to earn himself a spot on this year's world team. 
Want to update your FUNDAMENTALS? You might as well learn from an ALL-TIME GREAT! Click Learn More!
Bajrang Punia, from India, is the number one ranked wrestler in the world right now from at 65kg according to United World Wrestling. He has won both a bronze and a silver medal at the world championships in 2013 and 2018 in addition to his many other medals at other various international tournaments. Recently, at the Beat The Streets event in New York City, Punia lost an exhibition match with unranked Yianni.
Yianni Diakomihalis is still in college wrestling for Cornell. As he enters his third year of college, he is already a two time national champion and was close to beating Retherford to earn a spot on this year's world team. Diakomihalis was ahead in their second match and a flurry of action put him ahead of Retherford when time expired, but due to a challenge by Retherford, the match was rescored and Retherford emerged as the winner. If Diakomihalis had won, it would have forced a third match and possibly a spot on this year's world team. Diakomihalis has filed a formal grievance about the call. 
It will be interesting to see how this odd triangle of wins and losses between these three wrestlers will play out this weekend. Maybe Punia had an off day at Beat The Streets, and solidifies his spot as the number one wrestler in the world by beating both Retherford and Yianni and winning the tournament, or Maybe Yianni beats Punia again to help legitimize his victory against him. If Yianni does beat Punia again, it really won't matter too much since Yianni is not wrestling in the world championships. 
We also might get to see the rematch between Retherford and Yianni. If they do wrestle again and Retherford wins, it would help to legitimize his spot on the world team, but if they wrestle and Yianni comes out as the winner, you can bet the pot of controversy surrounding their matches at Final X will be stirred up.
In addition, Retherford needs to have a great tournament this weekend. He is currently not ranked and placing high or even winning this weekend would really help him to secure a higher seed at the world championships. If he ends up wrestling Yianni and losing, it could potentially have a negative effect on Team USA at the world championships by giving Retherford a lower seed and a tougher road to placing. 
Whatever the outcome ends up being this weekend at 65kg, team USA should have a great showing overall. Here are all the wrestlers who will be competing this weekend from the United States. 
61 kg: Tyler Graff (New Brunswick, N.J./Titan Mercury/NJRTC)
65 kg: Yianni Diakomihalis (Rochester, N.Y./Titan Mercury WC/FLWC)
65 kg: Zain Retherford (State College, Pa./Nittany Lion WC)
70 kg: James Green (Lincoln, Neb./Sunkist Kids/Nebraska WTC)
74 kg: Jordan Burroughs (Lincoln, Neb./Sunkist Kids/Nebraska WTC)
79 kg: Alex Dieringer (Stillwater, /Titan Mercury WC/Cowboy RTC)
86 kg: Pat Downey (Princeton, N.J./Titan Mercury WC/NJRTC)
92 kg: J'den Cox (Colorado Springs, Colo./Titan Mercury WC/USOTC)
97 kg: Kyle Snyder (Columbus, Ohio/Titan Mercury WC/Ohio RTC)
125 kg: Nick Gwiazdowski (Raleigh, N.C./Titan Mercury WC/Wolfpack RTC)
Fundamentals are crucial to success regardless of what level you are at. Chael Sonnen was one of the best wrestler's to enter into MMA, and he used his foundational wrestling to get there! WRESTLING FUNDAMENTALS FROM THE BAD GUY BY CHAEL SONNEN  HAS WHAT YOU NEED!