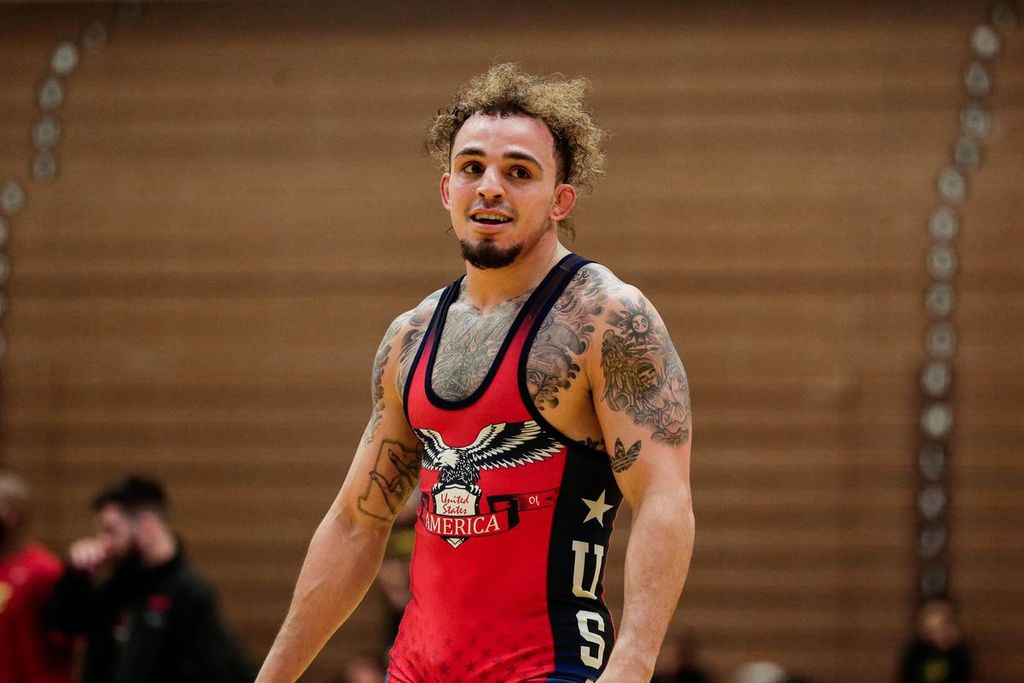 Wrestling Finally Returns at the Rumble on the Rooftop!
To all of you Fanatic Wrestling fans out there; wrestling competition finally returns this Sunday at the Rumble on the Rooftop! The event takes place Sunday June 28th at 6pm CST in Chicago, Illinois, and features eight matchups of some of the best freestyle wrestlers our nation has to offer. There will be no fans present at the event, but it is available to be streamed via FITE.TV pay-per-view.
The main event is an epic matchup, as returning Senior Nationals Champion Jordan Oliver takes on three-time NCAA Champion Jason Nolf in what should be an action-packed, high-scoring affair. I am interested to see Nolf physically, as he has been bouncing around between 70 kg, 74 kg, and 79 kg over the last year or so. Oliver however has been steady at 65 kilograms for the past several years. Now as wrestlers we know they will step on the scale at the same weight, but I would say Nolf has a slight size advantage in this one.
Nolf is a great technician with a natural ability to scramble into or out of any position. However, he will need to be careful scrambling on his feet, as he is moving from the NCAA level which strictly wrestles folkstyle, to the freestyle circuit. In folkstyle you can expose your back from the neutral position (for a few seconds) while trying to scramble without penalty, but in freestyle if you expose your back your opponent gets 2 points per exposure. I am sure the coaches from the Nittany Lion Wrestling Club will have Nolf ready to go as he transitions to the International level full-time. 
I am extremely excited to see Oliver back in action, as he looked unbeatable at the Senior Nationals in December, and was well-positioned to win the spot to represent Team USA at the 2020 Olympics in Tokyo, before the Covid-19 epidemic caused the postponement of the Olympics until 2021. What separates Oliver on his feet is his exceptional movement, and opportunistic explosiveness. Again, I have never seen a better version of Jordan Oliver than at the Senior Nationals this past December as he outscored his opponents by a combined score of 50-0! Let's just say the sparks should fly during this matchup of two world-class talents.
Nolf vs. Oliver is not the only great matchup on the card though. In the co-main event, 2019 Men's Freestyle World Team member Pat Downey will take on 2019 Greco-Roman World Team member Joe Rau. Now I have heard two different rumors on this match. One is that it will be strictly freestyle, while I heard from another source it will be one period freestyle and one period Greco-Roman. Rau a long-time Greco-Roman stud, is no slouch in freestyle as he finished 4th place at the 2018 World Team Trials so he will be prepared for either scenario.
If any of you have watched "The Air Downey System" you can best believe that a match with Downey versus an Greco-Roman wrestler like Rau is likely to have some grand-amplitude throws. It will certainly be one you do not want to miss.
Check out the rest of the matchups for this great event below. I know that most of the American wrestling scene will have their eyes glued to their devices to watch these excellent matchups come Sunday night!
Match Card: (subject to change)
Jason Nolf (NLWC) vs. Jordan Oliver (Tar Heel WC)
Pat Lugo (Hawkeye WC) vs. Luke Pletcher (Pitt WC)
Pat Downey (NJRTC) vs. Joe Rau (Illinois RTC)
Nestor Taffur (NYCRTC) vs. Dylan Ness (MN Storm)
Zach Sanders (MN Storm) vs. Zane Richards (Illinois RTC)
Zac Braunagel (Illinois RTC) vs Brett Pfarr (MN Storm)
Danny Braunagel (Illinois RTC) vs Nazar Kulchytskyy (TMWC)
Mitch McKee (MN Storm) vs Nick Dardanes (Illinois RTC)