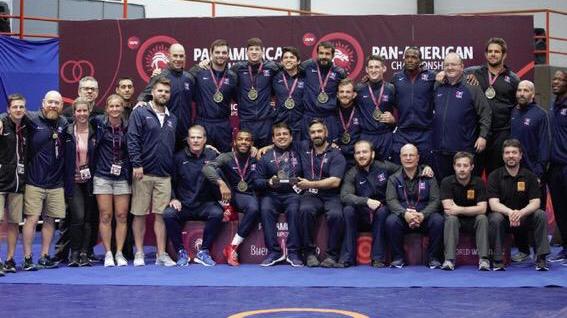 US Freestyle Team Goes Undefeated in All Weights at Pan Ams
Team USA Dominates Competition
The US Freestyle Wrestling succeeded in making history this weekend at the Pan American Championships.  For the first time in the event's history, Team USA went undefeated, going 34-0 and claiming the team title with an unprecedented 250 team points. 
2012 Olympic Champion and four-time word champ Jordan Burroughs earned his third overall Pan Am Championship title by defeating Jevon Balfour of Canada in the 74 kg finals Sunday night.
Let this Pan Am Champ improve your takedowns.  Click Learn More!
2018 World Champion David Taylor won his second-straight Pan Am title at the 86 kg weight over Pedro Ceballo Fuentes of Venezuela.  Taylor was also chosen as the event's Outstanding Wrestler because of his dominating performance.
Two-time World Champion and 2016 Olympic Champion Kyle Snider earned the second Pan American Championship of his storied career Sunday winning by injury default over Reineris Salas Perez from Cuba.
Nick Gwiazdowski earned his second Pan Am title, outscoring his opponents 41-1.  Joe Colon secured his first Pan American title at 61 kg, defeating Scott Schiller of Canada in the finals.  This followed an amazing performance in the first round when he defeated 2018 world champion Yowlys Bonne Rodriguez of Cuba by a score of 9-3.
Riding high on his 2019 NCAA championship win Anthony Ashnault of Rutgers defeated 4 opponents to claim the 70 kg title at the Pan American Championship this weekend.
J'Den Cox was also amongst the 10 athletes who secured gold for Team USA.  With only two matches, he won the first 8-0 on points and the finals by pin-fall to secure his gold medal.
What if you could learn directly from this Pan Am Champ?  Click Learn More!
2019 SENIOR PAN AMERICAN CHAMPIONSHIPS
at Buenos Aires, Argentina, April 18-21
Final team standings
1. USA – 250
2. Canada – 129
3. Cuba – 115
4. Puerto Rico – 72
5. Venezuela – 68
6. Argentina – 53
7. Colombia – 48 
8. Brazil – 41
9. Dominican Republic – 37
10. Peru – 37
Final results
57 kg
GOLD - Joshua RODRIGUEZ (USA) TF Oscar TIGREROS URBANO (COL), 10-0
BRONZE - Pedro MEJIAS RODRIGUEZ (VEN) TF Daniel ALVES DO NASCIMENTO (BRA), 10-0
BRONZE – Reineri ANDREU ORTEGA (CUB) dec. Darthe CAPELLAN (CAN), 4-0
61 kg 
GOLD – Joe COLON (USA)
SILVER – Yowlys BONNE RODRIGUEZ (CUB)
BRONZE – Scott SCHILLER (CAN)
65 kg
GOLD - Colton MCCRYSTAL (USA) TF Damian SOLENZAL LOPEZ (CUB), 12-1
BRONZE - Mauricio SANCHEZ SALTOS (ECU) dec. Daniel BRIOSO (DOM), 9-5
BRONZE – Agustin DESTRIBATS (ARG) TF Sixto AUCCAPINA PEDRAGAS (PER), 16-5
70 kg 
GOLD - Anthony ASHNAULT (USA)
SILVER - Nicholas ROWE (CAN) 
BRONZE - Mitchel TAIPE DUANAMA (PER)
74 kg
GOLD - Jordan BURROUGHS (USA) dec. Jevon BALFOUR (CAN), 7-0 
BRONZE - Franklin GOMEZ MATOS (PUR) TF Adonis ARROYO (VEN), 10-0
BRONZE – Julio RODRIGUEZ ROMERO (DOM) TF Jorge DESPAIGNE LAGAR (CUB), 10-0
79 kg 
GOLD - Chandler ROGERS (USA)
SILVER - Santiago MARTINEZ RESTREPO (COL)
BRONZE - Jasmit PHULKA (CAN)
86 kg
GOLD - David TAYLOR III (USA) TF Pedro CEBALLOS FUENTES (VEN), 10-0
BRONZE - Lazaro HERNANDEZ LUIS (CUB) TF Meruzhan NIKOYAN (ARG), 10-0 
BRONZE – Alexander MOORE (CAN) TF Christian ANGUIANO FLORES (MEX), 11-0
92 kg 
GOLD - J'den COX (USA)
SILVER - Jaime ESPINAL (PUR)
BRONZE - Diego RAMIREZ FLORENTIN (PAR)
97 kg
GOLD - Kyle SNYDER (USA) df. Reineris SALAS PEREZ (CUB), injury default
BRONZE - Jose DIAZ ROBERTTI (VEN) TF Maxwell LACEY GARITA (CRC), 10-0 
BRONZE – Evan RAMOS (PUR) dec. Jordan STEEN (CAN), 8-5
125 kg
GOLD - Nicholas GWIAZDOWSKI (USA) TF Korey JARVIS (CAN), 10-0
BRONZE - Oscar PINO HINDS (CUB) df. Eduardo GARCIA BETANZOS (MEX), fall 
BRONZE - Antoine BRAGA ABOU JAOUDE (BRA) TF Jorge MEDINA ARROYO (ECU), 12-1
U.S. Men's Freestyle finals results
57 kg: Josh Rodriguez (State College, Pa./Nittany Lion WC) – GOLD 
WIN Reineri Andreu Ortega (Cuba), 7-2
WIN Lucas Navarrete Vidal (Ecuador), 10-0
WIN Darthe Capellan (Canada), 6-4
WIN Oscar Tigreros Urbano (Colombia), 10-0
61 kg: Joe Colon (Fresno, Calif./Titan Mercury WC/Valley RTC) – GOLD 
WIN Yowlys Bonne Rodriguez (Cuba), 9-3
WIN Juan Rodriguez Jovel (El Salvador), 10-0
WIN Scott Schiller (Canada), 10-0
65 kg: Colton McCrystal (Lincoln, Neb./Nebraska WTC) – GOLD 
WIN Sixto Auccapina Pedragas (Peru), 11-0 
WIN Augustin Destribats (Argentina), 15-6 
WIN Damian Solenzal Lopez (Cuba), 12-1
70 kg: Anthony Ashnault (South Plainfield, N.J./NJRTC) – GOLD 
WIN Nick Rowe (Canada), 12-2
WIN Mitchel Taipe Duanama (Peru), fall 0:43
WIN Hugo de Lima Viana (Brazil), 10-0
WIN Cristian Karlikowski (Argentina), 10-0
74 kg: Jordan Burroughs (Lincoln, Neb./Sunkist Kids) – GOLD 
WIN Freddy Vera Fajardo (Ecuador), 10-0
WIN Franklin Gomez (Puerto Rico), 5-2
WIN Adoins Arroyo (Venezuela), 10-0
WIN Jevon Balfour (Canada), 7-0
79 kg: Chandler Rogers (Stillwater, Okla./Titan Mercury WC/Cowboy RTC) - GOLD
WIN Jasmit Phulka (Canada), 10-0
WIN Santiago Martinez Restrepo (Colombia), 8-6 
WIN Francisco Guzman Velasquez (Puerto Rico), fall 0:20
86 kg: David Taylor (State College, Pa./Nittany Lion WC) – GOLD 
WIN Rashi Mackey (Bahamas), fall 0:58
WIN Meruzhan Nikoyan (Argentina), fall 1:03
WIN Lazaro Hernandez Luis (Cuba), 10-0
WIN Pedro Ceballos Fuentes (Venezuela), 10-0
92 kg: J'den Cox (Colorado Springs, Colo./Titan Mercury WC/USOTC) - GOLD
WIN Jamie Espinal (Puerto Rico), 8-0
WIN Diego Ramirez Florentin (Paraguay), fall 0:13
97 kg: Kyle Snyder (Columbus, Ohio/Titan Mercury WC/Ohio RTC) - GOLD
WIN Evan Ramos (Puerto Rico), 11-1 
WIN Jordan Steen (Canada), 10-0
WIN Reineris Salas Perez (Cuba), injury default
125 kg: Nick Gwiazdowksi (Raleigh, N.C./Titan Mercury WC) – GOLD 
WIN Marcos Santos Bonnet (Puerto Rico), 10-0
WIN Eduardo Garcia Betanzos (Mexico), 10-0
WIN Oscar Pino Hinds (Cuba), 11-1
WIN Korey Jarvis (Canada), 10-0
J'Den Cox has joined forces with Fanatic Wrestling to share all of his favorite tricks, tips, and techniques to help you improve your wrestling takedowns.  In Float Like a Butterfly, you too will learn this champs entire takedown game!  Check it out today!