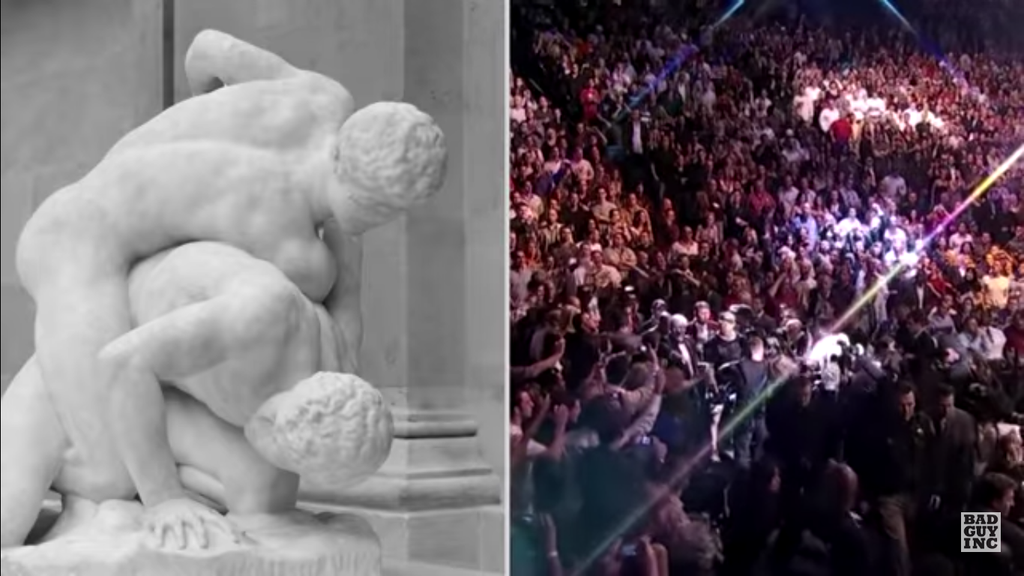 Unofficial Preview of Wrestling Underground
It's been so long since we've had matches outside the FloWrestling bubble. Flo's card in late July was unique, and impressive, and absolutely could and should become a regular event. But in the same vein as BJJ event Submission Underground, on August 30th we're gonna get a great series of matches on UFC FightPass via Wrestling Underground, and just like Submission Underground, will take place in a cage.
So we've got novelty in spades, and exciting matchups on the card, in no particular order: David McFadden vs Thomas Gantt, Kyven Gadson vs Nick Gwiazdowski, Deron Winn vs Kollin Moore, Shakur Rasheed vs Sammy Brooks, Ravaughn Perkins vs Ben Provisor, and Tyler Berger vs Joey McKenna. I'll do a short preview of each match, in addition to my personal picks (note: does not reflect the view of Fanatic Wrestling, and shouldn't be taken as a guide to betting or anything of that sort)
Check out the this slick promo video from Chael P. Sonnen's YouTube channel!
McFadden v Gantt
After Mark Hall announced he couldn't wrestle due to an injury, David McFadden has stepped in to wrestle in the 185 pound match. McFadden and Gantt are both coming into this match the biggest we've seen them in their careers, with Gantt being a career 74kg, and McFadden wrestling for VT as a (admittedly very big) 165. McFadden and Gantt possess offensive similarities in that they both have a really great single leg, and they both push a pace on the feet. Gantt is the longer, lankier wrestler as he is usually, and brings to the table a whole lot of scrambling ability, especially in freestyle. McFadden is no slouch, having made the U23 world team recently, and is a three time all-american and likely would have been a fourth if not for the cancellation at NCAAs.
Check out the new releases at Fanatic Wrestling! Click Learn More!
In terms of longevity in freestyle, Gantt has an upper hand, and his ability to scramble either off his opponent's offense or defense make this a tricky call. I'd also think Gantt is slightly faster than McFadden, but given how much time they have had in training since we've seen either wrestler compete, who knows what kind of gameplan either will bring. At the end of the day, I see this as a close match that ultimately could be won by Gantt on a push out point, 5-4 to Thomas. 
Gadson v Gwiazdowski
Kyven Gadson. He's pinned Kyle Snyder, and he's no slouch. An upper body wrestler is generally no surprise at heavyweight, and he's also a pretty big dude for 97kg as is, so the choice of weight class for this event is no surprise. Gwiazdowski has an excellent snatch single, speed, and has shown he can hang in the upper body positions with wins over Adam Coon, however.
We could see another shocking upset, as again, Gadson is no stranger to throwing smaller, faster heavyweights (Some guy named Kyle Snyder, you might have heard of him, he's pretty good). But I have to pick Gwiazdowski, the man has credentials beyond Gadson's including a senior level world medal in a weight class I don't think is talked about enough. By the way, you can learn those snatch singles and other great takedowns for any weightclass with Gwiz's instructional on fanatic wrestling, How To Shoot And Score At Any Weight Class. My pick for this one is Gwiz 6-4.
Deron Winn vs Kollin Moore
Kollin Moore has to be one of the slickest upperweight wrestlers we've ever watched in recent memory. Fantastic ducks, super powerful, never backs down in a match. Deron Winn is a perfect matchup for this. Deron Winn is one of the few human beings to hold a win over J'den Cox. He's a very short stocky guy for the weight class, at 5 foot 6 he's the shortest middleweight in the UFC. He's a Pan American bronze medalist. The contrast of style means this is likely going to be either a shutout by Moore or a give a few take a few sort of match with Winn.
It's nice to see the bout happen at 213 pounds, where Kollin plans to compete internationally and where Winn has competed, and neither athlete is cutting too much weight. This is a match between two brawlers without a weight cut to stifle their power, and I can't wait for it. Moore's credentials are greater though, and based on recency and training specificity I have to say Kollin ,but Winn is known to catch people by surprise!
Shakur Rasheed vs Sammy Brooks
Have I praised the matchmakers of this event too much? Well sorry I gotta do it again. Shakur Rasheed is a cradle machine, I think we all know this. He wrestles from the outside a lot, and when he does tie up he's clearing fast trying to slide by or overtie snap. I'll say the match being in a cage doesn't help him very much in his style. Brooks is your iowa guy. Likes to wrestle in a phone booth, cage format suits him great. Unless Shakur can lock up a cradle and get his pace going early, I can see Brooks edging out a decision. Momentum is key in this one. I like Rasheed a ton, but Brooks 4-2 is my best bet. 
Perkins vs Provisor
The one greco matchup of the card. I personally love Greco Roman, putting it in a cage makes it very interesting considering how it changes the clinch. Provisor, the two time olympian, is an absolute grinder of a wrestler. Always looking to break the guy across from him. The contrast of body styles, with Perkins being very tall and long, make this match especially fun in a greco ruleset in a cage.Perkins is able to stay calm under pressure, which may be enough to pull off a short scoring match and win.
His footwork and defense is sound and I especially look forward to this match above all others. But Provisor is coming in the bigger man, and while for the other matches this isn't as big a factor in my decisions, that clinch against a cage could be making it a very big factor. Not that the clinch doesn' have a place in freestyle, but not being able to touch the legs makes it far for difficult to drag your opponent's hips away from the wall and score. Provisor's credentials and pace make him my choice, I predict a 8-2 win for Provisor.
McKenna v Berger
You could write this off as "berger is bigger" but the context taking place at 159 pounds would indicate McKenna has put on some size and is more than ready to handle the challenge. McKenna has a great offensive tool, the single leg, down pat and has scrambling ability to boot. His takedown game is so high level, that I feel it will nullify any sort of size advantage you'd think was present in this bout (a takedown game you can learn from by purchasing his instructional here). When I think Tyler Berger I'm thinking of two aspects: chain wrestling and quick finishes. Berger will go from double leg to single leg in a blink and can finish very quickly from the typical scrambles like backdoor and shin whizzers. This is a tough call, and I truly think it can go either way, but I give Berger a slight edge as he's more comfortable in the scramble than McKenna has been. 
Info
If you wanna watch this event live (there's a likely chance you do since you've read all the way down here) you can get a subscription to UFC Fight Pass and select Wrestling Underground. I'm excited, the whole wrestling world should be excited, we finally have matches. And if you like how some of our athletes wrestled, make sure to come back to this article and check out their instructionals.
Check out the new releases at Fanatic Wrestling! Click Learn More!