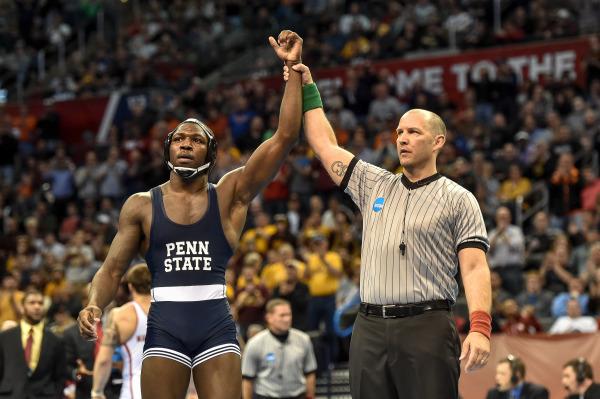 TOO EARLY TOP 10's!
Guys!  As the name implies, this is going to be a pretty fun article about the top 10 for all 10 weight classes in the NCAA for the 2019-2020 season.  The initial top 10 rankings are comprised from some poll sites like FLO, the NCAA, team sites, and of course I'll have a section for personal picks and a spot for comments.  For this first piece, we'll only be covering weight classes 125-157 with a follow up on the rest later. If you guys are as excited as I am, you're already counting the days till season gets underway.  So with no further ado, let's kick this off in order:
125
Spencer Lee-IOWA 
 Nick Piccininni- OKST                   
  Sebastian Rivera- Northwestern              
   Jack Mueller- VA             
  Vitali Arujau- Cornell     
   Patrick Glory- Princeton         
  Rayvon Foley- Michigan St      
 Michael McGee- Old Dominion    
 Joey Melendez- UNC          
 Jakob Comacho- NC ST.
The Details:
125 lbs has 7 returning All-Americans from the 2018-2019 season, including the reigning champ in Spencer Lee.  Just with the returning placers, we are already looking at a stacked class. Melendez, Comacho, and McGee are definitely no slouches themselves, but they'll have their work cut out for them to find their way in the middle of all these guys.  
My Picks:
I think Spencer Lee will ultimately take it again this year.  Yes he's been beaten, but he's come back smarter, he's tightened his game, and I think given that, we can expect a repeat.  My heart goes to Rivera in this one. I think we see him and Lee in the finals in 2020 where regardless of the outcome we can expect a great match.  
Guys to look out for:
Jack Mueller is extremely tough, and I feel that because he doesn't wrestle in the B1G he flew a bit under everyone's nose.  Rayvon Foley also wouldn't surprise me if he placed top 5. One of the better MSU wrestlers in recent history, Foley has the potential to do big things.
My top 5 are; 
 1.Lee       
Rivera     

Mueller    

Picc     

Foley
133
Nicky Push-Ups- Rutgers        

 Stevan Micic- Michigan     

 Daton Fix- OK ST     

  Seth Gross- Wisconsin         

  Austin Desanto- Iowa                 

 Luke Pletcher- Ohio St              

  Austin Gomez- Iowa St           

  RBY- PSU           

 Micky Phillippi- Pitt            

 Montorie Bridges- Wyoming
The Details:
133 lbs has 6 returning All-Americans from the 2018-2019 season, including the reigning champ, and Rutgers first NCAA Champ, Nick Suriano.  This stacked 133lb class is sure to make noise all season long, but as any of us that has watched or competed may know, anything can happen on any given day.  The wrestlers presented are some of the most explosive athletes in the country, and they move like Gumby, so any time they hit the mat against each other, it should be quite the treat for those watching live or at home.  
No ONE does it better than Henry Cejudo! Ready To add some GOLD medal technique to your game? Click Learn More!
Guys to look out for: 
All of the returning AA's in our list are dangerous in their own right, and have proved their ability against the toughest in the nation.  Suriano is a given, but can also get too far in his own head at times. MIcic, Fix, and RBY are some of the best scrambling wrestlers in the country, and Desanto and Pletcher still have a short list of things to prove.  I feel that we won't see Desanto step out from Lee's shadow just yet this year, he'll place but winning is slim. RBY and pletcher will switch, Fix stays top 3.  
My picks for 133 are:
Micic        

Suriano      

Fix       

Desanto    

RBY
141
Yianni D.- Cornell        
 Nick Lee- PSU      
 Dom Demas- Oklahoma    
 Mitch Moore- Virginia Tech      
 Tariq Wilson- NC State      
Tristan Moran- Wisconsin     
 Kyle Shoop- Lock Haven     
Kaid Brock- OK ST     
 Mitch McKee- Minnesota      
  Real Wood- Stanford
The Details: 
The 141lb class has 5 returning All-Americans from the 2018-2019 season, including the reigning champ, and an absolute technician, Yianni Diakomihalis.  In last year's sessions of the NCAA championships, no one really came close to putting the Phenom from Cornell out of his comfort zone, and I don't see anyone taking a shot this year.  
Guys to look out for: 
Going out of the top 5, I'd keep my eye on Dom Demas this year.  Whether he can win it all or not remains to be seen but I expect him to be a taste of sour milk for the guys in his bracket, win or lose.  Shoop, Brock, and McKee I feel we can also expect to see a bit more out of. Lock Haven in the past has produced very tough wrestlers, and Shoop is no different.  I'll be intrigued to see if he can break the top 5. McKee and Brock were heavily recruited so I feel a lot is on their shoulders this year to do better, I hope they help turn 141 this year into an absolute mess.  Being an Indiana native I'd love to see Nick Lee win it, but my mind says otherwise.  
My top picks for 141 are: 
Yianni D.       

Nick Lee    

Kaid Brock     

Dom Demas   

Kyle Shoop
149
Austin O'Connor- UNC     

Sammy Sasso- Ohio State     

 Brock Mauller- Mizzou   

 Patricio Lugo- Iowa   

 Jarrett Degan-Iowa State      

Jared Prince- Navy    

 Anthony Artalona- Penn     

 Kaden Gfeller- OK ST    

 Matthew Findlay- Utah Valley   

Max Thomsen- NIU
The Details: 
The 149lb weight class has 4 returning All-Americans from the 2018-2019 season, and is the first of the classes so far that will not have a returning champion from the previous season.  With 149 seemingly up for grabs it'll be interesting to see which of these men land on top of the heap, and what new faces may present themselves. It also seems that out of all 10 weight classes, 149 has the least amount of individuals talked about, or at least not in a wrestling superstardom kind of way.  It'll be interesting which one of these guys makes the bigger statement and gives the wrestling world something to talk about.  
Guys to look out for:
Austin O'Connor seems to be the obvious front-runner in the class being last season's highest place winner, BUT…… Pat Lugo and Kaden Gfeller are  two guys that I have my sights locked in on. Gfeller may have come up quite short of his goal last year, but after seeing some really nice practice footage that just seemed to pour gasoline on his fire.  I expect to see him be a huge bracket buster this year. As for Lugo, he has been a bit of a late bloomer for the Hawkeye program, getting tough partners, and not really breaking out until last year with a barely there finish for 8th place.  After seeing how quickly you can become the man at the plate, I expect Lugo to graciously fill the shoes of a Hawkeye wrestler and really burst out of the pack this year.  
My top picks for 149 are: 1. Austin  O'Connor 2. Pat Lugo 3. Kaden Gfeller    4. Brock Mauller 5. Max Thomsen
157
Hayden Hidlay- NC ST       
 Ryan Deakin- Northwestern       
 Kaleb Young- Iowa      
Jaden Mattox-Ohio St      
Josh Humphreys- Lehigh       
 Jacori Teemer- Arizona St.      
 Justin McCoy- Virginia     
 Brady Berge- PSU      
Larry Early- Old Dominion       
 David Carr- Iowa St.  
The Details:
The 157lb class has 4 returning All-Americans from the 2018-2019 season, but has no returning champ, so with an empty throne this should be another interesting one.  Hidlay, being the highest placer from the year before may seem like a likely front runner, but there are some people and things to consider before he gets his hopes up.   Of the past AA's listed 2 represent the B1G, one in the ACC, and one from the MAC. While numbers favor the B1G slightly, we all know numbers are only as good as the wrestler they represent.  
Guys to look out for: 
Three wrestlers outside of the top 5 rankings catch my eye here the most in Jacori Teemer, Justin McCoy, and Brady Berge.  Although these three men come up in the latter half of the rankings, all come from solid teams through and through, with high level guys surrounding their weight to practice with and push them.  That being said, I expect these guys to prove that ranking means nothing. Ryan Deakin is another that I expect to see quite the effort from. He had a 6th place finish last season as a redshirt sophomore, and is already off to a pretty stellar career.  He has also done quite well on the freestyle circuit picking up plenty of mat time against many high level opponents.  With all that taken in, here are my top 5 for 149:
Ryan Deakin      

2. Kaleb Young   

 3.Hayden  Hidlay    

4.Brady Berge       

5. Jacori Teemer
Stay tuned for part 2 where I'll tackle 165-285, and give away my prediction for the team champs.  Again, this is a pretty early set of statistics so make sure you stick with us here at Fanatic Wrestling as I'm sure things will change as the season gets closer, and things start to heat up around the NCAA.  
Gold Medal Wrestling By Henry Cejudo
gives you the techniques that made Henry the YOUNGEST gold medalist of ALL-TIME in wrestling! Take your grappling ability to a whole new LEVEL!