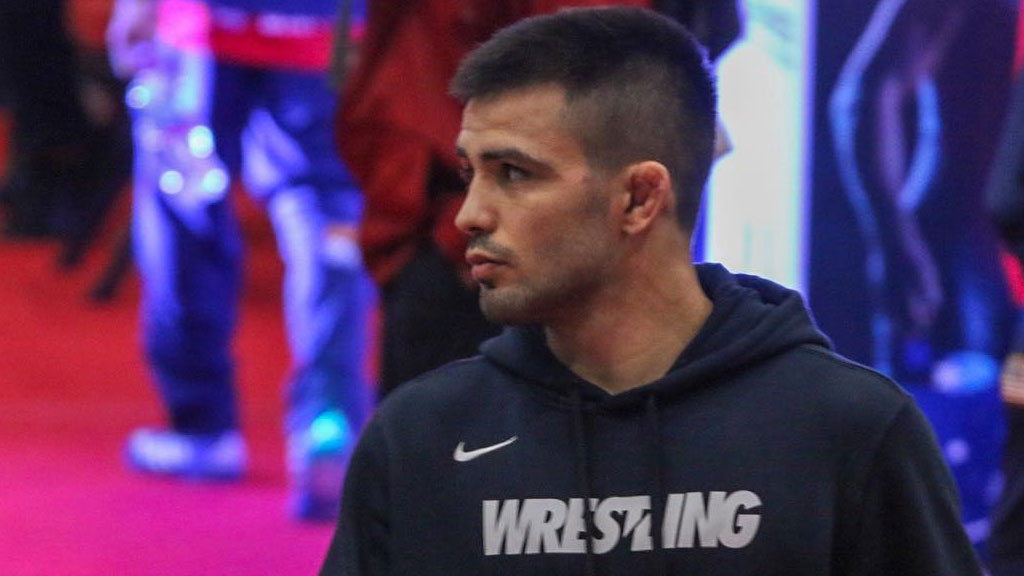 Tony Ramos
Tony Ramos is a retired wrestling competitor, well known for his career representing the University of Iowa's Hawkeyes team, for whom he earned an NCAA title in 2014. Widely regarded as one of the greatest wrestlers of his generation, Ramos was a 3x NCAA All-American and Big Ten champion as well as a US World Team member. In 2019 Tony Ramos retired from his athletic career to focus fully on his work as a coach.
Tony Ramos Wrestling
MAIN ACHIEVEMENTS
High School
- 1st Place Illinois State Champion (2007 / 2008 / 2009)
- 1st Place FILA Junior World Team Trials (2009)
- 1st Place FILA Cadet Freestyle Nationals (2006)
- 2nd Place USAW Cadet Freestyle Nationals (2007)
- 5th Place Junior World Championship (2009)
Collegiate
Iowa's Male Athlete of the Year (2014)
- 1st Place NCAA 133 Lbs Championship (2014)
- 1st Place Big Ten (2014)
- 1st Place FILA Junior Nationals Championship (2011)
- 2nd Place NCAA 133 Lbs Championship (2013)
- 3rd Place NCAA 133 Lbs Championship (2012)
Senior
U.S. World Team member (2014, 2015)
- 1st Place U.S. Open champion (2015, 2017)
- 1st Place Grand Prix of Paris champion (2015)
- 1st Place Canada Cup champion (2014)
- 2nd Place World Cup (2015 / 2017)
- 2nd Place U.S. Olympic Team Trials (2016)
- 2nd Place U.S. World Team Trials (2017)
- 2nd Place Pan American Olympic Games Qualifier (2016)
Weight Division: 57 kilograms (international)
Teams (Athlete):
Glenbard North (Panthers)
University of Iowa (Hawkeyes)
Teams (Coach):
North Carolina (Tar Heels)
Tony Ramos Biography
Tony Ramos was born on February 12, 1991, in Chicago, Illinois, growing up in the Johnsburg area where he started wrestling during his toddlerhood/early-infancy.
As a 3-year-old Ramos joined a wrestling team where his brothers Frankie and Vince played. The reasoning behind this early inclusion in the program was so that Tony could be in the same team as his siblings, though the experience served as the perfect propeller for Ramos' natural talent.
By 6th grade, Ramos joined the Martinez Elite wrestling club, and two years later, as the Ramos family moved to Carol Stream, Tony joined Glenbard North High School, becoming part of the school's wrestling team. At Glenbard North Ramos set school records for most takedowns in a career and season, as well as a "best season" record.
After graduating from Glenbard North, Tony accepted an offer to attend the University of Iowa and train under renowned head coach Tom Brands. While training with the Hawkeyes Ramos reached the peak of American folkstyle wrestling by winning the NCAA and becoming a 3x All-American wrestler.
TONY RAMOS CLASH WITH TOM BRANDS
The relationship between Brands and Ramos turned south when the Hawkeyes accepted wrestler Daniel Dennis in Iowa's workgroup, Dan who was seen by Ramos as a rival and direct challenger in his weight class.
On April 10, 2016, Tony lost the 57 KG final of the USA Team Olympic Trials to Dennis, going on to vent his frustrations during the post-match media scrum, stating he would be leaving the team.
According to Ramos, when Daniel Dennis entered the team, Tony had been assured coach Tom would be in his corner at the Olympic team trials. This did not come to fruition, which frustrated the athlete. Eighteen days after the trials, Ramos announced he was headed to Chapel Hill, where he joined Coleman Scott in the North Carolina (UNC) coaching staff.
Tony Ramos continued to wrestle internationally ending his competitive career in May 2019.