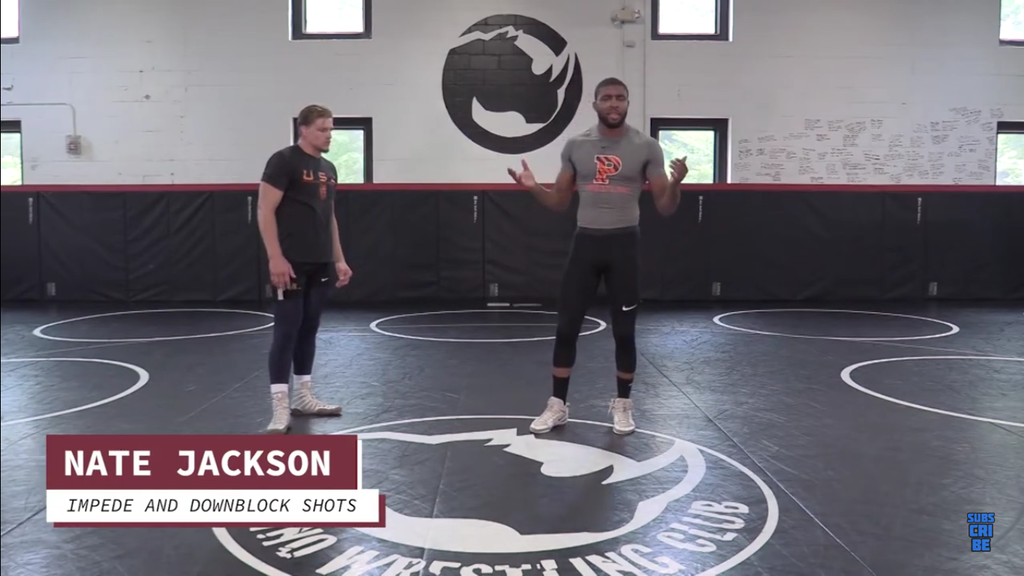 Shutdown Takedowns With Downblocks from Nate Jackson
Stop The Shot With Efficient Downblocks!
Let's be real, no one likes being slammed or taken down. Not only does being slammed hurt, but it feels like it totally switches the momentum of the match out of your favor. If you get good at sprawling, you can dramatically decrease the amount of times you get taken down. While sprawling is obviously effective and totally eliminates your chances of being single or double legged, it sure does use a lot of energy.
Stamina is key in wrestling. Often people make mistakes when they start to get gassed out. The more energy you have and can conserve, the sharper you will be. Think about how large of a movement sprawling is. You have to quickly shoot to the ground, and then pick yourself back up before your opponent tries to capitalize on you being down. What happens when your opponent is constantly shooting or faking shots? Are you just going to keep sprawling everytime? 
The point is not to get you to eliminate sprawling from your game, however at times there does appear to be an easier, and more efficient use of energy. In this video, Nate Jackson shows an alternative to sprawling by impeding and downblocking shots. Check it out below!
To begin the video, Nate starts by showing and explaining the effectiveness of sprawling. He goes into detail about how much it separates your legs from an attempted shot, and definitely eliminates the threat. However he also shows what it looks like when your opponent is constantly either going for shots or faking them. 
Nate sprawls at the first single leg shot, and then as soon as he gets up his partner goes for another one. He demonstrates this consecutively numerous times, and although it is effective it just looks tiring and not extremely practical. It is easy to imagine how tiring this would be if you were in a match facing an opponent who was constantly shooting like this.
Want more top-tier tips from Nate Jackson? Click Learn More!
The key word in what Nate shows in this video is sustainability. It is not sustainable when all your opponent is doing is taking a quick step forward for his fake, and everytime you sprawl and have to pick yourself back up. Not only would this make you tired, but you will likely land off balance and out of position at some point. Against an opponent like this, sprawling is definitely not sustainable. 
Alternatively, blocking with the head and arms allows you to conserve energy, recover, and be consistent no matter how many times your opponent shoots. In doing this, everytime his partner shoots or takes a fake shot, Nate quickly changes levels and drops his arms straight to the floor, while also using his head to block his opponent.
Nate appears to use his head however he can. Sometimes he puts it in the way of his partners head, and other times he uses it against his partners shoulder to keep him from moving closer. It seems that it is effective wherever you can use it when your opponents shots are unpredictable.
It can become difficult when you start trying to gauge whether your partner is actually going for shots or if he is faking them. With this technique, Nate says that thought doesn't matter. Whether he is faking or actually going for it doesn't matter because you are being consistent every time. This takes the worrying of what your opponent is doing out of the equation, and gives you more opportunity to focus on your technique.
Nate is Two-Time All American who won more than 100 matches during his career at Indiana University. During his senior year at Indiana, Nate was team captain, finished 6th place in the Big Ten Wrestling Championships, and coined the Joe Dubuque Most Outstanding Wrestler Award.
Since his collegiate career has ended, Nate has entered his fourth season as assistant coach at Princeton University. Princeton head coach Chris Ayres said immediately after Nate's interview, he knew he was the man for the job and was going to be a great addition to their team. During his time at Princeton, Nate's work with wrestler Patrick Brucki helped lead the Class of 2021 high into the national rankings. It is safe to say that Nate makes a huge impact wherever he goes.
This particular instruction of Nates' focuses on re-attacks and counters. He covers defensive fundamentals, attacking off of bad and fake shots, collar tie shucks and blocks, crotch lock cradle, knee redirection, and so much more.
Nate has made a name for himself in the sport by successfully developing his own game, and he has so much to offer. Perfect your counters and turn them into finishes with Nate's master techniques, check out his instructional here!