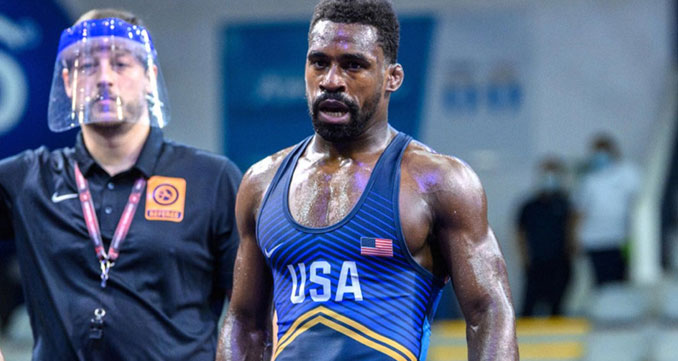 Shelton Mack
Shelton Mack is an American amateur wrestler who competed for the University of Pittsburgh throughout his collegiate career, a time when he qualified for the NCAA D1 Championships on three separate occasions. Although highly accomplished, particularly in the freestyle ruleset where Mack conquered UWW Pan American Championships and US Senior National titles, Shelton equally respected for his work as a coach with important collegiate teams such as the University of Maryland, University of Virginia, and Columbia University.
Shelton Mack Wrestling
MAIN ACHIEVEMENTS:
High School:
- 1st Place PIAA District 10 Championship (2008, 2009)

College:
- Qualified for NCAA D1 (2012, 2013, 2014)
- 3rd Place ACC Championships (2014)

Freestyle:
- 1st Place UWW Pan American Championships (2021)
- 1st Place UWW Senior National Championships (2021)
- 2nd Place 2012 FILA Junior World Team Trials (2012)
- 7th Place ASICS University Nationals (2013)
- 6th Place ASICS University Nationals (2012)

Weight:
- 133 lbs

Team:
- Meadville Bulldogs Wrestling (High School)
- University of Pittsburgh (College)
Shelton Mack Biography
Shelton Mack was born in Meadville, a city in and the county seat of Crawford County, Pennsylvania, United States.

Growing up with his mother in a single-parent household meant Shelton had plenty of time away from family guidance. To compensate for this drawback, Mack's mother added young Shelton to a variety of extracurricular activities during his upbringing.

When Shelton was 5 years old, his cousin and closest friend, Casey Davies, joined a local wrestling school which enticed young Mack's curiosity for the sport. His interest was denied by his mother as she deemed the sport too dangerous for a young child. Through never-ending persistence, however, young Shelton was able to change his mom's perspective on the matter, after 2 years of continuous requests.

With his cousin by his side, Shelton became a well-known local wrestler, earning sequential regional titles at the high-school level, in one of the toughest wrestling states in the nation. A level of proficiency that led the University of Pittsburgh to call on Mack's expertise when the time came to transition from high school to college.

During his time with the Pittsburgh Panthers wrestling team, Shelton Mack was able to compete at the highest collegiate level, the Division I of the NCAA, conquering 3 trips to the National Championships.

After he majored in sociology and history at Pittsburg, Shelton decided to take a coaching position with the University of Virginia (2015) and its Cavaliers Team. Initially set to leave wrestling behind him as a competitor to focus solely on the sport as a coach, the mats quickly called for his return. As a member of the Cavalier staff, Mack was praised for his work with NCAA All-Americans Jack Mueller and George DiCamillo.

After 3 years as a Cavalier, Mack was hired by the University of Maryland where he helped heavyweight Youssif Hemida place third at the 2019 Big Ten Championships as well as All-American honors at the following NCAA tournament. His excellent work with the Terps would convince Columbia Wrestling head coach, Andrew F. Barth to bring him on the team in 2019, ahead of the 2019-20 season.
Shelton Mack Defense Drills