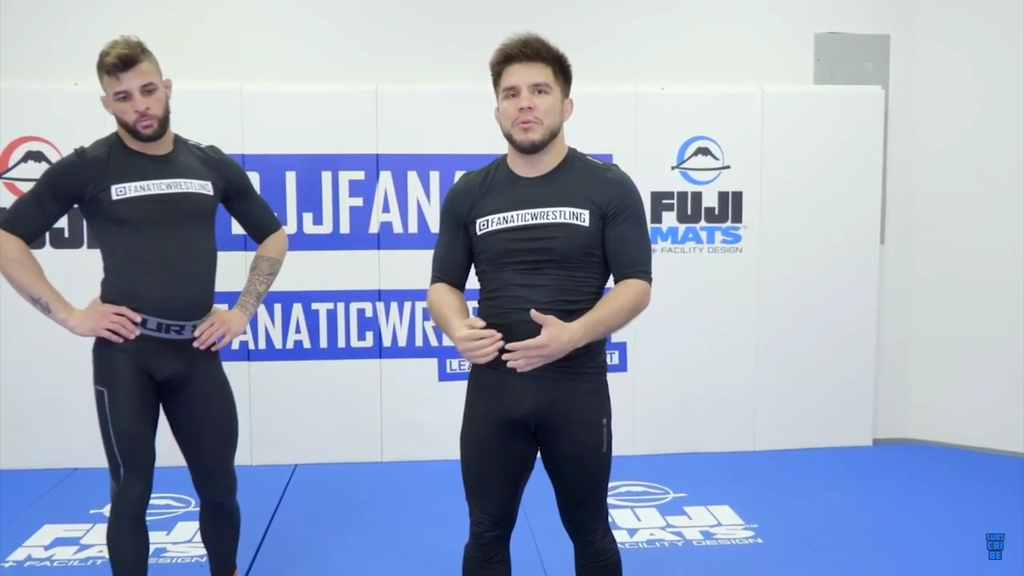 Sharpen Your Takedowns With This Inside Trip With Henry Cejudo
Obviously the goal in wrestling is to get the pin, so a lot of wrestling strategy is about the ground game. However, it is important to have a good list of takedowns in your pocket so you can set yourself up for success.
In setting up a takedown, using an arm drag is always a good option. When done correctly, this can give you great access to your opponent's back as well as help you create an angle and start using leverage. When you use an arm drag, it is likely your opponent's response is going to try to square back up to avoid exposing his back.
This is when an inside trip can be extremely useful. In trying to defend against the arm drag, chances are your opponent will leave their leg in the perfect position for the inside trip. Becoming successful in this takedown takes practice and great mechanics.
In this video, Henry Cejudo demonstrates a takedown variation using an arm drag to set up an inside trip, check it out below!
The Technique
Henry begins to explain that the key to this takedown is all about the set up. You could do this inside trip off the open with no set up, but the beauty of the technique is all of the possible setups you have at your disposal to be more creative and successful. If you don't like to shoot for takedowns, developing good setups for the inside trip is a great option.
When you and your partner are standing up and he is grabbing at your shoulders or trying to get collar ties, Henry likes to start by smacking his partners arms down. This both distracts him and gets his arms moving to create an opening for the arm drag.
Upgrade Your Game With Triple C! Click Learn More!

After doing this a few times, when your partner goes to grab again simultaneously smack his arm down as you reach across with your other arm to get the arm drag. Once you get the arm drag, your partner's reaction is going to be to pull back his leg that is on the same side of the arm drag. If you were to try to go for his back, that is the direction you would go so your partner is going to pull that leg back to eliminate the angle you are trying to create.
Now yes that did eliminate your angle, but now you will be going the other way and your partner is off balanced so it plays to your benefit. From here, you are likely going to be standing with your right foot in front and your left foot in the back. To get the inside trip you are going to take a small step forward with your back leg and replace that rear foot with where your front foot is. As you do this, wrap your front leg around the inside of your partner's leg and from here all it takes is a little pressure forward and you have the takedown.
Another important detail to pay attention to is head positioning. When you shoot in for the inside leg, it is important that your head is over your partner's shoulder. This puts leverage in your favor when you pressure forward for the takedown. There are tons of setup variations for inside trips, and an arm drag is a very versatile option.
About Henry Cejudo
Henry Cejudo is a retired professional mixed martial artist and freestyle wrestler. He is a former UFC Flyweight and Bantamweight Champion, and is just the fourth UFC fighter to hold titles in two different weight classes simultaneously. His professional MMA record is impressive enough at 16-2, and that doesn't include all of his wrestling accomplishments.
After multiple state wrestling championships in high school, he began training full time at the United States Olympic Training Center in Colorado Springs, Colorado. From here he went on to win a silver medal for the United States. His other wrestling accomplishments include an Olympic Gold Medal at the 2008 Summer Olympics, Pan American Games Gold Medal, three Pan American Championships, and two US National titles. This man is the real deal.
About Henry's Instructional
Henry has devoted this particular instructional entirely to inside trip takedown mechanics. Included you will find techniques such as front headlock to the inside trip, 2 on 1 sweep into an inside trip, defending a single leg into an inside trip, and so much more.
When you are looking for a wrestling professional to learn from, it does not get better than Henry Cejudo. His accomplishments speak for themselves, and his technique is battle tested. Take full advantage of the versatility of setups for the inside trip, check out his instructional here!