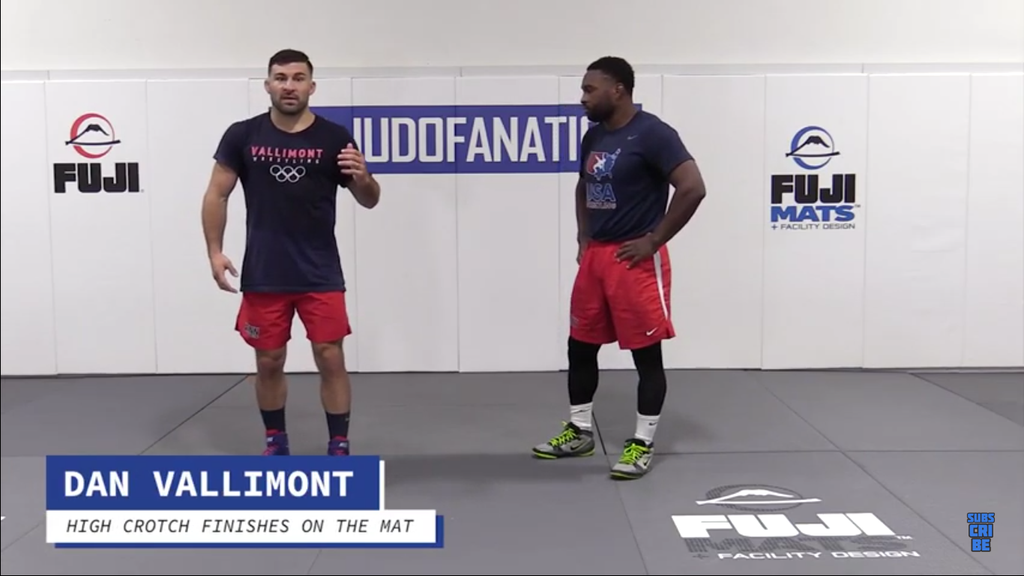 Recovering The High C With Dan Vallimont
Giving up is never an option when wrestling. As a stereotype wrestlers are resilient and fight through adversity when they get put in bad positions on the mat. For some this means muscling out of a bad spot for others a more technical approach is the way to go. 
Olympic hopeful and two time All American Dan Vallimont chooses the ladder of those choices when dealing with a bad spot. 
The High Crotch or HighC as some refer to it is a technique that is set up much like a double leg, with your lead leg stepping between your opponents leg and that same side arm shooting through the center of the legs up into the pelvic girdle. 
Once a wrestler enters into the HIghC position there are several finishes both from the inside and outside position. From the inside you will often witness inside leg trips and fireman's carry throws. 
The other position you will see is when the wrestler transitions from the HighC to outside single, this is a popular option as it is a quick transition and once the outside position is attained the risk of being sprawled on is reduced and options for finishing the single leg are plentiful. 
Dan Vallimont knows all about finishing from any position on the mat. You don't make it to the NCAA Podium on two consecutive occasions being a one sided wrestler. Wrestling at the level he does there is no doubt he has also found himself in some bad spots on the mat as well. 
Take for instance attacking with a HighC, there are two levels of how things can go wrong with a HighC. The first is the opponent makes a strong base and hips in to prevent you from breaking their posture. The fix for this is to lift your lead leg and drive again, and again and again...you get the point, continue to drive until you meet success or can recover to a better position. 
The second and much worse position is when your opponent achieves a sprawl but you have maintained good leg control. 
Below Dan is going to show you the technical way to recover from this position and not only get you out of a bad spot but put you in a scoring position along the way.
Dan wastes no time when he is sprawled on, he knows he has to get back up. Knowing that where the head goes the body follows, Dan leads with his head. Getting his head up high and to the outside is the critical first step. 
Upgrade your skills with Dan Vallimont! Click Learn More!
If you have been sprawled on hard, getting the head out is not the easiest task. To create room to pop his head out Dan will post his outside hand on the floor.
 **NOTE: Dan Is not on his elbow, he is posted with full arm extension**
Dan has realistic expectations when it comes to this maneuver. The idea that Dan's inside arm can hold his opponents leg for any period of time is fleeting. So once the hand is posted and the head is up and to the outside, Dan immediately re-secures his grips together.  
Now comes that grit and determination that was mentioned earlier, Once the head is out, grips are secured, The  outside leg has to post up and the arms are pulling the leg back into Dan's body. This must all be done together to work properly. If done right,Dan will recover his posture with a straight back and the position has been saved. 
Once recovered Dan does not stop trying to circle and create an angle to finish his takedown. Moving slowly this looks easy, but as Dan mentions in the video it is not a fun position to be in and once you are up you have to continue to attack. 
Dan Vallimont is one of the best wrestlers in the United States at the senior level. He has been at that level since before he graduated Penn State University. The United States has so many wrestlers that if you can even make the Olympic Qualifiers, you are already amongst the best in the world. 
Dan at 33 is both a coach and athlete training out of one of the most intense training camps in the world. Dan is 100% focused on competing right now, but as the old saying goes "If you want to truly understand something, Teach it" and that is what Dan has done at Wrestling Fanatics.
Dan has created several series that focus on very specific situations in wrestling. There is no doubt that during this time Dan has been able to identify situations that improvements can be made positionally and he takes great pride in making the most detailed instructionals that he can. 
Check out his Underhook Formula here: It covers the Several High Crotch entries and sequences in section two. Before he even gets to that point in the instructional Dan covers literally everything you need to know about being in the correct position with the underhook and how to troubleshoot problems you will encounter along the way.