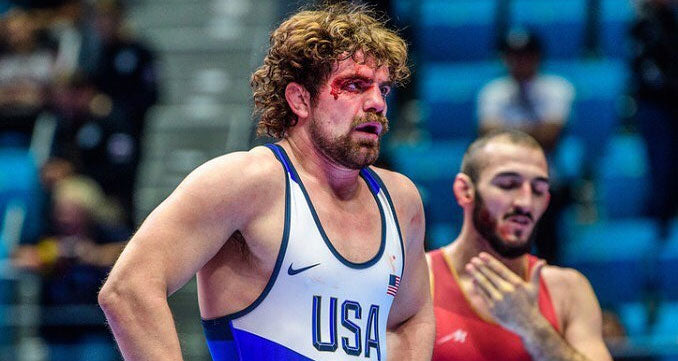 Pat Smith (Grecco-Roman)
Patrick Smith, commonly known as Pat Smith, is an American amateur wrestler who specializes in the Grecco-Roman ruleset. Smith gained notoriety as one of the country's top Grecco-wrestlers after his winning performances at important events such as the Pan American Championships, Final X, US World Team Trials, and US Open.
Pat Smith Wrestling
MAIN ACHIEVEMENTS:

High School:
- NHSCA All-American Junior (2008)
- 2nd Place MSHSL State Championship (2009)
- 3rd Place MSHSL State Championship (2008)
- 4th Place U.S. Open (2011)

Grecco Roman:
- 1st Place UWW Pan American Championships (2015, 2016, 2017)
- 1st Place U.S. World Team Trials (2017)
- 1st Place U.S. Open (2017, 2019)
- 1st Place Final X (2019)
- 1st Place Dave Schultz Memorial International (2019)
- 1st Place University National Championships (2010)
- 2nd Place Olympic Trials Qualifier (2012, 2016)
- 2nd Place U.S. World Team Trials (2014)
- 2nd Place U.S. Open (2014, 2015, 2018)
- 2nd Place University World Championships (2014)
- 3rd Place U.S. World Team Trials (2018)
- 6th Place University National Championships (2013)
- 10th Place Golden Grand Prix (2016)
- 10th Place Grand Prix of Zagreb (2016)

Weight Division:
- 72kg/158 lbs
- 77 kg/170 lbs.

Teams:
- University of Minnesota
- Chaska High School
Pat Smith Biography
Patrick Smith was born in December 1990, in Chaska, Minnesota, USA, where he grew up and where he started wrestling.
Widely recognized as one of America's foremost Grecco-wrestlers of his generation, Pat started his mat journey in the folkstyle circuit, and it wasn't until high school that he discovered Grecco-Roman.
His inclination towards this ruleset began with the influence of Mike Houck, according to Mr. Smith in a 2017 interview given to the InterMat Wrestling website. Houck - A Grecco world champion - briefly helped with the coaching at the Chaska High School and worked with Smith for some of that period, instilling in him the interest for the clinching game.
Pat Smith's first competitive experience with Grecco-Roman was not an auspicious one as the young Minnetosan went 0-2 at the Fargo tournament that year (sophomore). It wasn't until his junior high school year that Smith finally started achieving success under this ruleset.
Going against the current, and even though he had proven to be very successful with his early Grecco-wrestling career, Pat Smith decided to join the University of Minnesota on a scholarship once he finished high school, working with coach Jay Robinson and competing for the Golden Gophers team under folkstyle rules. Although enjoying training at Minnesota, Smith remained true to his love for Grecco-Roman, competing in his first U.S. Open during his freshman year.
With maturity and solid training partners, Pat's career continued its natural progression, gaining traction in the Grecco-Roman international circuit. As he climbed the ladder of sporting success, Smith found himself in a predicament. Being a natural 71-72 kilogram athlete (158 lbs), Smith stood in between two Olympic Games weight classes, 67 kilograms, and 77-kg. The solution for Pat was to make a run for the Olympics at 77, going through a series of different weight procedures to reach this category and perform at the highest level.
As a 77-kilogram athlete, Smith carried on making headlines by winning the best-of-three series at Final X, this way conquering his place on the U.S. Greco-Roman team for wrestling's world championships in 2019.