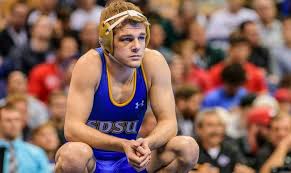 NCAA Champion Seth Gross Looking To Transfer!
2018 NCAA champion Seth Gross has officially entered his name into the transfer portal, a first step towards the current South Dakota State University wrestler moving to a new school for his final year of eligibility. The transfer is likely due to the recent coaching change at the school, where Gross's previous coach Chris Bono left for the head coaching position at Wisconsin. The Big 10 program is an obvious target for Seth, but he will be able to field offers from other schools who are interested in a 133lber his calibur.
Now you and athletes of any age can learn the hidden details to winning the Russian tie every time
Seth Gross has had to skip this season after a back injury reoccurance that left him unable to compete. In three seasons with SDSU (after needing to transfer out of Iowa), he has made the finals twice, won it once, and will now graduate from SDSU while seeking a medical hardship waiver. Because he is graduating, SDSU is a lot more limited in how they can block his transfer, should they choose to.
Gross beat Stevan Micic in the NCAA finals last year, winning with some fundamental leg attacks and some of the best top work in the nation at any weight. His unique style definitely flourished under Coach Bono, so much so that he was a hodge finalist last year. With an in-house RTC for the junior world bronze medalist, and grapplers like Ben Askren there for him to work with, great chance that Seth Gross finishes his career as a Badger after all his early Big 10 drama.
NCAA Finalist And Freestyle Machine Dan Vallimont Shows How To Dominate From The Feet With Russian Ties And Efficient Finishes