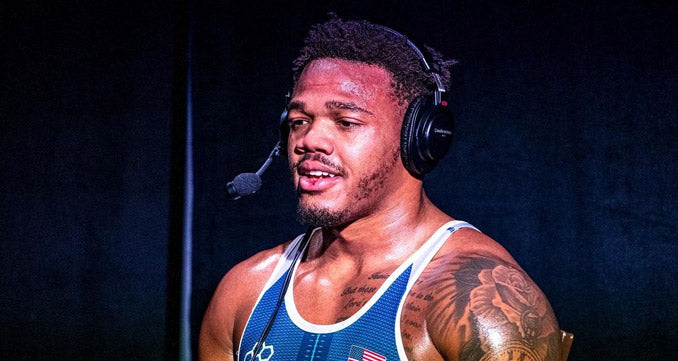 Myles Martin
Myles Martin is an American wrestler, well-known for his vast list of achievements in both the Folkstyle and Freestyle rulesets. A former McDonogh School and Ohio State University standout, Martin turned heads his way at the 2016 NCAA Division I Championships by winning the tournament in his college debut, then becoming the 15th athlete in the history of the event to conquer the title as a true freshman, and the first No. 11 seed to do so since 1979. Myles Martin continued his impressive career in the years that followed, both in the collegiate and international circuits.
Myles Martin Wrestling

MAIN ACHIEVEMENTS

High School:
- 1st Place National Prep Open (2013)
- 1st Place MIS Wrestling Championship (2013)

College:
NCAA D1 All American (2016, 2017, 2018, 2019)
Tommy Rowlands MVP Award Winner (2019)
- 1st Place NCAA D1 Championship (2016)
- 1st Place Big Ten Championships (2019)
- 1st Place Cliff Keen LA Invitational (2018, 2019)
- 2nd Place NCAA D1 Championship (2018)
- 2nd Place Big Ten Championships (2017, 2018)
- 4th Place NCAA D1 Championship (2019)
- 5th Place NCAA D1 Championship (2017)

Freestyle:
- 1st Place US U23 Nationals ( 2018)
- 1st Place UWW University Nationals (2017)
- 1st Place Flo 8-Man Challenge (2020)
- 1st Place Henri Deglane Grand Prix (2020)
- 2nd Place US Nationals (2020)
- 2nd Place Bill Farrell Memorial (2019)
- 3rd Place Matteo Pellicone Ranking Series (2021)
- 4th Place US World Team Trials (2019)

Weight Division:
- 184 lbs/83.4kg

Teams:
- McDonogh School
- Ohio State University
Myles Martin Biography

Myles Martin was born and raised in Penns Grove, New Jersey, United States.

Although a native of New Jersey, and being offered a position at the prestigious Blair Academy (closer to home), Martin opted to join McDonogh in Maryland during high school, in search of a premier education, as well expert wrestling coaching.

Martin's early days at McDonogh were not easy, however. In an interview with the Varsity Sports Network Myles explained his troubled first year at Owings Mills:
"My freshman year, I was really big on going to Blair. The coach was really trying to get me in and I wasn't having a good time here, because I didn't want to be here, but my dad told me to stick it out and give McDonogh a chance."

As it just so happens with plenty of parental wisdom, time proved Myles' father right and Martin went on to have a very impressive run, winning tournaments and collecting Outstanding Wrestler awards, ending his time at McDonough with a 171-15 high school record.

These achievements earned the young Jersey prospect a #3 ranking in the wrestling recruit report by FloWrestling when it was time to step up towards college, as well as a spot with the famous Ohio State University wrestling team.

The impressive list of accomplishments only increased at OSU, where Martin amassed an NCAA title (as a true freshman, no less!), 4 All American honors, 2 runner-up tournaments with the NCAA, one UWW University Nationals title, and many more impressive accomplishments.

After ending his collegiate career, Myles turned his focus towards freestyle, a ruleset in which he had thrived in the past. Although his transition was stifled by the COVID-19 pandemic and the restrictions that ensued, Martin was still able to showcase his talent with wins at the Grand Prix de France (2020) and FloWrestling's Flo 8-Man Challenge (2020).
Myles Martin Ankle Pick From Underhook