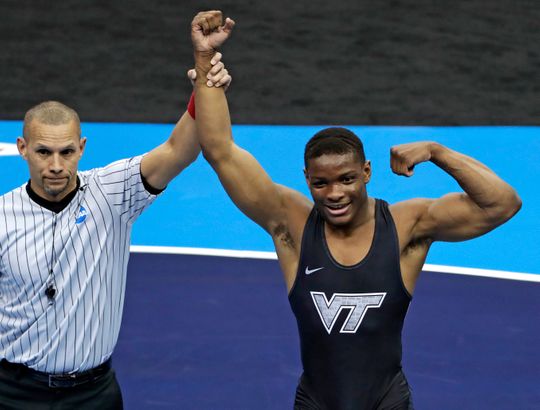 Mehki Lewis, VT's 1st National Champion, Awarded NCAA Championships OW Award
Freshman Virginia Tech Hokie Mehki Lewis has been awarded the Oustanding Wrestler for the 2019 NCAA Championship tournament, after winning the 165lb bracket, winning five matches and downing the 1, 2, and 4 seed while wrestling out of the 8 seed in his first trip to the toughest folkstyle tournament in the world. In the finals, Mekhi beat 2-time defending national champion Vincenzo Joseph, of Penn State, denying Joseph on his path to becoming a four-time NCAA Champion. Lewis continues to find success after a 2018 UWW Junior World gold medal in freestyle wrestling.
Learn J'Den Cox's Movement Based Takedown System
Mekhi began his tournament facing ACC rival #25 Cam Coy, pinning the Virginia wrestler late in the third with a turn from top while already up 8-0. In the second round, Lewis took advantage of an upset in the first round to take out Army grappler #24 Cael McCormick. Now in the quarters, Mekhi Lewis's real struggle began, with the #1 guy in the weight, Iowa's Alex Marinelli.
Lewis kept it very close, and with six seconds left was able to convert a single leg for the takedown, winning 3-1 in a major upset, giving Lewis All-American honors and sending him into the next round with a ton of momentum. After that, Lewis beat Evan Wick of Wisconsin, preventing the Badger from getting to work on top and using an early takedown to dictate pace and position throughout the bout.
In the finals, facing junior and two-time NCAA champion Vincenzo Joseph of Penn State, Mekhi turned in one of his best performances of the weekend, winning 7-1. He used a four point turn in the second round, and another takedown late to propel himself to Virginia Tech's first national title.
Learn To Set Up & Finish Takedowns Using Fakes, Footwork, And Traps From Anywhere From One Of The Best Wrestlers On Planet Earth