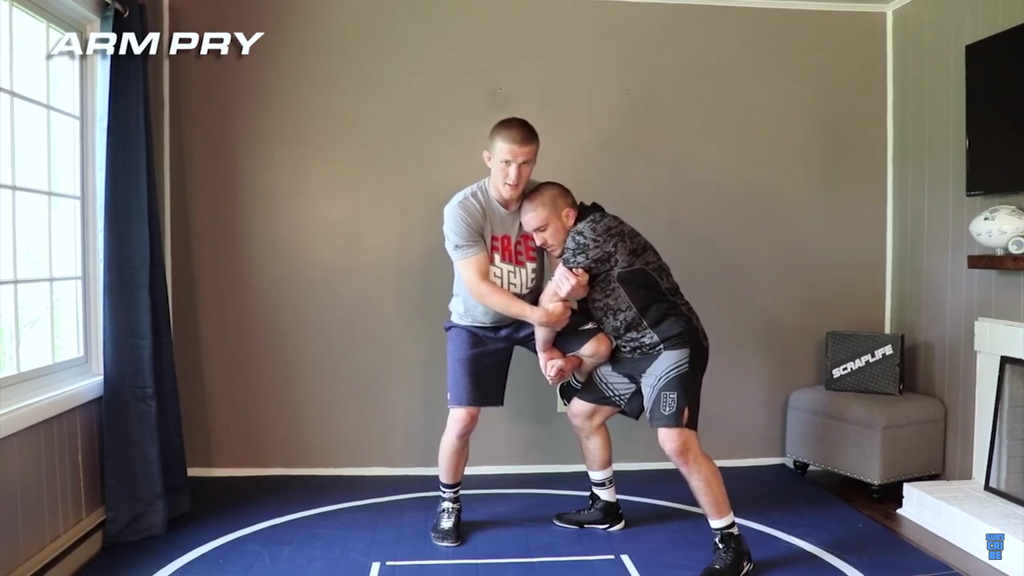 Master Your Arm Pry Defense with Jason Nolf
In the opinions of some, one of the more difficult techniques to master in wrestling is takedown defense. You can get really good at sprawling and timing your sprawls, but it doesn't always do the trick. If you go to sprawl on a double or single leg and are just slightly too late, this is when takedown defense becomes difficult.
There are tons of different techniques in this area of wrestling depending if we are talking about double leg or single leg defense. However, if your timing is off on the sprawl the takedown tends to transpire quickly from that point. The more techniques you have in your arsenal the better.
Looking For Defensive Options?
If your partner shoots a single leg and gets it, you can start to do things with your trapped leg to make the takedown more difficult and start to escape. Typically, breaking grips takes time and your partner is very strong there. If you can break the grip however, you are basically guaranteed to free your leg.
In this video, Jason Nolf demonstrates an arm pry off of a single leg shot, check it out below! 
Breaking Down The Arm Pry
For this technique, Jason assumes that his partner has successfully shot the single leg and has his leg trapped. In this instance, we will assume that your sprawl was unsuccessful so this would be the backup plan.
A common defensive technique from here would be to get your foot onto your partner's thigh and begin to push off of it. If for some reason you were unable to do this or to get good head position because your partner is keeping everything tight, this technique will be extremely helpful.
Want more defensive tips from Jason Nolf? 
At this point, we are going to start working on breaking your partner's grip. You are going to get a 2 on 1 grip on your partner's outside arm, using your same side arm to grip directly on his elbow using your other arm to get an inside grip right above that. These grips give you a very powerful advantage, and from here you simply pull your arms up and straighten your leg down, breaking the grip and freeing your leg.
This technique can be effective no matter the circumstance, however it is more of a last ditch effort if nothing else is working. You should first attempt to get your foot onto his thigh or get to the three toe position, but if those aren't working then this technique should be next on your list.
A key that will make this technique much smoother is head position. You don't necessarily need it to pull off this technique, but it will definitely make it easier. As you are working to get this, you should be fighting for head position the whole time. If your partner is staying tight on your leg, chances are his head is going to be lower than yours. You can drop down slightly to start getting your shoulder involved to fight for that head position. 
About Jason Nolf
Jason Nolf is an American freestyle and former folkstyle wrestler. As a freestyle wrestler he is the Pan American Champion, and in folkstyle claims the titles of three-time NCAA Division I Champion, four-time finalist, and two-time Big Ten Champion. Jason's wrestling career really began to blossom in high school, before furthering his collegiate career as a Nittany Lion.
Jason had an extremely successful overall career at Penn State, notably including his stellar senior year where he claimed his third consecutive NCAA title as well as many other achievements. Over the years Jason has become quite a wrestling phenomenon.
Jason's instructional, Perpetual Motion Offense focuses on providing techniques for non-stop scoring. Included you will find techniques covering ovetie snap down and snap to post, blocking collar ties, bump to cradle, arm bundle, and so much more.
If you have any interest in taking your wrestling game to the next level and are looking for someone to learn from, Jason's credentials speak for themselves. Improve your offense and scoring abilities!