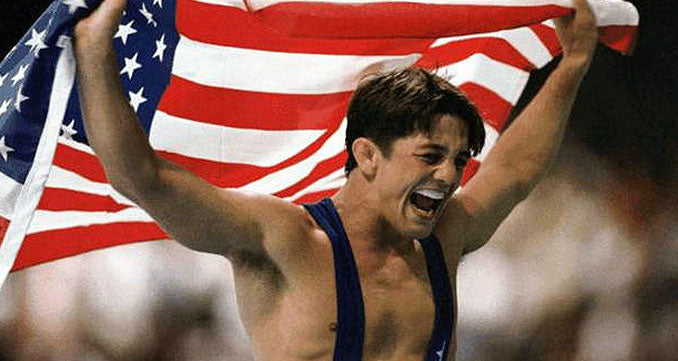 Kendall Cross
Kendall Cross is a legendary American amateur wrestler, internationally aclaimed for his Olympic gold medal in freestyle wrestling at the Atlanta Summer Olympics (1996). Cross is also remembered for his World Cup and US Nationals titles, as well as his achievements in folkstyle-wrestling where he earned the 1989 NCAA Division 1 title and All American status in 1988, 1989, and 1990.
Kendall Cross Wrestling
MAIN ACHIEVEMENTS

High School:
- 1st Place OSSAA State Championship (1985)
- 3rd Place OSSAA State Championship (1986)

College:
All American D1 NCAA (1988, 1989, 1990)
- 1st Place NCAA D1 Championship (1989)

Freestyle:
USA Wrestling Athlete of the Year (1997)
- 1st Place Olympic Games (1996)
- 1st Place World Cup (1997)
- 1st Place US Nationals (1992, 1995, 1997)
- 1st Place Espoir World Cup (1988)
- 1st Place Sunkist International Open (1990, 1991, 1994, 1995)
- 1st Place New York Athletic Club championships (1991)
- 1st Place Roger Coulon Tournament (1996)
- 3rd Place Pan American Games (1992)
- 3rd Place Junior World Championships (1986)
- 6th Place Olympic Games (1992)

Weight:
- 57 kg (125.5 lb)

Teams:
- Mustang High School
- Oklahoma State University (OSU)


Kendall Cross Biography
Kendall Duane Cross was born on February 24, 1968, in Hardin, Montana, USA, growing up in nearby Billings.
Influenced by his older brother Kevin, Kendal started wrestling at the age of 5, showing his potential early on by winning a Billings City Championship. After the Cross family moved to Oklahoma, Kendall's talent continued to develop at Mustang High School, where he earned his first state title (1985).
During his senior year at Mustang, Cross did not reach the #1 spot at the Oklahoma State Championships, finishing 3rd, but found some redemption at the Junior World Championships that same year, through a crowd-pleasing performance, and a bronze medal.
From Mustang High, Kendall went to wrestle for the Oklahoma State Cowboys, one of the country's most prestigious collegiate teams. Making the most of his time at OSU, Cross studied political science and economics, with additional economics studies at the University of North Carolina Central.
After his time with the Cowboys, where he achieved a National Collegiate Athletic Association (NCAA) championship (1989), he went on to compete for the US National Team where his career truly blossomed, particularly after the 1992 Olympics.
With his career on the rise, Kendall qualified again for the Summer Olympics in 1996. This was an achievement in itself as it made him part of a selected group of only a few American athletes who qualified for the Olympic Games twice. To qualify for the event Cross had to out-wrestle the Iowa legend, Terry Brands, a two-time world champion at the time. Each clash at the team trials in Spokane, Washington, was labeled as spectacular by the press at the time, with Cross edging out Brands in the final battle.
At the 1996 Olympics, in Atlanta, Kendall proved his worth by earning a gold medal for the United States, being one of 3 freestyle gold medalists that year together with Tom Brands and Kurt Angle.
After his time with the US National Squad, Cross moved to Dallas, Texas, to work in the financial world. He stayed away from the sport for 5 years when he started helping coach his son's school team. His return eventually led Cross to coach at the US National Team's regional training center in New York.