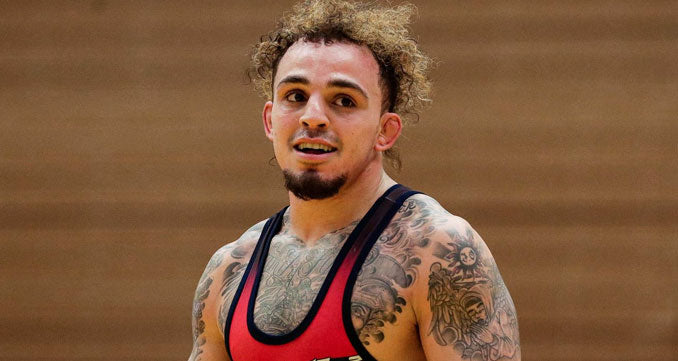 Jordan Oliver
Jordan Oliver is an athlete who ran a successful collegiate wrestling career for the Oklahoma State University Cowboys, where he conquered NCAA D1 titles (2x) and All American honors (4x). It was also during his time with the Cowboys that Oliver became known as one of the nation's best pinners. After his success during high school and college, Jordan carried out an impressive career turn, wrestling freestyle, where he was a 2x USA World Team Trials runner-up.
Jordan Oliver Wrestling
MAIN ACHIEVEMENTS

High School:
- 1st Place PIAA Pennsylvania Championship (2006, 2007, 2008)
- 2nd Place PIAA Pennsylvania Championship (2005)

College:
Schalles Award Winner (2012)
- NCAA D1 All-American (2010, 2011, 2012, 2013)
- 1st Place NCAA D1 Championship (2011, 2013)
- 2nd Place NCAA D1 Championship (2012)
- 4th Place NCAA D1 Championship (2010)

Freestyle:
- 1st Place Senior Nationals Championship (2019)
- 1st Place Dave Schultz Memorial International (2015)
- 1st Place Bill Farrell International (2019)
- 1st Place Fargo Junior National Champion (2007)
- 2nd Place US World Team Trials (2014, 2015)
- 2nd Place US Open (2013, 2015)
- 3rd Place US World Team Trials (2013)
- 3rd Place Yasar Dogu International (2015)
- 3rd Place Bill Farrell International (2014)
- 3rd Place Junior World Championships (2009)
- 6th Place US Open (2014)

Weight:
- 60kg / 133 lbs (college)
- 143lbs / 65 kg (freestyle)

Teams:
- Easton High School
- Oklahoma State (Cowboys)
Jordan Oliver Biography
Jordan Oliver was born on May 8, 1990, in Easton, Pennsylvania.
The exact age when Oliver started wrestling is not in public knowledge, but by the time he joined Easton High School, he was already a prolific wrestler. A fact corroborated by his immediate impact at a state level under the guidance of coach Steve Powell.
Earning 3 Pennsylvania state titles for Easton HS, Oliver finished his prep career with a 175-5 record and a perfect 40-0 in his senior year, being recognized that year as Pennsylvania's Outstanding Wrestler at the 2008 Dapper Dan Wrestling Classic.
His excellence on the mats earned him a spot in the prestigious Oklahoma State Cowboys wrestling program, where Oliver expanded on his skillset. "
When I first came to college, I was just good on my feet; that was the same thing I heard in high school
(...)
Getting comfortable on the mat was something I had to establish in my wrestling if I wanted to be the best wrestler,
" Jordan said of his time in Oklahoma to WIN Magazine in 2012, when asked about his (then) recently acquired prowess on the floor.
After an outstanding career as a collegiate wrestler, Oliver focussed on representing the Red White and Blue at a senior level. After a few attempts at the World team, in 2017 Oliver was off to a good start by winning the U.S. Open in Las Vegas. That win, unfortunately, turned into a disaster shortly after as his title was stripped after testing positive for a banned substance by USADA (U.S. Anti-Doping Agency). Although the substance was proven to be from a medication Oliver was using to treat a medical condition, Jordan accepted a year suspension that came with the sanction.
The sanction went into effect in April 2017, meaning that Oliver could not compete in the 2017 World Team Trials, and subsequently, he could not compete in any qualifying tournaments leading up to the World Team 2018 Trials, ultimately affecting Oliver for two years.
Jordan Oliver The Easton Shrug Tutorial