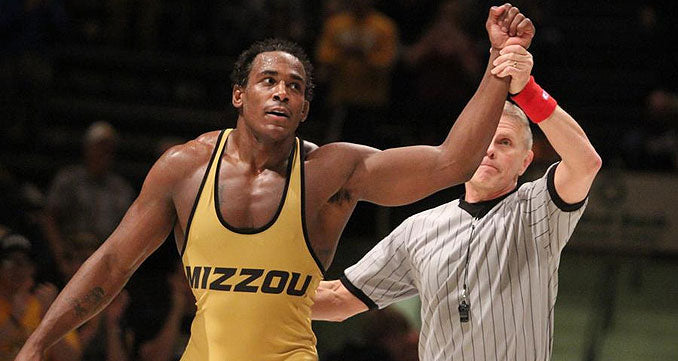 J'Den Cox
J'Den Cox is one of the top American amateur wrestlers of his generation, an athlete who consistently competed at the highest level for a decade with outstanding success. Cox captured three (3) national titles with the NCAA and was a four-time All-American at 197 pounds for his hometown team, the Missouri Tigers before going on to win an Olympic bronze medal, 2 world titles, and 1 bronze for Team USA in freestyle wrestling.
J'Den Cox Wrestling
MAIN ACHIEVEMENTS

High School:
- 1st Place MSHSAA Championship (2011, 2012, 2013)
- Dave Schultz High School Excellence Award (2013)
- NHSCA Adam Frey Memorial Award (2013)

College:
- NCAA D1 All-American (2014, 2015, 2016, 2017)
- MAC Wrestler of the Year (2014, 2016, 2017)
- MAC Freshmen of the Year (2014)
- 1st Place NCAA D1 Championship (2014, 2016, 2017)
- 5th Place NCAA D1 Championship (2015)
- 1st Place MAC Championship (2014, 2015, 2016)

Freestyle:
- Team USA World Team Member (2017, 2018, 2019)
- 1st Place World Championships (2018, 2019)
- 1st Place Pan American Championships (2019)
- 3rd Place Summer Olympics (2016)
- 3rd Place World Championships (2017)

Weight:
- 89 kg (197 lbs)
- 86 kg (190 lb)
- 92 kg (203 lb)
- 97 kg (214 lb)

Teams:
- Hickman High School
- University of Missouri


J'den Cox Biography
J'den Cox was born on March 3, 1995, in Columbia, Missouri. He is the son of career musicians, Michael and Cathy Cox.

Wrestling came naturally to Cox, who stepped on the mats for the first time at the age of 4. J'den would come to meet and start working with coach Mike Eierman as a 10-year-old, a coach that became a reference in the young Columbia native's sporting life.

J'DEN COX HIGH SCHOOL CAREER

During high school, Cox followed his uncle Phil Arnold's footsteps and joined the Hickman High School wrestling team, where Arnold had won two Missouri state championships. J'den went above and beyond his uncle's career, running undefeated after his freshman year (3 losses) of high school, finishing with an overall record of 205-3.

During his high school career, Cox conquered 4 state titles in 4 different weight classes, being the first Missouri wrestler to do so. Those weight classes being: 171 lbs (freshman), 215 (Sophomore), 220 (Junior), heavyweight (Senior).

While wrestling folkstyle, Cox also had success on the national level, both in the freestyle and Greco-Roman. His first big move in these categories came in 2011, when the Missourian won a Cadet National Championship in Greco-Roman and took 3rd in freestyle.

The following year, Cox won a Junior National Championship in freestyle and took 3rd in Greco-Roman. During these events, Cox developed a much-debated rivalry with future Olympic gold medalist Kyle Snyder.

Wrestling was not the only sport in which Cox excelled during his time in high school. J'den was also a prolific football player, and a lettered athlete in both sports during all four years of his time at Hickman High.

J'DEN COX COLLEGE CAREER

Although very well ranked, with an array of open doors at his disposal, J'Den opted to wrestle close to home, in Columbia, for the Missouri Tigers. Cox also opted out of the redshirt year and wrestled right away at 197 lbs (2013-2014), winning his first national title as a true freshman - the 14th competitor to do so in NCAA D1 history.

After a small hic-up as a sophomore, when he placed 5th at the 2015 NCAA Championships, Cox returned to folkstyle glory during the following seasons with two more titles in 2016 and 2017.
After his collegiate glory, Cox went on to become one of the most loved and successful members of Team USA as a freestyle wrestler.

J'DEN COX HEARING LOSS

During college, J'Den started experiencing hearing difficulties. Those eventually escalated, with Cox having lost most of the hearing in his left ear and some of the hearing in his right during his late 20s. The reasons for this are not entirely known, though they have been described as most likely down to a genetic issue as J'Den's father is himself hearing impaired in one ear. The Missourian has circumvented this issue by learning sign language.
J'Den Fox Controling Distance Tutorial