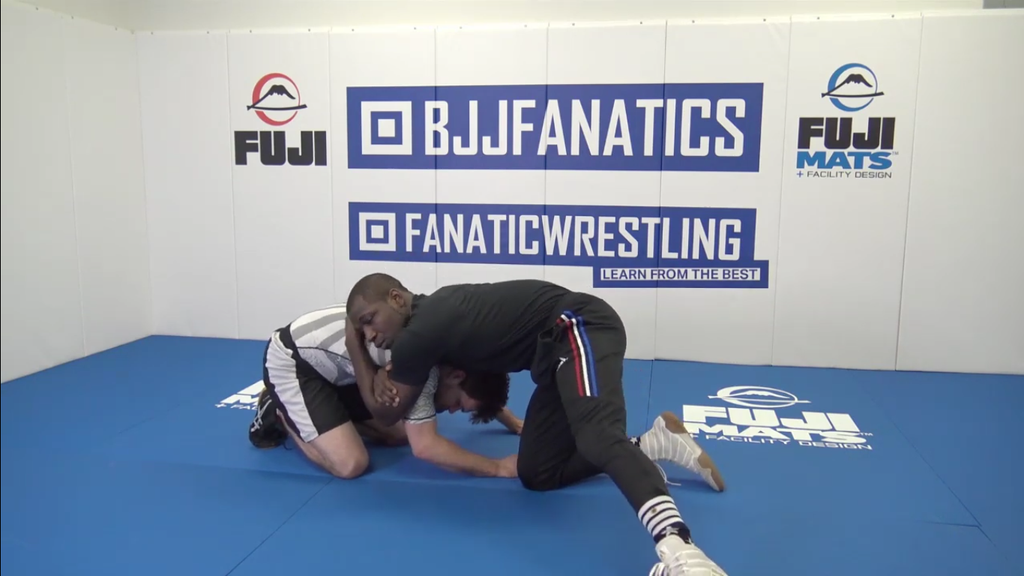 Improve Your Short Offense With These Awesome Moves
Having a good short offense can make a huge difference in how successful you are as a wrestler. If you don't know what a short offense is, it is when one wrestler is down on the mat and the other guy is in front of him. A front headlock would be an example of a move you could do in a short offense position. 
Being in this position is very common during a match. You might get there after you snap your opponent down or maybe you were on top and your opponent has almost escaped. Another very common way to get into this position is after someone shoots on you and you sprawl. If you can break the lock they have on your leg, you are going to end up in a short offense position most of the time. 
When you get into a short offense position, you have a huge advantage over you opponent. There are a lot of different ways you can score from here and not a lot of ways for your opponent to score. Plus, they are carrying a lot of your weight which can really take a toll on the arms and shoulders. 
Here are a couple awesome moves you can add to your short offense that will help you score more points. 
Pushing Whip Over
This first move is called a pushing whip over. It is very similar to a whip over or a cement mixer. When you have your opponent in the short offense position, one hand will go on the chin and the other will come under the arm. With a whip over, would be more lifting and turning your opponent to put them to their back, but the big difference with this move is you are driving through them to put them on their back. 
This is a simple yet highly effective way to not only get a takedown, but also to get a pin. Another point to make when hitting this move is you will be more successful with it if you move your opponent around by snapping and circling your opponent. Then when you feel them pop up, shoot your arm under theirs and drive them to their back.
Let Adam Wheeler Fine Tune your Folkstyle Wrestling! Click Learn More!
Throw By
The next takedown from short offense is a throw by from a front headlock. In this video, Bekzod Abdurakhminov shows his version of this move. In the video, he get there by down blocking a shot, but it also works if you snap your opponent down to the mat. Also, a throw by can be done with either a closed or open front headlock. Check out the video. 
There are a couple of key points to hitting this throw by. First, you need to keep a lot of pressure on your opponent's head and neck and you have to keep your opponent moving. If you have a front headlock and are not snapping and circling your opponent you will give them an opportunity to defend it by dragging out of it. 
Get your Takedown Passport! Click Learn More!
Be sure you are chasing the far leg, your opponent's natural response will be to keep circling to try to face you. If they happen to not try to face you, then you will be able to just spin behind for the easy take down. The last major point is to really throw the head and arm by hard, almost like you are trying to stir a big pot of soup. Generally speaking, the more you circle and snap, and the harder you throw the head and arm by, the more success you will have with this move. 
Head and Arm
Another great move from short offense is a head and arm roll. In this video, three time NCAA champion Ed Ruth uses a modified front headlock to take his opponents straight to their backs. 
As you can see in the video, Ruth reaches all the way under the neck and arm and locks onto his own elbow to close up the front headlock. He is essentially using his arms to figure four the head and arm. Also, make sure the arm that is across the back is touching the spine, this will help keep it locked up tight. 
When the head and arm are locked up, start to put pressure on your opponent by "sinking" off to the side you are eventually going to roll to. Then, use your feet to start to circle to the same side and then roll your opponent to their back and look for the pin. This is move is very similar to a gator trap, half way through the roll, you will need to hip heist to get your hips on top to get the pin.
If you have been struggling to find takedowns that work for you, Ed Ruth has you covered. Ed uses a scientific approach to taking his opponent's to the mat. Use the same precision and tactics as Ed Ruth in Scientific Shots!