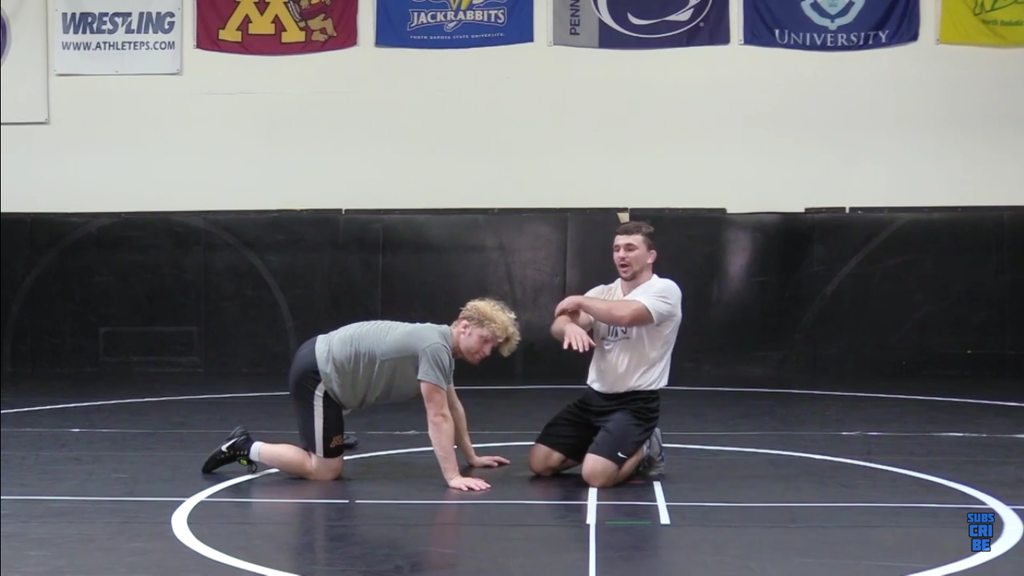 How To kill The Base With Nazar Kulchytskyy
In wrestling a good base is everything. Solid base while standing prevents trips and traps, Strong base in the referee's position prevents turns and tilts and in freestyle and greco a base while flat will earn you a neutral position stand up. 
You can look through hundreds of scenarios where a good base saved a match. Wrestler A is up on points and Wrestler B wants to get two for the win or Tie and win on criteria. Wrestler B comes out hard but can't seem to get A off his feet. A hard snap down sends wrestler A to all fours. So all B has to do is drive him over…. But never does. 
That front snap position is a stallers dream. If they base our and circle with the other wrestler a whistle will get blown and they get put back into a neutral position. 
The option to move into short offense is the most common as the front headlock is already there once a hard snapdown has been achieved. The problem is short offense can be tricky, the common attacks like a schuck to single leg are often seen ahead of time and become unfruitful. 
To finish these takedowns a wrestler must be persistent in their attack. Snap down, Headlock spin, if that fails, chain into a far side knee tap…. That is right a far side knee tap from the front headlock. 
You have never seen that before? Here, let Nazar Kulchytskyy show you how to do it! 
What makes this option so effective is Nazar's grip on the far side arm. The "Monkey Grip" on the elbow creates pressure on the shoulder girdle of his opponent when he changes his level by placing his ear on his opponents near side shoulder. By affecting this motion will cause a turning of Nazar's torso which feeds his arm to the far side knee. 
It is crucial that before you move forward with this take down you have achieved this previous position. If you are a tall wrestler and can just reach across for a far side knee tap and you don't have the shoulder fed through two things will happen.
Get more Takedown Tips from Nazare HERE! Click Learn More!
First the opponent's elbow (his base) will not be pulled away effectively. If you are pulling their arm up with your arm there is no mechanical advantage. When you feed the shoulder through by placing your ear on the near side shoulder and locking your elbow to your side you achieve mechanical advantage by using your arm and torso against their one arm trying to maintain their base.
The Second problem will be the attack vector. The attack vector is the angle in which you are attacking. If you are square and reach across the body when you drive you are driving their feet to the floor. A good grappler will use this momentum to stand or drive back into you creating a stalemate of position. When you achieve the shoulder turn by placing your ear on the near side shoulder ***LOOKING TOWARD THE FAR SIDE NOT BY THE NEAR SiDE***** your angle changes from straight to a diagonal. 
Now when a wrestler drives forward the force goes through the near side shoulder to the far side hip across their body. When the hand is reached all the way across it hinders the other wrestlers ability to post their leg in the direction they are being driven. This does not kill the base but it will weaken it. 
Overall this is a great technique from Nazar Kulchytskyy. For those who might not be familiar with international wrestling Nazar has been active since he was a little boy in his home country of the Ukraine.  
During his time in the Ukraine, Nazar had competed religiously. To achieve his goals Nazar left his home and moved in with his head coach in the city of Odessa. It was at this time he began to dominate the local tournament scene. 
Nazar won five Ukrainian National titles and then he entered the Cadet European Championships in 2008 where he earned the Bronze medal. In 2009 Nazar and his Family moved to the United States and Nazar wanted to wrestle. The state would not let him wrestle his senior year as they considered his previous accomplishments to be "Professional". 
This would not stop Nazar from competing. Even without a highschool wrestling record in the states, several schools tried to pick up Nazar and he ended up attending the University of Wisconsin-Oshkosh. 
The University of Wisconsin-Oshkosh is a NCAA Division III School and while he was there Nazar dominated the DIII division. Winning Three consecutive National Titles and in 2012 was the most outstanding wrestler of the tournament. 
Most people will look down on wrestlers who are not in Division 1 Schools. That may have been their downfall when Nazar stepped into senior level competition in the USA. Nazar has made statements over former D1 opponents. 
With notable wins over the likes of Division 1 Champions like Mekhi Lewis who is also a Junior World Champion. Jayson Ness on two separate occasions and Derek St.John.
If you go from Champions to NCAA Div 1 All Americans he has beaten in competition it becomes a hit list of the who's who of the wrestling world. Wrestlers like Dan Vallimont, Dylan Ness, Chase Pami, Hunter Steiber and about 15 more All Americans.  
Nazar has wrestled as recently as July of this year at the Rumble on the Rooftop where he had an amazing match with Danny Braunagel. Nazar put on a technical clinic on his way to a technical fall over the very trough Braunagel. It Started with a beautiful entry into a Fireman's carry, and it was over after a few turns. 
It was a beautiful display of chain wrestling from onset to finish even if it was only a few seconds worth. It was at this time Nazar unlaced his shoes, placed them on the center of the mat, gave the Mat a kiss goodbye and walked away, signaling his retirement. 
The reason for his retirement is not to relax but to refocus all of his efforts on his wrestling academy he started a few years previous. Nazar has proven to be a juggernaut of a coach. 
During the time he has spent coaching he has already created 4 Wisconsin State Champs, 8 State finals appearances, 12 Wisconsin State Placers, 5 Fargo All Americans and a Fargo Champ!
These are numbers that anyone can appreciate. Yet how does he do it? Exactly how he wrestled, he chains positions together to create scoring opportunities. Part of this system is effectively chaining takedowns together. 
Nazar has put together an instructional with Wrestling Fanatics outlining how he teaches chain wrestling and his takedowns. The results he has had both for himself and his students stands as testament of the quality of his instruction. 
In this four part series you will learn the ins and outs of chain wrestling takedowns effectively and efficiently. Nazar breaks each part down into two distinct sections Offense & Defense. 
During collar ties the defense will cover thumb blocks and overties, but the offense will show takedowns from those defensive positions. This creates a system where all of the wrestling is truly connected. 
The four main topics that are covered by Nazar are Collar Ties, Healock, Seatbelt and Underhook positions and their corresponding offensive and defensive segments. Check it out here!