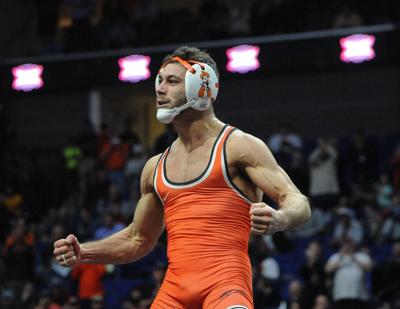 How Nick Piccininni Pinned Spencer Lee
In a battle of top-5 guys, #4 Nick Piccininni pinned returning national champion #2 Spencer Lee in the second period of their dual meet, helping propel the Cowboys to a 27-12 victory. Let's take a look at how the Cowboy sophomore, who is currently 28-0 on the year, got it done against a 3-time age-level world champion. 
Level Up On The Mat With Olympic Champion Henry Cejudo
Spencer has always been a well known point-scorer, usually leading by 6, 10, or more after the first few minutes, but against the very swift Picc, he wasn't able to get those same looks. Piccininni cleared front headlocks and russian ties, but eventually his hard clubs left him open to a single leg that Lee tried to finish quickly with elevation and double leg trips. Piccininni nearly turned the corner and scored his own points with a crotch lift, but they went out of bounds. Still, no points early was in the Cowboys favor as Lee has had trouble closing out close matches late at times (although his match last year with Tomasello and others certainly speaks to the opposite). A stalemated single leg to the right from Piccininni and then a sprawl to a right side single closed out the period.
Piccininni started the second underneath, and Lee put together a strong ride for over a minute, but Nick kept getting his hips under him and creating action that reset them in the center. Finally he got to his feet and escaped, and immediately got to a hard clubbing collar tie to a right side single. Spencer opted to go to a split, rather than a full sprawl, and Piccininni limp armed over, but Lee held an underhook to prevent the go behind. Unfortunately, so extended, Lee's knee and head were too close and Piccininni locked up a cradle with under 20 seconds. He stepped around, horsed it through, and secured the fall late in the second for one of the biggest wins of his career.
Henry Cejudo Came From Humble Beginnings To Become And Olympic Champion And UFC Champion. See All The Wrestling Technique He Used To Succeed!