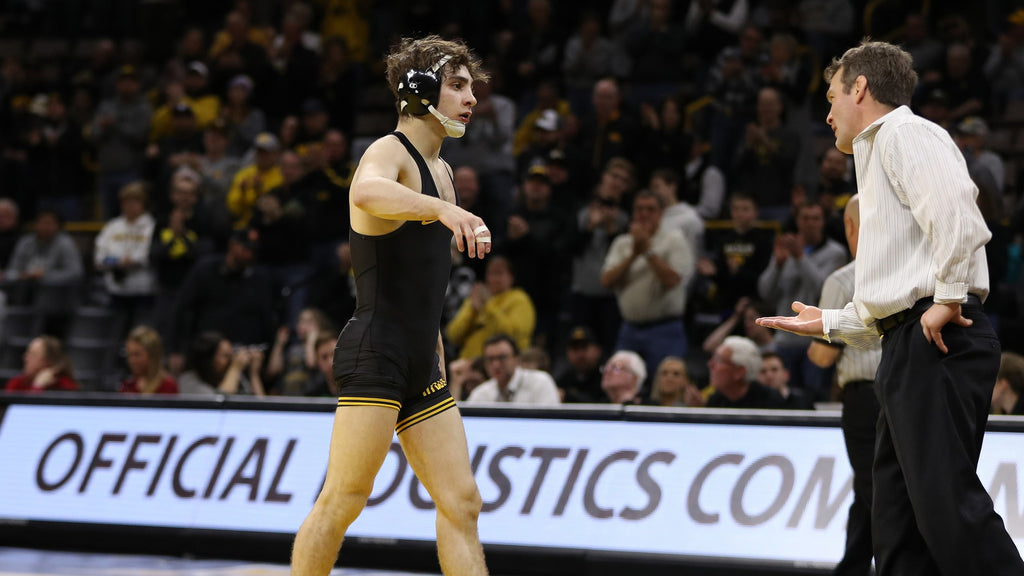 How Daton Fix Beat Austin DeSanto
In their final dual matches of the season, Austin DeSanto of the Iowa Hawkeyes and Daton Fix of the Oklahoma State Cowboys faced off at 133lbs. The Cowboys lead 6-0 in the teamscore, with a lot of momentum after an upset pin at 125. These two were ranked 2nd and 3rd in the nation, making this a true toss-up.
DeSanto came out like he was out of a cannon, driving Fix all the way to the edge, but Daton went off the elbow to a low sweep single, driving up but DeSanto rubberkneed out and they went out of bounds neutral. On the restart, DeSanto again picked up the pace, clubbing and collar tying hard, nearly running Daton off the mat on several occasions while Datontried punching in underhooks and inside ties. DeSanto shot in, Daton sprawled, but Austin was moving Daton all around early.  DeSanto shot Daton off once more in the period, raising his fist to emphasize the pace disparity.
Fix started the second period on top, but Fix got to his feet and got away in 19 seconds. Fix was better able to manage the mat in the second, so while Austin was pressuring, Daton was circling and giving pressure back. Late in the second, Daton went elbow off to a high crotch,  switching it to a double and sitting DeSanto down. Somehow this wasn't called a takedown, but it clearly was. Still, 1-0 Fix after two.
Next came the big third period from Fix. DeSanto tripoded his body up and Daton jumped in both his legs, getting deep hooks and lifting the elbow to get DeSanto belly down. Fix started getting to work, securing wrists and eating up clock in his favor. DeSanto cleared the hooks and based back up, but Daton returned him down and arched back, bellying the Hawkeye again.  Daton threw a crossface that ended up working as a choke, which the referee immediately addressed.  Daton tripoded up with the legs in, grabbed an ankle, and scrambled to a high crotch that Daton rolled through until the buzzer. Adding riding time, Fix won 2-0 in a very tight bout.