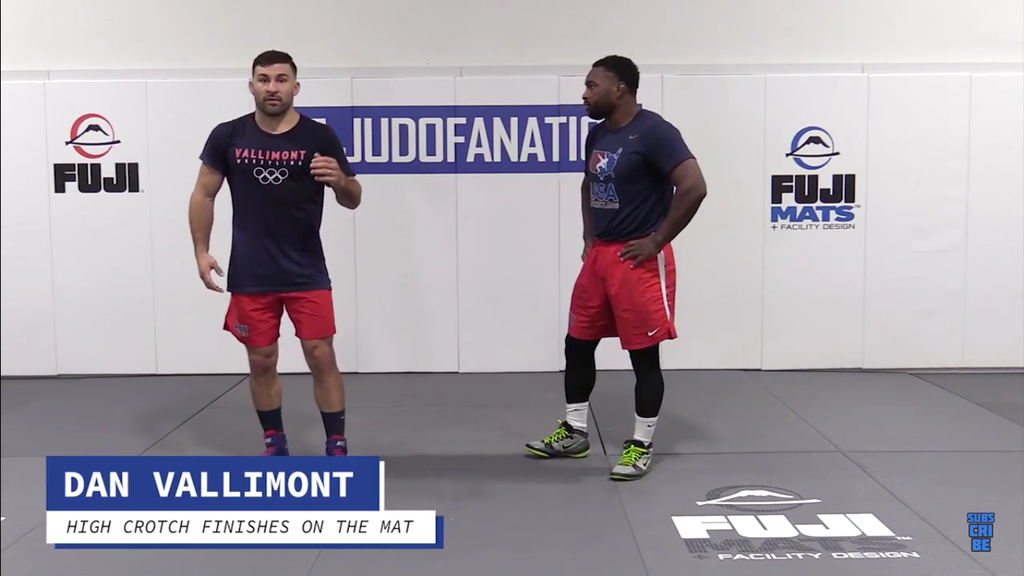 Finish a Challenging High Crotch with Dan Vallimont
There are challenging times and positions in wrestling when one may begin to think they have nowhere to go or are not in a position to finish. This can be true in some cases, but you would be surprised at how digging deep into some good old fashioned hard work can pay off in those situations.
There are many options once you have a high crotch position secured. Some situations can be more difficult, such as when your opponent sprawls on you and you end up underneath with your hands locked. Definitely not the most ideal place to be, but not impossible to finish with the proper technique.
In this video, Dan Vallimont shows multiple variations from this challenging spot. Check it out below!
The scenario Dan begins to explain is when you shoot your high crotch, and before you get the opportunity to bring your hips in to connect to their leg your opponent sprawls, landing on top of you with your hands locked underneath. He makes the point that instead of thinking you are beat, you need to "Improve your position". Avoiding that "I'm beat now" mindset and simply focusing on what you can do to improve your position holds so much depth in any sport. Poor thought often translates to poor performance.
Get more Tips From Dan Vallimont! Click Learn More!
The first step from here is going to be to get your head up. Since you have the high crotch, use that to pull yourself in and get your knees and hips in closer to your opponent. This will allow you to get your head up, and is the very important first step in improving your position. 
Once you are able to get yourself up you keep driving and knee sliding, chasing their legs and getting your hips up  until you can get to the corner and finish with a double leg takedown. In breaking down the technique to get your head up, Dan states that you can use an arm to post and create space to move your head toward the outside if you need to, but he would suggest keeping both arms locked as not to jeopardize the high crotch. From here you straighten your arms down, pull them in, bring your outside leg, head, and chest up, and pull your hips in. He also states that if your technique is good up to this point, most likely they will fall when you get to the corner and you won't have to go for a double leg.
Dan speaks from experience when he reiterates that this is really not a fun position to be in. However he also speaks from experience in saying that with a fair bit of work, it does work and is effective.
The ideal position you want to get to from here is with your head up, on your right knee with your left foot on the outside so you have the ability to bring it up to increase your driving strength. From here you are going to pull your hands that have the high crotch between your legs and you pull your hips in at the same time, getting your head and chest up as quickly as you can. From here you have many options you can work to finish.
On top of Dan's obvious wrestling abilities, he is also an outstanding teacher. In his instructionals he makes sure to take the time to thoroughly go over technique, explaining it clearly and relating it relevant situations that you will experience on the mat.
Dan gained a number of huge accomplishments during his time wrestling for Penn State. In his four trips to the NCAA Championships, he never finished lower than the round of 12. He was also a member of the 2014 World Cup Freestyle Wrestling team, and competed in the 2016 Olympic Trials in Iowa. He finished his impressive career as a Nittany Lion with a record of 110-36. Literally a whole blog could be written on all of his titles and achievements.
Dan also possesses an extraordinary coaching resume on top of his career. He served 6 years as a head coach and assistant coach at EIWA foe Hofstra, where his responsibilities included team training, recruitment, and program management. He also served as an interim assistant coach at his alma mater during the 2017-18 season. His time and responsibilities at Hofsrta gave him the well rounded experience he needed to top off his impressive career. 
Though he has many instructionals, this one is focused all on high crotch attacks. This 4 volume instructional includes technique as well as tons of drills that can be practiced with a partner. You can expect to see high crotch positioning and set ups, high crotch finishes on the feet and on the mat, as well as finishes from high crotch crackdown. 
There is so much packed into this one instructional that you truly do not want to miss out on. Take the time to reinforce your wrestling foundation and work on substantially improving your game. Check out the Dan Vallimont instructional below!