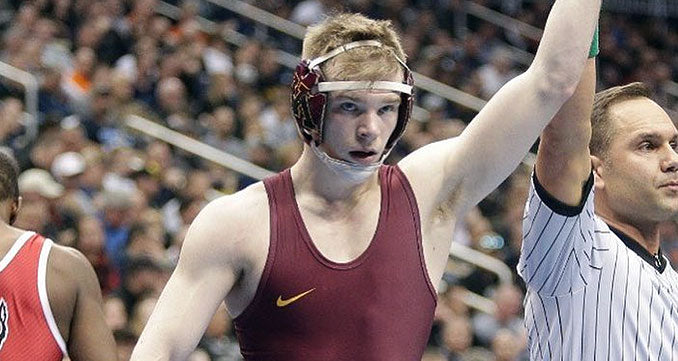 Ethan Lizak
Ethan Lizak is a two-time high-school state wrestling champion, who went on to become a highly celebrated NCAA competitor for the University of Minnesota. Regarded as one of the most exciting wrestlers in the country, the three-time All-American, and four-time NCAA qualifier, Ethan earned his nickname "The Backpack" for his ability to dominate opponents from the top position, often electrifying fans with his unique maneuvers; techniques he focused on explaining in a detailed and successful instructional produced by Wrestling Fanatics:
The Backpack System by Ethan Lizak
.
Ethan Lizak Wrestling
MAIN ACHIEVEMENTS

High School:
- 1st Place PIAA championship (2012, 2013)
- 1st Place FILA Junior World Team Trials (2013)

College:
NCAA D1 All-American (2017, 2018, 2019)
- 2nd Place NCAA D1 Championship (2017)
- 2nd Place Big Ten Championships (2018)
- 3rd Place Big Ten Championships (2017, 2019)
- 4th Place NCAA D1 Championship (2018)

Weight:
- 125 lbs
- 133 lbs

Teams:
- Parkland High School
- Minnesota Golden Gophers
Ethan Lizak Biography
Ethan Lizak was born in Pennsylvania, USA.

Being the eldest son of former Wilkes University wrestling standout, Rich Lizak, it didn't take long for Ethan to start wrestling himself, a practice he began as a child, highly incentivized by his father who built a wrestling room for Lizak and his brothers in their home's basement.

This family environment was a perfect setting for Ethan to thrive from, much like his brothers did after him; Jake and Adam Lizak, both successful wrestlers in their own wright.

After joining his high school's wrestling program at Parkland High School, Lizak quickly became one of the top athletes on the Pennsylvania Interscholastic Athletic Association, earning two state titles for Parkland before joining the Gophers at the University of Minnesota.

It was while working on his collegiate career with coach Jay Robinson at the Minnesota Golden Gophers, that Ethan developed his famous backpack wrestling style. Lizak's system came as a result of the lengthy 1-hour long sparring sessions designed by Robinson, where Ethan would spend the whole time with one partner, without breaks. Unable to wrestle standing for all that time, Ethan would often apply this backpack to stay on top of his sparring partner, a technique he went on to apply at the highest level of the NCAA.

After a prosperous collegiate career for the Golden Gophers, Ethan Lizak joined the Pennsylvania Regional Training Center (PRTC), working on its famous freestyle program.
Ethan Lizak "The Backpack"