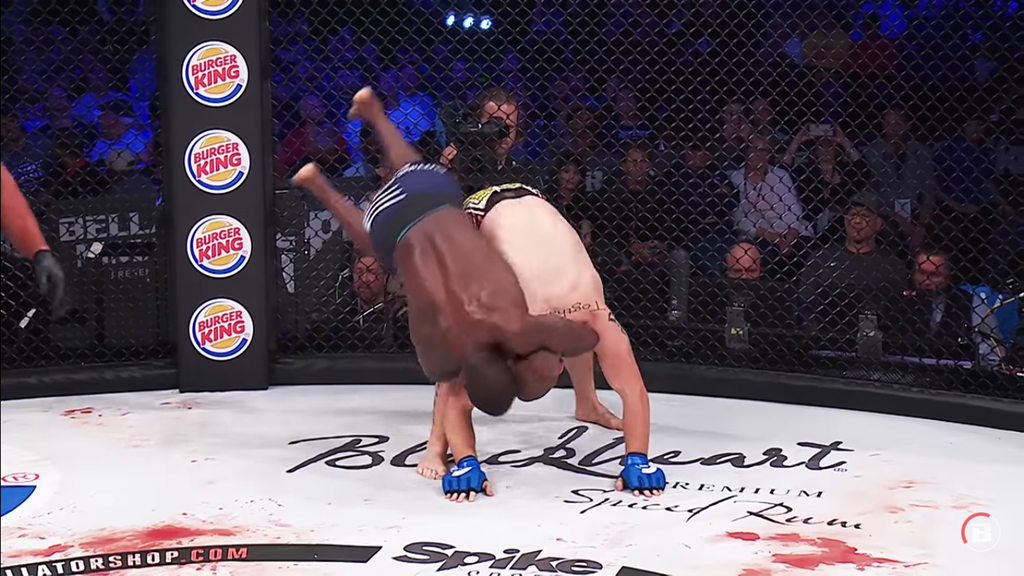 Ed Ruth To Headline Bellator 239
Ed Ruth, 3x NCAA Division 1 National Champion, has transitioned his wrestling skills to the world of Mixed Martial Arts very successfully. With a 8-1 record Ruth has been quite the force in Bellator's welterweight division. At Bellator 239 in Thackerville, Oklahoma Ruth will take on the unbeaten Yaroslav Amosov in the main event. 
As you may have guessed Ruth employs a hefty dose of wrestling into his MMA gameplan. While Ed definitely has a well rounded game, he sticks to what brought him to the dance as they say. Ruth is able to employ his dominant wrestling on his opponents, and even uses wrist rides while he pummels their face! Check out this quick highlight of Ruth's Bellator MMA Career courtesy of BellatorMMA's YouTube. 
OK, at 3:45 this man hits a drop cradle in an MMA match! Like we said previously Ruth sticks with what he knows, and its proven to work. What you may not know is that Ed has multiple instructionals with WrestlingFanatics! Here is him demonstrating the drop cradle as you witnessed in the video. Check it out.
While there are many variations to the Cradle that Ruth explains here the one in particular that we want to look at is when the opponent is standing up. If you go to 1:40 mark you will see the similarities in how Ruth was able to pull off the cradle in his MMA fight. 
Ruth brings a fresh look to both MMA and Wrestling techniques. The Cradle Machine is his instructional dedicated to one of the most powerful moves in wrestling! The Cradle doesn't require immense speed or athleticism to lock on. With Ruth's help and analysis you will find Cradles from everywhere, like you see in the above video. 
Ready to become a Cradle Machine? Click Learn More!
Takedowns are a crucial part of Ruth's success both in collegiate wrestling where he was a 3x NCAA division 1 champion, and MMA. Ruth has an exceptional ability to make his takedowns look easy. This may be why his nickname is in fact "Easy"! With MMA Ed has the luxury of utilizing his heavy hitting hands to set up takedowns, but for strictly wrestling he likes misdirection. Check out another Top-Notch Technique from Ed Ruth here:
With misdirection it's all about keeping your opponent guessing. Selling the fake is essential to making your opponent react. Ruth's misdirection double is best when the opponent pulls their leg back because they feel threatened with the takedown, this only allows for a cleaner entry to both legs for Easy Ed Ruth. 
Ready to get Scientific with your Shots? Click Learn More!
The Double leg is essential takedown for ANY wrestler. If you take advantage of the techniques demonstrated by Ruth you will surely see the results you are looking for. Scientific Shots is full of details and techniques just like this to revitalize your takedown game. 
If you are looking for the methods and tactics that Ruth used to dominate the NCAA you are in the right place. Scientific Shots and The Cradle Machine will keep you hooked with technique that will work for YOU! To check them out click Learn More!