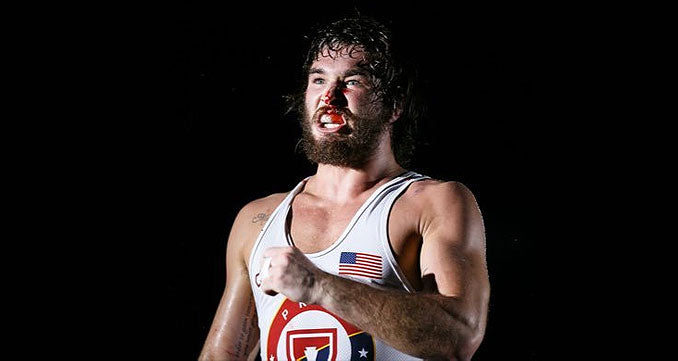 David McFadden
David McFadden is an amateur wrestler and 3x All-American NCAA D1 athlete, who represented Virginia Tech in the US collegiate wrestling circuit. Outside the folkstyle ruleset, McFadden competed extensively in freestyle, earning a spot in Team USA's U23 squad and working with the prestigious Pennsylvania Regional Training Center.
David McFadden Wrestling
MAIN ACHIEVEMENTS:

High School:
- 1st Place New Jersey State Championships (2014, 2015)
- 1st Place Beast of the East (2014, 2015)
- 2nd Place New Jersey State Championships (2012)

College:
- NCAA All-American (2016, 2018; 2019)
- 1st Place ACC Championships (2018, 2019)
- 2nd Place ACC Championships (2020)
- 2nd Place Midlands Championships (2019)
- 5th Place NCAA Championships (2018, 2019)
- 6th Place NCAA Championships (2016)

Freestyle:
- U23 World Team Member (2018)
- 2nd Place Fargo Junior Nationals (2014)

Weight:
- 174 lbs
- 165 lbs

Teams:
- DePaul High School
- Virginia Tech (College)
David McFadden Biography
David McFadden was born in West Milford, New Jersey.
Influenced by his father, McFadden started wrestling at a young age in the local junior leagues, around 2nd grade school. Although successful, David was born in the Summer and was, therefore, always one of the youngest kids in his grade while growing up, a handicap that never bothered or hindered the Jersey native's development in the sport.
Although much of McFadden's early success is awarded to his work with coach Jeff Buxton, once David joined the DePaul Catholic High School, his father became just as instrumental in the young athlete's development, always present and always dedicated to David's early sporting life at a state level. This dedication and selfless attitude was often praised by McFadden in later interviews.
The McFadden Family's hard work paid off with two spectacular final HS seasons where the young NJ prospect went 85-1, losing only 1 match in two years. His good form earned him the interest of several college teams, with the (then) 17-year-old talent opting to join the Virginia Tech Hokies wrestling squad.
Being one of Jeff Buxton's proteges, McFadden came in ready to make an impact in D1 wrestling. Often praised for his positioning and wrestling IQ, David quickly became one of the most decorated wrestlers in Hokie history with 3 NCAA All American honors.
A testament to David McFadden's warrior spirit took place during his very first experience competing at the NCAA Tournament. During his first match, against Northern Iowa's Cooper Moore, David tore his ACL (knee ligament), and although in severe pain, McFadden powered through 8 matches (!) with a damaged knee, reaching 6th place in one of the toughest tournaments in the wrestling world.
While at Virginia Tech, McFadden aimed to become the program's first four-time All-American, an objective well within his reach. Sadly, the 2019-2020 season was cut short due to the coronavirus pandemic. After a few months of indecision, David McFadden opted to join the Pennsylvania Regional Training Center for a shot at an international career.