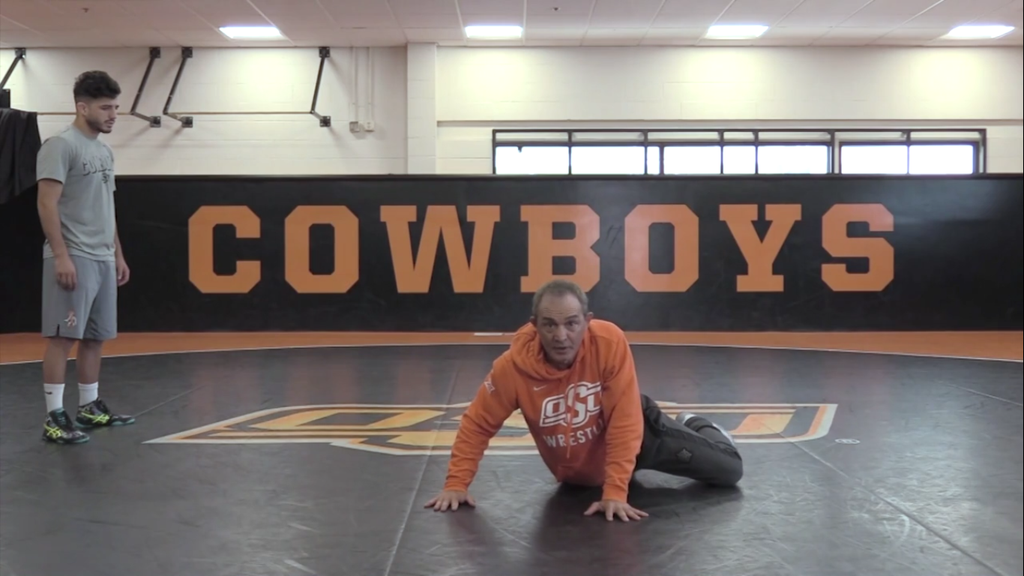 Cowboy Defense By John Smith
Ever been caught by surprise in a match? All of a sudden someone is in deep on a single and you're staring down the barrel of points being scored on you? Frantically your brain starts searching for ways out? Escapes and defense can be like quicksand, you attempt to get away and now you have points scored and your opponent is in a dominant position. 
That position is one that haunts all wrestlers at one point in time or another. You can watch scholastic matches and just look at the faces of the young wrestlers when they get into a bad spot. That look of fear is a tell tale sign they have no defensive plan. 
The old adage goes it's "Defense that wins championships" and in wrestling you can score all the points you want, if you can't stop them from scoring on you it won't matter how points you score. 
No one can attest to the ability to prevent people scoring on them is the all time great John Smith! The Two time Olympic Champion went through the Seoul Olympics with winning gold with 36 points with only 13 points against him over 7 rounds. 
In 1992 his defensive mastery only got better. Over 8 rounds he scored 39 points with only 5 points scored against him. 
These stats are unheard of for a American against international competition at the highest level but John Smith never gave up any point without a fight. His technical knowledge is encyclopedic. 
Check out the instructional here!
The Olympics would be impressive with those figures but John is also a four time World Champion. John was able to beat the odds at his first world championship in 1987. The Soviet Union was the power house in wrestling at the time. At the end of the day the Soviets had 11 gold medals and the USA had two. John Smith was one of them and the 1984 Olympic Champion Mark Schultz was the other. 
Then John won the 1988 Olympics which was mentioned above but there were three world championships before he won the 1992 Olympics in amazing fashion. 
So what happened from 1988 to 1992. At the 1989 World Championships it was the same thing, 4 soviets and 2 Americans. This time it was John Smith and Kenny Monday. 
Come to the 1990 World Championships were held in Tokyo Japan. This time the Soviets had a clean sweep in mind. Of all the medals the Soviets took 10 gold medals in wrestling. The United States had a sole gold medal. That belongs to John Smith. This was his prime and he was unstoppable. 
The 1991 World Championships was a much better year for the USA with 3 gold medals with John Smith leading the charge with Zeke Jones and Kevin Jackson in Tow.  The Soviets still led the way with 9 golds themselves. 
In total 6 total world level gold medals, not including two Pan American titles and Two Goodwill Games in which in 1990 John Went into the bears den to wrestle in Moscow Russia and still came out on top. 
At the end of the day Johns senior level record was concluded at an amazing 100-5.
John is famous for his offense but it is truly his defensive prowess that has helped him win all of that gold. 
John knows that it is defense that wins championships and it comes as no surprise that his first year as head coach of the Oklahoma State Cowboys his Alma Mater that his team won the national title. 
While at OSU John won two National titles and earned a career record of 154-7-2.
John is a firm believer that the basics executed with tactical precision is what creates a true foundation of defense. If you look at any of his 32 individual National Champions they all had solid defensive prowess and the ability to hold off the opposition once ahead on the scoreboard.
There are no Magic tricks with any of John's approaches to his techniques. What he does is explain exactly why and what you have to do in each position to win the position technically. 
When John can talk about how to sprawl correctly for 5 and a half minutes there is something to be learned. John believes that there is not much technically to do with the sprawl and he touches on it at the end but can still give 5 minutes of instruction truly shows the quality of what is to be presented in his defensive instructional. 
This Instructional is 4 parts and you are getting truly the best technical instruction possible from the greatest American wrestler in history. John is giving an inside look at what he has been doing to win NCAA Championships and creating NCAA and World Champions for the last 30 years. .
When it comes to wrestling instruction you will find none better than the American Himself. 
Check out Championship Wrestling Fundamentals Cowboy Defense if you are looking to just get better at wrestling. Watching this instructional you won't have to learn new moves, understanding the concepts behind defensive wrestling alone will make you better. Once you start implementing the techniques you will be much harder to take down and score on.
NOW FOR THE FIRST TIME EVER! JOHN SMITH HAS OUTLINED HIS DEFENSIVE STRATEGY HE USES TO COACH THE OSU COWBOYS!