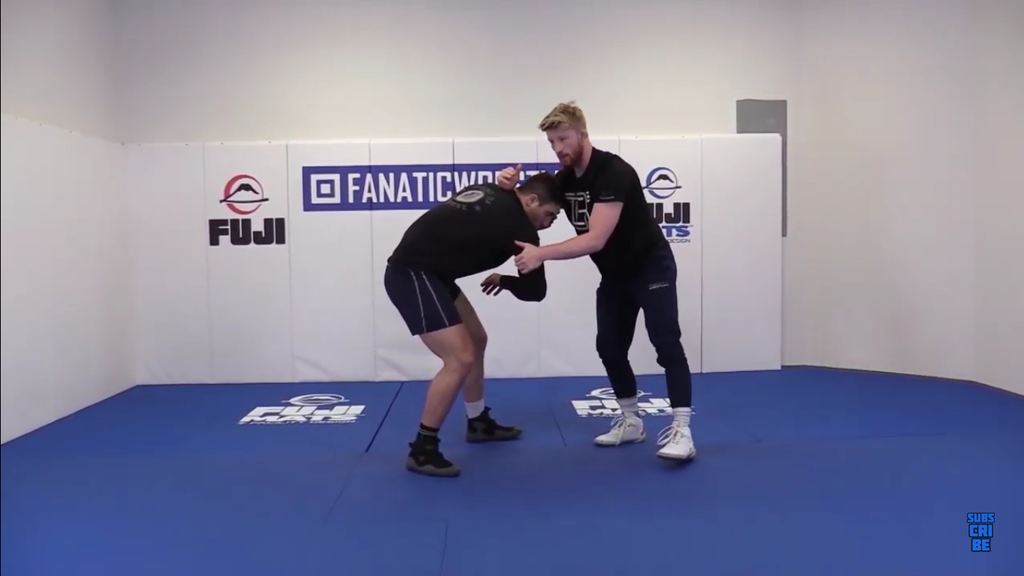 Collar Tie Tips With Bo Nickal
Penn State University's wrestling team has won eight team titles in ten years. Under command of the greatest collegiate wrestler of all time Cael Sanderson. Being the first wrestler to win 4 NCAA Titles in 4 years as well as 4 Big 12 championships to boot.
Cael was hired as head coach of Penn State's Nittany Lions in 2010. As a bet Cael told the team if they won the Team title that year he would wrestle competitively again. The team did just that and after seven years out of international competition, he won several national qualifiers and took 5th in the world!
Cael has transitioned from being a dominant wrestler to a dominant coach.
In recent years one of the best wrestlers Cael has coached has been Bo Nickal. In 2016 Bo was a true freshman and won the Big 10 championship, and at the NCAA Championship went 4-1 earning him the #2 Spot in the country at 174lbs.
Bo Continued his college career winning three NCAA Div I titles and two more Big 10 Championships. Capping off his college career with a Dan Hodge trophy and a record of 135-5.
One of the things that has been consistent in his wrestling is his constant pressure on his opponents. Bo is always attacking, and getting into scoring position. Bo takes any opportunity to score.
Bo has a unique way of attacking from the over under positions for throwing, and once on the mat, Bo utilizes cradles unlike we have seen in a long time. Bo has even snatched a cradle from standing driving his opponent over for a pin….. FROM STANDING HE CRADLED SOMEONE!
No surprise coming from a guy who went 183-7 with 131 pins in Highschool. Bo has tons of experience and is transitioning well into various other branches of wrestling.
 In 2019 he won the U23 World Championship. For those who are unfamiliar the U23 is the World Championships for amateur wrestlers. It is the steppingstone before Olympic level competition.
Bo has expanded his skills to submission grappling taking on pound for pound greatest submission grappler in the world Gordon "The King" Ryan.
In their match Bo utilized his collar ties and defensive wrestling to keep Ryan from any takedowns. At one point after a failed double leg he gave Ryan the "no no no not in my house" ala Motombo by waving his finger at him in disappointment.
Ryan as a joke played "donkey guard" which is essentially going butt first towards the 3 time national champion. He was suplexed for his troubles which turned "The Kings" game into high gear.
Look how Bo utilizes his collar tie set up to move and set up opportunities in the video below.
A few great things Bo is showing is how he approaches a neutral position. Using his arm on the same side as his opponents shooting leg as a way to down block.
Get more top-tier tactics from Bo Nickal! Click Learn More!
He also shows how he drives in with his hand on the head first to close the distance. Then uses the down blocking hand as a collar tie. His other arm goes from head to tricep and he starts to drive into his opponent.
The drive will elicit a reaction, normally them pushing back. In that moment Bo steps laterally and pulls hard on the tricep and head. Using this pull and circle technique drives his opponent to where you want them to go. At this point Bo is in control!
In addition to his control Bo is weigh down on his opponent's head causing them to fatigue faster. The more tired an opponent is the easier it is to score.
This is a great drill to do with a partner. It sharpens timing and skill, as well as providing a great base to launch attacks from.
One drill is to enter the position with no resistance. Push-Pull-Circle twice, On the third you and your partner wrestle for a takedown off this tie.
Bo knows takedowns, and oddly enough that is the name of his instructional series by the same name. He covers in depth the idea of approaching the Tie, The snapdown, Crackdown and a few pinning combinations. Give it a look here!