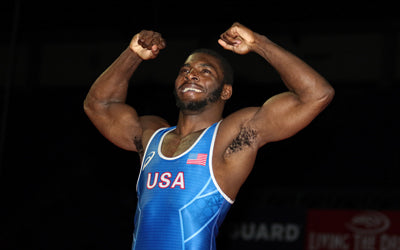 Beat the Streets to Feature James Green vs. Anthony Ashnault
In the first announced match for Beat The Streets's 2019 "Grapple At The Garden" event, two-time world medalist James Green (Husker RTC) will be taking on Anthony Ashnault (Rutgers) in a freestyle match at 70KG. The event looks to feature NCAA champions vs our current world team members, all in an effort to raise money for the Beat The Streets foundation, which aims to use wrestling to help at-risk youth. This is a really interesting matchup between two New Jersey greats. 
James Green is a world silver and bronze medalist, and a four-time NCAA All-American from Nebraska. He is our nation's current #1 at 70 kilograms, with a lot of foreign credentials to his name. Anthony Ashnault just finished an undefeated national championship season at Rutgers, where he was a 4-time All-American and Hodge finalist. Anthony was also the state of New Jersey's first undefeated 4-time champion, so he carries a lot of home state pride into this battle.
Beat The Streets will be holding this Grapple At The Garden event May 6th at the Hulu Theater in Madison Square Garden. The event supports the charity as a fundraiser and celebration of their mission, as the nation's largest inner city wrestling charity. Tickets are now available, please visit BTS's website for more information.