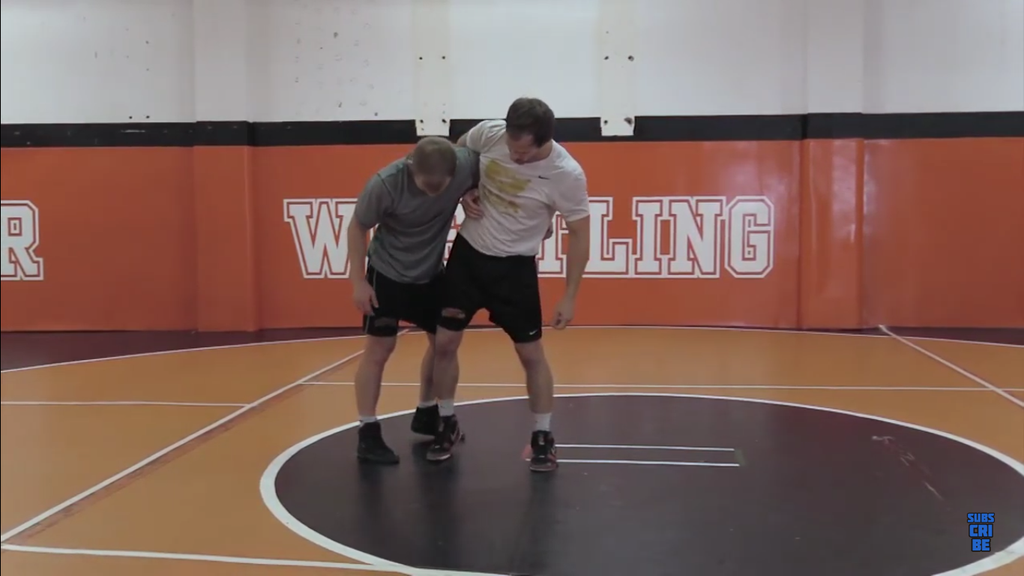 Another Smooth Takedown with Dustin Schlatter
A smooth and effective takedown is the goal. Smooth is sometimes difficult, but it definitely makes the transition into your attack easier. Properly executing the takedown is often times as important as landing in the correct position. 
There are tons of different takedown options depending on your positioning and how you want to attack afterwards. It is important to keep in mind your game plan as you go for a takedown so you can begin to transition into your attack as quickly as possible.
In this video, Dustin Schlatter shows a variation of an inside leg grab takedown, check it out below!
To begin this technique, you are going to start by getting a tight overhook on your partner. It is important to make sure this overhook is tight because it is going to be the most important factor in getting your partner to the ground. Next it is time to start getting the legs involved.
Dustin states that one of the biggest mistakes he sees with wrestlers when it comes to takedowns is them not using their legs enough. There are so many things you can do once you get your legs and feet involved, so this shouldn't be forgotten. 
Get more takedown tips from Dustin Schlatter! Click Learn More!
For this variation, you are going to take your leg which is closest to your partner and wrap it around his leg from the inside. Once your leg is wrapped, it is important to keep your toe pointed. Once your leg is secured and your toe is pointed, you are going to pull up tight on the overhook, start hopping backwards, and sit to the ground as you point your leg that is wrapped forward.
At this point, your partner is coming down to the ground with you. From here it is important to understand that you need to act quickly to ensure you land in a dominant position. As you and your partner hit the ground, you are going to use that momentum to turn your hips in and come up on top of your partner, transitioning to the other side and using your free leg as a base to start freeing your other leg and begin attacking. 
This is a great takedown variation because of its simplicity. When learning the fundamentals of takedowns, it is important at times to keep it simple and focus on the basics. As used in this technique, it is good to get in the habit of maintaining a tight overhook. Additionally, it is important to begin learning how to get your legs involved in takedowns; both of which are simple yet effective components that this technique offers.
Dustin Schlatter was the 2006 NCAA National Champion, and a three-time NCAA All-American at the University of Minnesota. In high school Dustin was undefeated at the USA Wrestling Freestyle and Greco-Roman National Championships, and went on to win the  Junior National Freestyle championship in 2003.
Since his successful high school and collegiate careers, Dustin has gone on to volunteer and serve as the assistant coach at the University of Minnesota. Dustin was also a gold medalist in freestyle in the 2015 Pan American Championships.
In this instructional, Dustin focuses on collar tie attacks and the fundamentals of takedowns. You can expect to find technique including high crotch finishes from various levels, shrugs, collar tie and overhook offense, front headlock offense, single leg finishes, and so much more.
When someone like Dustin offers their experience, you take it. Don't miss your opportunity to sharpen your skills and take your game to the next level, check out his instructional here!